Microsoft Bans Its Marketing and Sales Group From Using Apple Products: Why?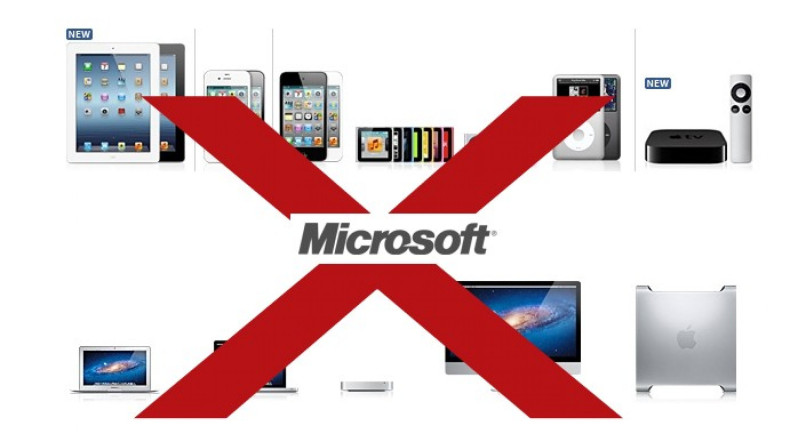 In today's competitive world, Microsoft and Apple are known rivals and each does its best to reach the top and gain a larger share of the market. With such tough rivalry, it makes sense to promote and use your own products, instead of the competition's. On this note, Microsoft is now banning purchases of Apple products with company funds.
Leaked Email
According to ZDNet's Mary Jo Foley, a leaked internal email, which was allegedly sent out by Microsoft's Alan Crozier, chief financial officer of the Sales, Marketing, Services, IT & Operations Group (SMSG), stated that these teams will not be allowed to buy Apple products such as iPads or Macs with company money.
Within SMSG we are putting in place a new policy that says that Apple products (Mac & iPad) should not be purchased with company funds.
In the U.S. we will be turning off the Apple products from the Zones Catalog next week, which is the standard purchasing mechanism for these products.
Outside of the U.S., we will work with your finance and procurement teams to send the right message and put the right processes in place.
The current purchase levels are low, however we recognize there will be a bit of transition work associated with this. Details of historical purchases in the U.S. are provided in the attachment to help understand the changes that will be needed. Thank you for your support and leadership on this, states the full internal email.
Foley could not verify the authenticity of the email. However, the ban is no surprise. Microsoft has already eliminated outside vendor products from its procurement catalog and list of products employees are allowed to spend using company funds. For years, Microsoft has not spent on buying iPhones, BlackBerrys and Palm devices.
Just not with Company Funds
Microsoft employees are, allowed buy and use Macs and iPads, even on company grounds, provided that they purchase the devices with their own money. And despite the fact that they are not expensed, there are still plenty of iPhones at Microsoft.
According to the Careers page on Microsoft's Web site, there are 46,000 SMSG employees worldwide, all of them affected by the ban.
(reported by Alexandra Burlacu, edited by Surojit Chatterjee)
MUST READ - New iPad 3: Top 6 Problems That May Cool Down Craze For New Apple Tablet (PHOTOS)
MUST READ - iPhone 5 Release Date: Top 10 Features We Want to See in the Next Apple Phone
MUST READ - New iPad 3 Battery Problem: Guess What Apple Has to Say?
MUST READ - Android Ice Cream Sandwich: Which Manufacturers Got the ICS Update Out the Fastest?
MUST READ - New iPad 3 Overheating Problem: Heat Tests Suggest Android Rivals Nearly As Hot