Muslims Protest 9/11 Memorial: 'Islamic Terrorists' Controversy Defended By New York Town Leaders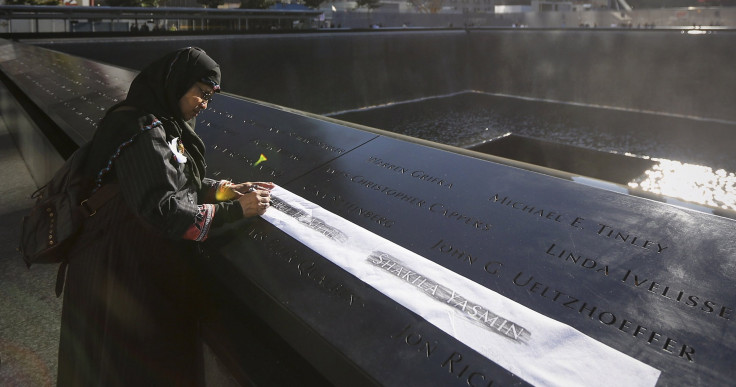 Muslims in a small town in New York are protesting a new Sept. 11, 2001, memorial because it includes the words "Islamic terrorists." The Islamic Organization of the Southern Tier said the phrase might encourage hate crimes toward Muslims at a time when reports of Islamophobia have spread across the nation.
The memorial in Owego honors victims who were killed in the 9/11 terror attacks. The granite slab reads in all uppercase letters: "On September 11, 2001 nineteen Islamic terrorists unsuspectedly boarded four airliners departing East Coast airports to hijack the planes and carry out a series of coordinated attacks against the United States." It includes pieces of the subway tracks that ran under the World Trade Center before it collapsed after two planes went into the Twin Towers.
The Islamic group and its supporters want the monument to instead read "terrorists" or "al Qaeda terrorists."
"Once we call them Islamic terrorists, we are including all people who are Muslim in that same group," Rabbi Barbara Goldman-Wartell of the Children of Abraham, an interfaith group, told local reporters. "Our local Muslim citizens are upstanding, fighting with us against terrorism and something like this could cause great stress and difficulties for them."
Donald Castellucci, Owego's town supervisor, defended the memorial as a straight talk. Owego, located near the Pennsylvania border about 200 miles from New York City, has a population of about 19,883 people.
"I don't live in a politically-correct world," Castellucci told local reporters. "I live in a historical fact world and cross terrorism, whether it's American homegrown, Christianity, Islamic, you call it what it is."
He added that the town "doesn't whitewash things."
"We just want people to be educated for future generations so that we never forget and so that people can come here and reflect and just remember," he said.
There were 174 reported incidents of hate crimes against Muslims in 2015, including 12 murders, according to a recent study from the Center for Muslim-Christian Understanding at Georgetown University in Washington, D.C. Violence against Muslims has been linked to the 2015 terror attacks in Paris and San Bernardino, California, and Republican presidential candidate Donald Trump's call to ban Muslims from entering the United States, Slate reported in May.
Before 9/11, there were about 20 and 30 hate crimes reported each year against Muslims.
© Copyright IBTimes 2023. All rights reserved.