National Enquirer's Whitney Houston Last Photo, Other Published Celebrity Dead Pictures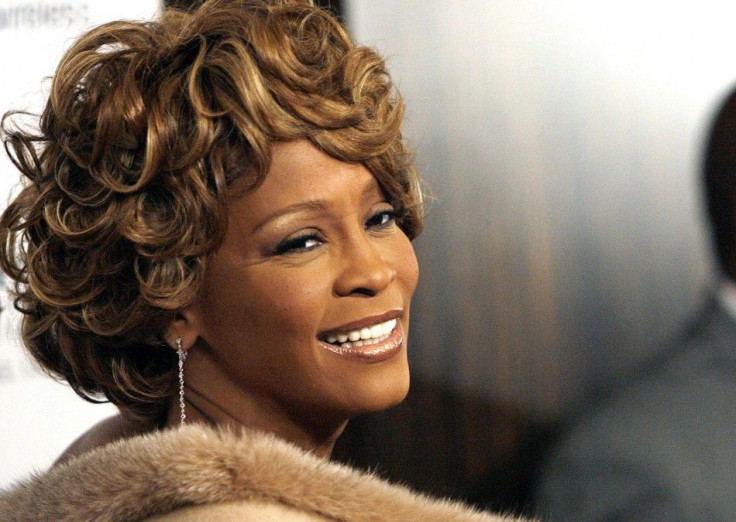 The National Enquirer has stirred controversy again and this time it is because it has published the alleged last photo of singer Whitney Houston's dead body in her open casket on its cover.
It is unclear at this time how the National Enquirer got the alleged photo of Houston. Moreover, the alleged last photo of Houston reportedly ran in an issue in which Tina Brown, the sister of Houston's ex-husband Bobby Brown, gave an exclusive interview to the National Enquirer about doing crack with the singer. (You can find the photo here.)
The cover photo, which has not been verified as Houston, shows a woman who looks like the singer in her casket, wearing a purple dress, a diamond broach and earrings. The National Enquirer claims that Houston was buried with gold slippers on her feet and that the singer's jewelry is worth $500,000.
The National Enquirer claims that Houston's last photo was taken at her private viewing. Houston's family held a private viewing for her at the Whigham Funeral Home in Newark, N.J. following her Feb. 11 death in a bathtub at the Beverly Hilton hotel.
The funeral home owner Carolyn Whigham, has said that none of her staff took the photo.
I'm going to answer you as the publicist told me to answer you: We have no comment. But it was not the funeral home, she said to the Los Angeles Times.
You guys are getting me in the middle, she said of the media, adding that the publicity is making her business look bad.
The photo has led to an outcry for many of Houston's fans and news publications. Fans took to Twitter on Wednesday, stating that publishing the photo was low.
Still, the alleged last photo of Whitney Houston in her casket is not the first dead photo of a celebrity to be published by the National Enquirer.
You might recall that shortly after Houston's death, the National Enquirer hired an actress to pose as a Houston corpse in a series of controversial shots that depicted how Houston died.
The magazine showed photographs of the hired actress lying face down on a bathroom floor, allegedly appearing in character as Houston when she died. Moreover, it also showed a photo of the hired actress in a bathtub, mimicking Houston's death scene.
Back in 1977, the National Enquirer published the famous picture of singer Elvis Presley in his casket. At the time, the issue did spark outrage but it also sold a reported record of 6.5 million copies.
Reports are that three years later, the magazine did the same after John Lennon's assassination.
Additionally, the tabloid was accused of running a fake last photo of model Anna Nicole Smith's dead body in a Florida morgue.
Last year, a photo of Michael Jackson's lifeless body was published in several newspapers after it was provided as evidence to the jury during the trial of Dr. Conrad Murray.
It is unclear at this time if the National Enquirer's last photo of Houston was authorized, but the family did give permission to The Associated Press to live stream the singer's funeral service, which reportedly got some two million unique visitors.
Related Article: National Enquirer Whitney Houston Casket Photo: Funeral Home Threatened
Related Article: How Did Whitney Houston Die? Not Accidentally, Claims Bobby Brown's Sister
Related Article: Bobbi Kristina: 'Don't Trust Anyone at This Time,' Says Bobby Brown's Sister
Related Article: Cissy Houston's Touching Letter to Whitney Featured in Funeral Program [FULL TEXT]
Related Article: National Enquirer's Publisher Says Whitney Houston's Last Photo is 'Beautiful'
© Copyright IBTimes 2022. All rights reserved.
FOLLOW MORE IBT NEWS ON THE BELOW CHANNELS