NBA Hawks' Owner To Sell Control Of Team, Cites Racially Insensitive Remarks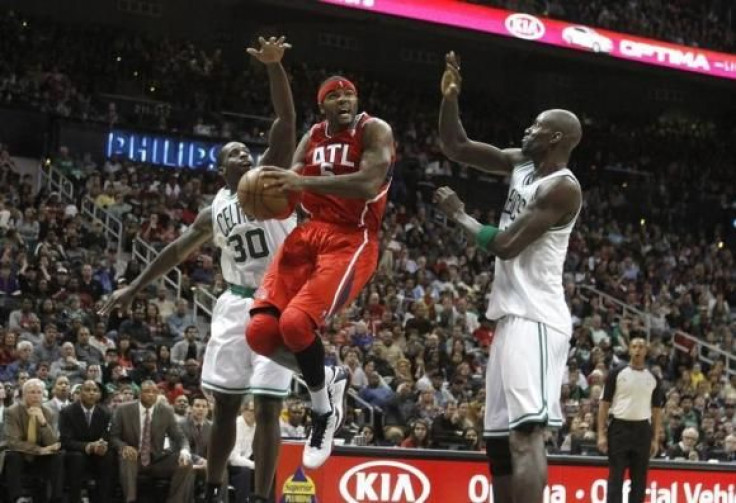 (Reuters) - In an echo of a scandal involving the former owner of the Los Angeles Clippers NBA team, the owner of the Atlanta Hawks announced on Sunday he is selling his controlling interest in the National Basketball Association franchise because of remarks he made that he says were racially insensitive.
Fans have a right to be angry about an internal email Hawks owner Bruce Levenson wrote two years ago about the need to boost attendance and how black and white fans differed in what they preferred to see at Hawks' games, Levenson said.
"In trying to address those issues, I wrote an e-mail two years ago that was inappropriate and offensive," Levenson said in a statement released by the team."If you're angry about what I wrote, you should be. I'm angry at myself, too. It was inflammatory nonsense. We all may have subtle biases and preconceptions when it comes to race, but my role as a leader is to challenge them, not to validate or accommodate those who might hold them," he added.
His email to the team general manager, Danny Ferry, which addressed ways to boost the number of season ticket holders, delved into racial makeup of fans at the Hawks arena and suggested that southern white men might not be comfortable in an arena with a high percentage of African American fans.
Levenson's announcement came just over four months after NBA Commissioner Adam Silver, in an unprecedented move, banned then Los Angeles Clippers owner Donald Sterling from the league and fined him $2.5 million for making racist remarks.
Sterling had been heard, in taped private comments, imploring a female friend not to associate with black people.
The Clippers saga ended last month when Steve Ballmer, the former chief executive officer of Microsoft, took over as the new owner of the franchise after completing a $2 billion purchase.
HARMFUL MESSAGE
NBA Commissioner Silver said in a statement that Levenson had notified the league in July of his August 2012 e-mail, and that the NBA then launched an independent investigation into the circumstances of the remarks.
"Prior to the completion of the investigation, Mr. Levenson notified me last evening that he had decided to sell his controlling interest in the Atlanta Hawks," Silver said.
While he commended Levenson for reporting the e-mail and for cooperating with the league in its investigation, Silver also criticized the remarks themselves as in "stark contrast to the core principles of the National Basketball Association."
Levenson, in describing his own remarks, said his words went against his public views on racism, adding that by focusing on race he had sent an unintentional and harmful message that white fans were more valuable than black fans.
He said his e-mail also trivialized fans by making clichéd assumptions about their interests in music and having black versus white cheerleaders, and stereotyped their perceptions of one another in suggesting white fans might be afraid of black fans.
"I have said repeatedly that the NBA should have zero tolerance for racism, and I strongly believe that to be true," Levenson said. "That is why I voluntarily reported my inappropriate e-mail to the NBA."
"After much long and difficult contemplation, I have decided that it is in the best interests of the team, the Atlanta community, and the NBA to sell my controlling interest in the Hawks franchise," he added.
Steve Koonin, the Hawks' CEO who will oversee team operations during the sale process, called Levenson's e-mail alarming and offensive, and said it did not reflect the Hawks' values.
"In partnership with the NBA, we will work to ensure that a new ownership team will be put in place that is united and committed to the Atlanta community," he said in a statement.
(Reporting by Kevin Murphy in Kansas City and Mark Lamport-Stokes in Los Angeles; Editing by Paul Simao and Frances Kerry)
© Copyright IBTimes 2023. All rights reserved.