Will New Modi-Xi Agreement Actually Lead To Progress On India-China Border Rivalry?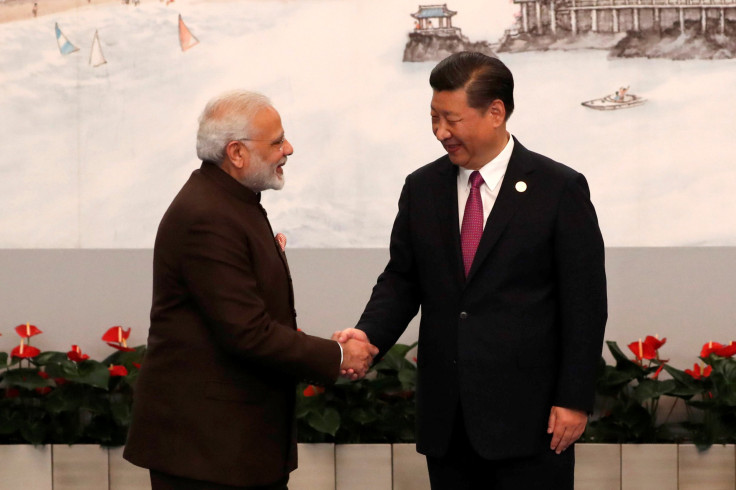 KEY POINTS
Modi and Xi agreed "to direct their relevant officials to intensify efforts at expeditious disengagement and de-escalation," India's Foreign Secretary said
The India-China border rivalry took a turn for the worse following the violent Galwan Valley incident in 2020
Questions arise on whether China will keep its word on taking efforts that will amount to anything substantial
India and China have agreed to "intensify efforts" to de-escalate tensions along their disputed border after a conversation on the sidelines of the BRICS summit in Johannesburg.
Indian Prime Minister Narendra Modi spoke to Chinese President Xi Jinping and reiterated concerns about the border issues along the Line of Actual Control (LAC), India's Foreign Secretary Vinay Kwatra said Thursday.
Modi and Xi agreed "to direct their relevant officials to intensify efforts at expeditious disengagement and de-escalation," Kwatra said.
The Indian prime minister highlighted New Delhi's "concerns on the unresolved issues" along the de facto border called Line of Actual Control (LAC) in Ladakh. He further "underlined that the maintenance of peace and tranquillity in the border areas, and observing and respecting the LAC are essential for the normalization of the India-China relationship," the foreign secretary added.
The India-China border rivalry took a turn for the worse following the Galwan Valley incident in June 2020. It led to the mutual trust between New Delhi and Beijing plunging to an extraordinary low. Both sides bolstered their military activity in the region, with India signalling that it is preparing itself for the long haul if required. This is a move that some experts believe surprised China.
"China having achieved initial success in Eastern Ladakh, now finds itself bogged down. It has been forced to match Indian troop increases, fearing a similar surprise action by India," Brig. Deepak Sinha (Retd.), a second-generation paratrooper and author of "Beyond the Bayonet: Indian Special Operations Forces in the 21st Century," told International Business Times.
The Indian Army and China's People's Liberation Army (PLA) have so far held 19 talks to ease tensions in the region but saw no progress in real disengagement.
While the Modi-Xi bilateral talk on the BRICS sidelines summit suggests progress, questions arise on whether such an agreement will amount to anything substantial.
"India has rightly raised its concerns with China on the ongoing border standoff which has caused a huge setback to the bilateral ties. While the leaders of the two counties agreed for speedy de-escalation of the standoff, China's past behaviour suggests that this is unlikely to happen very soon," Sameer Patil, author and a Senior Fellow at Observer Research Foundation, told IBT.
"It will take some time to normalise the ties as even if the current standoff is resolved, the fundamental drivers of strategic competition between the two countries persist. Unless, there is some forward and substantive movement on the resolution of the border dispute itself, I don't see much hope for the bilateral," he added.
Senior officials have conveyed India's stand on the border dispute to China on multiple occasions in the past, but this is the first time Modi is bringing up the border dispute directly with Xi in a face-to-face setting since the violent Galwan clashes in killed more than 20 Indian military personnel.
Modi and Xi met briefly for a G20 dinner hosted by Indonesian President Joko Widodo in November last year. However, whatever amicability they may have shared then did not prevent the clash between Indian and Chinese forces just a month later in the Tawang region. Both sides suffered casualties in the December 2022 incident.
Previously, the U.S. has also expressed frustration over China's notoriety of making hollow promises with respect to the South China Sea dispute. In 2015, Xi had promised former U.S. President Barack Obama that China would not militarise the Spratly Islands.
"China has instead pursued a reckless and provocative militarization of those disputed outposts, they have deployed anti-ship cruise missiles, expanded military radar and signal intelligence capabilities, constructed dozens of fighter jet hangars, and have built runways capable of accommodating combat aircraft," a U.S. Department of State spokesperson said in a 2020 statement.
The Chinese Communist Party "does not honor its words or commitments," the statement added.
Coming to the India-China rivalry, tensions are unlikely to dissipate soon as the Asian neighbors are taking different approaches to the issue.
"China wants to move ahead in the relationship while keeping the border issue on the side burner. India in contrast has put the issue front and center as it should be, and the normalization of the relationship has to begin from steps initiated by China, not India," Vivek Mishra, a fellow with Observer Research Foundation's Strategic Studies Program, previously told IBT.
Brig. Sinha added that the "prevailing stalemate suits neither side politically, economically or militarily," expressing belief that de-escalating tensions would provide both sides "an honorable exit."
"A reduction in tension with an agreement that gives both sides an honorable exit without loss of face would allow the political leadership on both sides breathing space to concentrate on further consolidating their own respective positions," he noted.
He further highlighted that India has "a general election coming up next year and a positive outcome would be to the advantage of the present dispensation."
© Copyright IBTimes 2023. All rights reserved.