New iPad Review: 3 Features Apple Needs To Improve
OPINION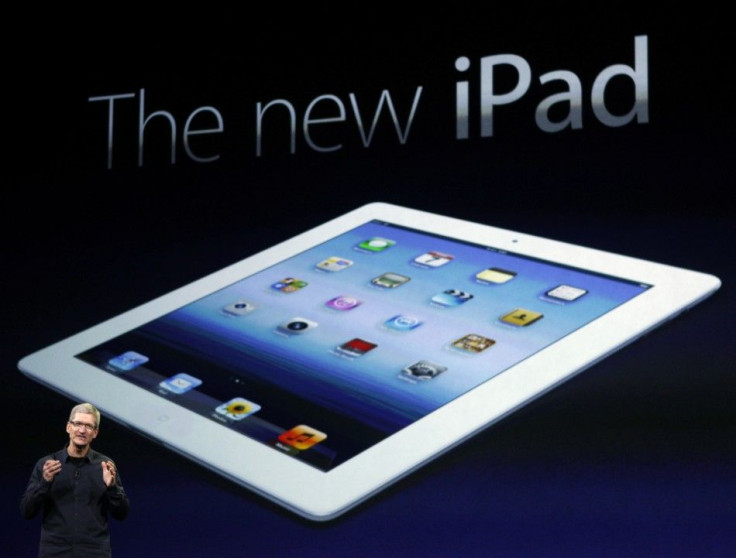 I've said it before: The new iPad is an incredible device. It's gorgeous, it's agile, it works on speedy 4G LTE networks, and it has all of the applications for news, games, music, movies, entertainment and productivity that you could possibly want. Yet, when you give the device an honest shake, you realize that there are still a few problems to it.
Apple can't always be perfect, and every product that comes out of Cupertino can't always be perfect either. Apple is great because it knows how to improve upon its own great designs, and while the new iPad is insanely great as Steve used to say, the device admittedly has a few shortcomings. While they may be minor, here are the three most noticeable issues with the new iPad.
Voice Dictation
The new iPad didn't get any other killer features besides the Retina Display, but another could-be killer was Voice Dictation, the closest thing to Siri (the voice assistant exclusive to the iPhone 4S) that an iPad user was going to get. At least on this particular device.
Voice dictation works in the same way it works in the iPhone 4S. A microphone button is added to the keyboard, so any time you need to type something, you could simply say it out loud and Apple's servers instantaneously dictate your words into text. It's a great idea, but it has a few major flaws.
While it's great to be able to speak out full sentences and have them be written down automatically, Voice Dictation still messes up words quite often, and it's difficult to really speak comfortably because you need to keep saying period when you finish a sentence. Saying period to add a period is nothing new to dictation software; in fact, most dictation software requires that you add in verbal signposts like punctuation and grammar. However, with Apple, you'd hope that this feature would be a little more intuitive and user-friendly. Voice Dictation should be able to figure out natural breaks in speech instead of needing to regularly add a comma or a period. It makes natural speaking unnatural.
Another issue with voice dictation is the fact that it automatically turns off after a short period of time. Even though this only happens when you're using it for longer than 30 seconds, you would still like to have full control over when voice dictation starts and stops in the same way that you have full control over the voice recording app on the iPhone, which lets you record indefinitely.
I understand why the voice dictation is limited: Users could talk on forever and ever and the software would be overwhelmed and never be able to keep up. The software can only process so many words and sentences on time, and since it all runs on Apple's servers, some limits must be set. But limits in this case are holding Apple back: the company could create limits but set them in ways that let the user know when they'll be cut off. It's always frustrating to see great ideas succumb to limitations, and while every device will suffer limitations, Apple should find a way around this one to give iPad owners a better dictation experience. Hopefully this comes in a software upgrade in the near future.
Battery Life
Watching the battery die as you use the new iPad is one of the more depressing experiences an owner can have. The battery doesn't dwindle that quickly, but as soon as you unplug it from the wall and you start using it for Web surfing or video streaming, the battery life drips pretty rapidly. It'll take you a long time to get zero percent, approximately 9 hours or so, but still, this device is such a battery hog, even though most of the device IS a battery.
If you opened the back of the new iPad, you'd see that most of the back contains a battery, which takes up twice the space it took in the iPad 2. If Apple could find a better, more efficient battery solution, the company could play around with thinner and lighter models of the device, but this is a long way off. The company is still struggling by today's battery limitations.
The battery drips at a regular pace, but what's worse is that the new iPad sucks up battery life even as it's plugged into a power souce. This is disturbing. I enjoy using my iDevices when they're plugged in because I know that when I do need to get up and go, I'll have a fully charged battery. With the iPad, if I want a full charge before I go anywhere, I need to plug it into a wall and leave it alone for a few hours. With such a powerful device, you'd really like the iPad to live long and prosper. The battery issue is troubling, and one that is hopefully fixed in future devices.
Keyboard
Even though most iPad navigation is point and click, we are still ultimately dependent on the keyboard. Sometimes we forget that, but in all honesty, the keyboard is the only thing holding back the iPad from beating out all other laptop and desktop computers.
Issues with the keyboard are nothing new to the third iPad, but it's a long-standing problem that has yet to be fixed. The keyboards on these iPads are just not up to snuff. Unless Apple decided to include a USB port or added a plug-in that could accommodate an external keyboard, the iPad is not a complete computing device. It's difficult to type on it in both landscape and portrait orientations of the iPad; even the iPhone is easier to type on with just two thumbs. In landscape mode on the iPad, it's a little easier to type, but your hands will still feel cramped and you cannot type freely. Unless you just use your index fingers, typing on the iPad is not a breeze.
Apple wants to be the leader of post-PC devices, it must solve the keyboard issue. Apple fans have posted ideas on how to solve this issue, with one idea involving a light projector at the bottom of the device that displays a virtual keyboard that can be expanded or shrunk using a pinch gesture. This type of technology would be best suited for Apple, which would never want to weigh down the iPad with plug-ins for external devices.
About the New iPad
The new iPad features improved front and rear cameras, the same 10-hour battery life, and a dual-LED backlit system that powers the 2048 x 1536 true HD Retina Display, which displays 3.1 million total pixels. The display features 44 percent greater saturation of colors than its predecessor, and includes one million more pixels than an HDTV. Apple's dual-LED solution makes the iPad's screen noticeably brighter, but it also apparently solved several puzzling issues with heat dissipation and battery consumption.
The new iPad is sold in two different models, including a Wi-Fi only edition, and a version with Wi-Fi and 4G LTE capability. The new iPad is currently being sold by several retailers, including Apple, the AT&T Store, Verizon Wireless, Best Buy, Target, Sam's Club and Radio Shack. AT&T and Verizon Wireless will only sell the 4G LTE models; Apple, and possibly other big box retailers like Best Buy and Target, will sell the Wi-Fi only models.
AT&T and Verizon have different plans ready for the 4G LTE models of the new iPad. AT&T customers can opt to receive 250 MB of data (don't laugh) for $14.99 a month, 3 GB for $30 a month, or 5 GB for $50 a month. Verizon Wireless sells 1 GB for $20 a month, 2 GB for $30 a month, and 5 GB for $50 a month.
If you want to buy an Apple Care+ plan for your new iPad, which is highly recommended, you'll have to visit an Apple Store or order a plan online.
© Copyright IBTimes 2023. All rights reserved.
FOLLOW MORE IBT NEWS ON THE BELOW CHANNELS