'Okami:' The Underrated Switch Game You Need To Play
This article uses affiliate links, which means if you purchase products through these links, we may earn a commission. Click here to see our
T&C
. For licensing please click
here
.
An open-world map. Unique and stunning graphics. An adventure across a nation in peril. A destructive evil, sealed away in a holy place. The character, awoken after a hundred years, now traveling throughout the land to regain their powers in order to meet a monster and defeat it completely.
No, it's not that Nintendo game. "Okami" is an action-adventure game by Capcom and Clover Studio, directed by renowned Hideki Kamiya ("Devil May Cry" and "Resident Evil"). Originally released for the PlayStation 2 in 2006 (for which it won several awards), the game has been ported to several later consoles, finally landing in the Nintendo Switch in 2018.
Play as Amaterasu, the sun goddess, in the form of a white wolf. Awoken one hundred years after the original defeat of Orochi, an eight-headed monster, Amaterasu finds that someone has released Orochi from his prison, and he has once again blighted Nippon. Wielding the power of the Celestial Brush (powered by ink) and Divine Weapons, Amaterasu must now journey across Nippon in order to regain her powers and dispel the evil that has gathered. Joining her on her journey is the self-proclaimed wandering artist Issun, who acts as a guide (and dialogue proxy, too).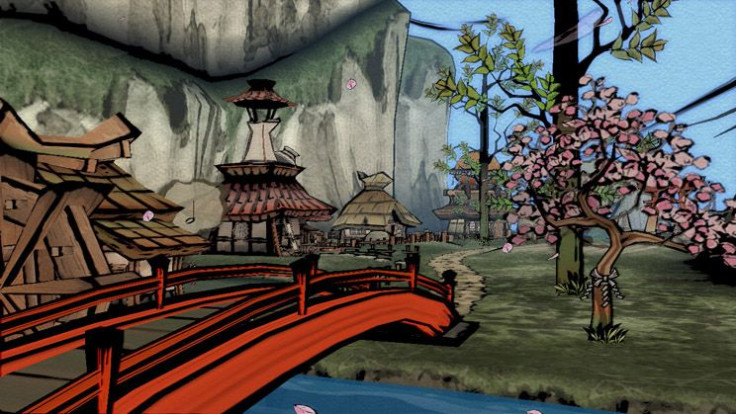 "Okami" fits the portable console perfectly, in truth. Whether on the main Switch console or the lower-spec Switch Lite, the port is a dream for fans of the action-adventure RPG genre. With upgraded graphics and integrated support on the touchscreen, "Okami" has indeed found its home on the Switch. Whether you're a returning fan looking for a different experience, or a new player in search of a unique game to play, "Okami" is a can't-miss. But just in case you need convincing -- or if you want to know more about the game -- here are a few reasons why "Okami" is the underrated Switch game you have to play.
Purchase your copy of "Okami" from Best Buy for $19.99 today.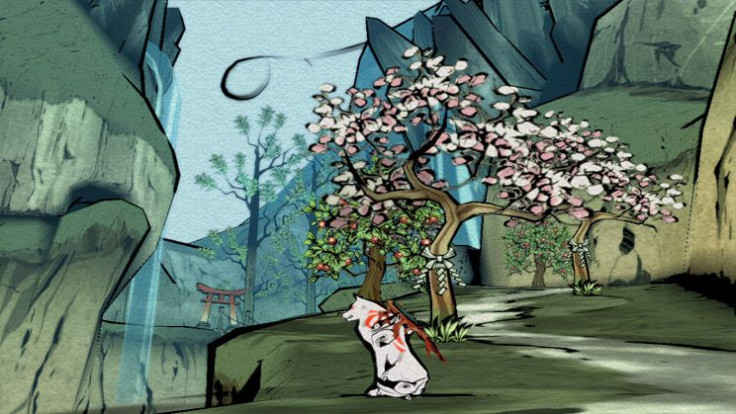 Stunning, Standout Art Style
In a deviation from more 'realistic' or detailed graphics, "Okami" instead opts for a 2D watercolor style, with a cel-shaded environment. The visuals are made to look like animated Japanese ink wash paintings, or "sumi-e", which uses back ink in different concentrations to create a wash effect. This ties in with one of the game's key weapons being a Celestial Brush. The colors are bright and vivid, which lend a very aesthetic charm, particularly when the cherry blossom Guardian Saplings burst into bloom, or water and waves rise up in a torrent. The whole game has a very 'traditional' vibe that holds up even fourteen years after its original release. The soundtrack is absolutely gorgeous, too.
Unique Combat Mechanics
Combat in "Okami" takes place in contained, ethereal arenas, in which Amaterasu fights using a combination of Divine Weapons, physical attacks, and Brush techniques. The actual fights aren't difficult, but the diversity of attacks and opponents means you're never bored.
Amaterasu has two weapons slots available: Main and Sub. There are three different weapon types obtainable throughout the game: Reflectors, Rosaries, and Glaves (all inspired by Japanese imperial regalia). Each weapon functions differently depending on the slot in which it is equipped. Reflectors set to Main are excellent for close combat; Rosaries set to Main allow long-distance, whip-like strikes. Rosaries as Sub-weapons give the player the ability to rapid-fire ink bullets. Glaves at Main act as giant swords, delivering powerful blows that deal massive damage.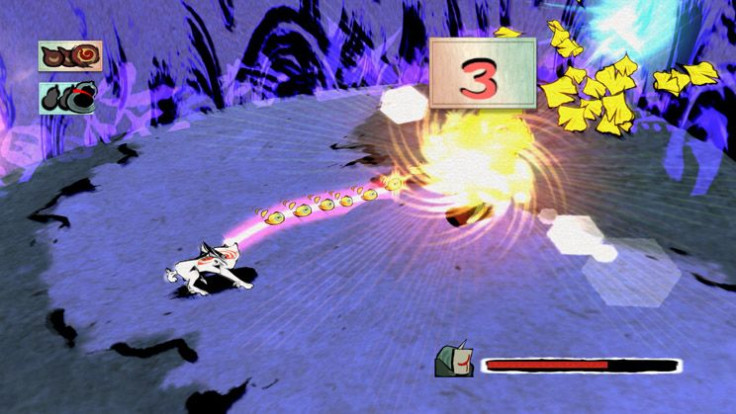 The Celestial Brush techniques are more intriguing. Collected throughout the game, these involve swiping a divine brush to instigate different divine attacks using ink. There are thirteen techniques in total, each with a different effect. Word of warning: use the touchscreen for these; the Joy Cons are reminiscent of the Wiimotes, and it's not easy to get right. Swiping across the touchscreen gives you better feedback and allows you to be more accurate with your strokes.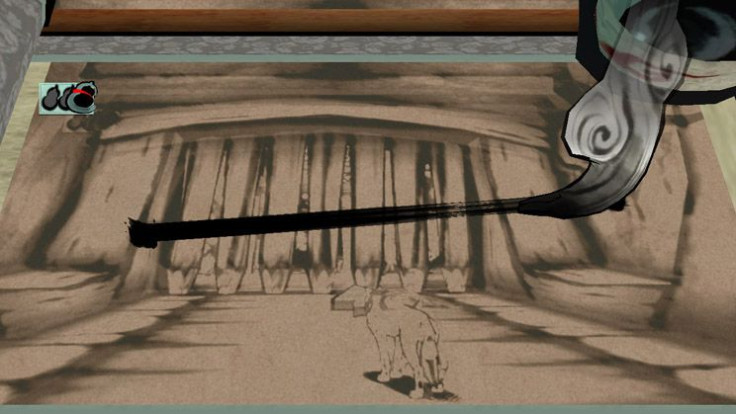 There are multiple kinds of demons who emerge for Amaterasu to fight, and each one is defeated in a unique way. Some require specific Brush techniques before they can sustain any damage. Plus, defeating demons within shorter time frames or while sustaining minimal to no damage means players receive bonus coins after the fight -- one more incentive to strategize your attacks efficiently.
Ghibli-esque Story
Sure, what's another RPG in which the land is cursed by a revived demon that only you can defeat. Still, the narrative of Okami is simple but never boring, with fun and interesting side quests, and unexpected twists along the way. The open map leaves plenty of room for side quests (some of which reward you with bonus powers!), and it's easy to get immersed in the wide, beautiful world. There's a very Zelda-esque feel to this (and director Kamiya has admitted to being inspired by the franchise) that thrills and saddens and frightens you in equal measure.
There are plenty of inspiring quotes scattered throughout (particularly from Issun, although he also says some questionable things). And Amaterasu is selfless all throughout, deferring credit or nudging other characters into action. As the Celestial Brush guardians repeatedly tell her, she brings hope to the residents of Nippon. And it feels extremely fulfilling to see an area restored to its glory and brightness (especially with art this beautiful).
For those of you who've never played the game before, jumping in will have you wondering what took you this long to try it out. And for those who've played this on prior platforms -- whether PlayStation, Wii, or even PC -- this is a wonderful way to re-experience the game, with a different play dynamic. Whichever the case, "Okami" is an immersive game that will have you wrapped around its finger, pouring hours into play to complete it. The art is breathtaking, the game play innovative and intriguing, and the story is heartwarmingly soothing as it pulls you along. And with so many unique details, it's definitely one-of-a-kind.
Now, Capcom -- we know it's unlikely, but sequel, please?
Okami is available digitally on Best Buy for $19.99. Partner it with a Nintendo Switch lite in gray ($199.99) for the perfect gift