Parents of 'Adolf Hitler Campbell' Lose Custody of Newborn Son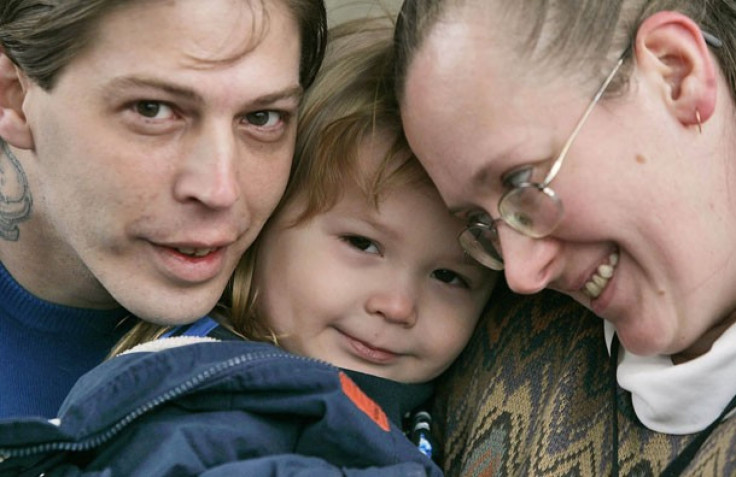 Heath and Deborah Campbell, the New Jersey parents of a child named Adolf Hitler, lost custody of their fourth child less than a day after he was born.
Hons Campbell was taken from the Campbells, parents of three children with Nazi-inspired names, on Thursday, just 17 hours after he was born. According to the Express-Times of the Lehigh Valley, the doctor who delivered the baby notified the New Jersey Division of Youth and Family Services, which then took the newborn.
According to the Campbells, the family did not know Hons would be taken from them, though their three other children, Adolf Hitler, 5, Aryan Nation, 4 and Honszlynn Hinler Jeannie, 3, have been in foster care since January 2009 when child services took them away.
There's no legal binding court order, Heath Campbell told the Express-Times. It's basically a kidnapping, but they use different terms.
Deborah Campbell said she never had any contact with the baby as police were stationed outside of her hospital room since she had induced her labor later Wednesday evening.
Heath and Deborah Campbell first entered the public eye in late 2008 when a local ShopRite grocery store refused to put putting Adolf Hitler's name on a birthday cake. The couple said they liked the way the name sounded.
One month after the incident, the children were removed from their home and put in foster care, where they still are located. Court reports show the children were removed after an anonymous tip was submitted detailing violence and the swastikas that cover the Campbell home.
While the Division of Youth and Family Services cannot legally comment on the case, they did say the removal of the children can only take place if there is suspicion of abuse or neglect.
We would never remove a child simply based on their name, the spokeswoman told ABC News in 2009.
In October, the Campbell parents were cleared of child abuse charges but an appeals court ruling prevented them from getting their children back.
Actually, the judge and DYFS told us that there was no evidence of abuse and that it was the names. They were taken over the children's names, Heath Campbell told NBC 10 in October.
Heath and Deborah Campbell reportedly have a hearing in December where a judge will make a final decision on custody of the three children. Pasquale Giannetta, the attorney for the Campbell parents, told the Associated Press that a court hearing will take place on Monday for the custody of newborn Hons.
© Copyright IBTimes 2023. All rights reserved.