Arms Sales To Saudi Arabia: The Kingdom Hires A Powerful Former Lawmaker To Lobby Trump White House And Congress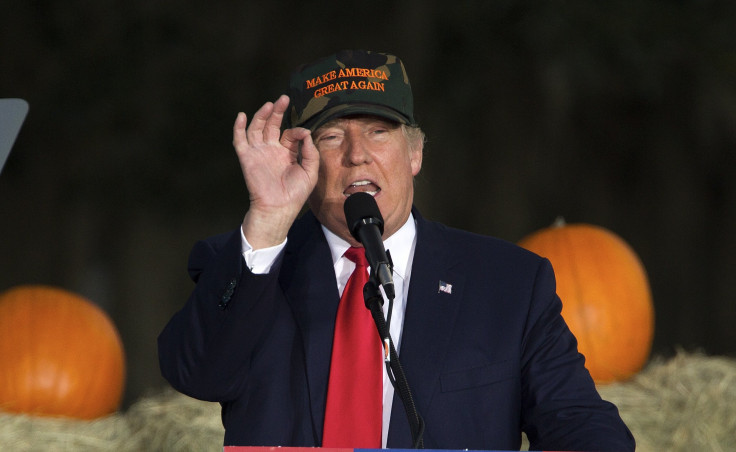 Saudi Arabia just added another heavyweight to its already formidable team of lobbyists: former California Rep. Howard "Buck" McKeon. The longtime GOP lawmaker isn't any ordinary lobbyist. Between 2011 and 2015, he was the chair of the powerful House Armed Services Committee, which oversees the Department of Defense and its multibillion dollar foreign-military sales program to Saudi Arabia. According to data from the Center for Responsive politics, McKeon was among the top five recipients of defense contractor money in the U.S. House of Representatives.

On his registration form, McKeon indicated he would "provide consulting and government relations counsel" and that he would "undertake specific advocacy requests with regard to legislative and public policy matters." He did not respond to an International Business Times request for comment.
McKeon joins the Saudi lobby at a key moment. In September, Saudi Arabia's army of lobbyists failed to defeat a bill that opened up the door for 9/11 victims to sue the Kingdom for its alleged connection to the attackers. Saudi is also under fire on Capitol Hill for alleged-human rights abuses in its two-year military campaign in Yemen, where U.S.-supplied Saudi planes have bombed hospitals, schools and key infrastructure.
Over the summer, 64 lawmakers signed a letter decrying the sale of cluster munitions to Saudi Arabia, and in September, a bipartisan coalition nearly blocked a multi-billion dollar sale of tanks to the Kingdom. That company furnishing the tanks was General Dynamics, which has contributed over $100,000 to McKeon over the course of his career.
By signing on as a Saudi lobbyist, McKeon will be lobbying his former colleagues to keep arming Saudi Arabia at a time of uncertainty for the US-Saudi alliance. The incoming Donald Trump administration has sent mixed messages: At times, President-elect Trump has hinted he'd pull away from Saudi. "The primary reason we are with Saudi Arabia is because we need the oil," he said in August. "Now, we don't need the oil so much." But Trump has also suggested that he wouldn't object to Saudi Arabia acquiring nuclear weapons and has pledged to "protect" the Kingdom.
Amid the transfer of power from Barack Obama to Trump, McKeon is expected to push for continuity in the U.S.-Saudi relationship.
"[His] years of experience on the House Armed Services Committee, including his last four as the head of the committee, would put him in a privileged position to push Congress to continue to allow arms sales to Saudi Arabia," said Seth Binder, program manager for Security Assistance Monitor, "despite the growing concern over the increasing number of possible human rights violations committed by the Saudi-led coalition's bombing in Yemen."
During his time in government, McKeon was a reliable ally of the Saudis and the defense industry. Security Assistance Monitor tracks U.S. foreign military assistance, and its data shows that during McKeon's tenure as head of the House Armed Services Committee, the US signed off on $10 billion in military sales to Saudi Arabia. McKeon's committee oversaw the Department of Defense while it implimented those agreements—known as Foreign Military Sales (FMS)—which allow foreign governments to buy sensative military equipment from private US defense contractors. These deals are vetted through a complex bureaucratic process that involves the State Department and the Department of Defense; ultimately any of these sales can be blocked by an act of Congress."
While McKeon was chairman, sales to Saudi Arabia nearly doubled, as the Department of Defense facilitated the sale of tanks, fighter aircraft, and munitions.
McKeon received over $700,000 in campaign contributions from defense contractors over the course of his career — including from companies that sell arms to Saudi Arabia. For example, McKeon collected nearly $200,000 from Lockheed Martin, which recently signed an $11.9 billion deal to sell combat ships to Saudi. Boeing, General Dynamics and Northrop Grumman all sell arms to Saudi Arabia and contributed generously to McKeon's campaigns.
William Hartung, the director of the Arms and Security Project at the Center for International Policy, called McKeon's move into lobbying, "the military-industrial complex at its worst."
"Hiring the former head of the House Armed Services Committee to run interference for them makes sense from the Saudi perspective," he said. "McKeon will be helping old friends like Boeing and Lockheed Martin, major campaign contributors of his who are profiting handsomely from the U.S.-Saudi weapons trade."
The former congressman now runs his own lobbying firm — the McKeon Group, which registered earlier this month to represent Saudi Arabia. McKeon will be working in a partnership with Democratic-aligned lobby shop the Glover Park Group, alongside 17 other firms and individuals the Kingdom has hired to guard its interests in D.C.
Correction 11/28/ 2:15 pm: This article was changed to clarify the bureaucratic process involved in approval for arms sales.
© Copyright IBTimes 2023. All rights reserved.
FOLLOW MORE IBT NEWS ON THE BELOW CHANNELS