Trump Conflicts: Nominee For Deputy Health And Human Services Secretary Has Extensive Ties To Health Care Industry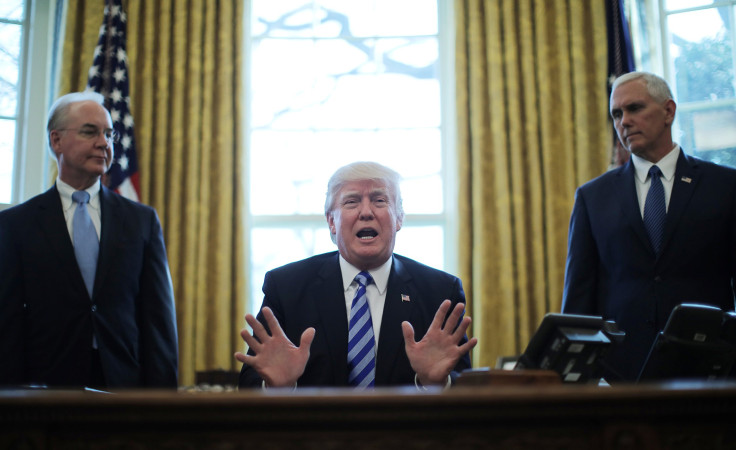 Health and Human Services Secretary Tom Price faced an investigation for his health care industry stock trades this year, but the potential conflicts of interest in that department may not end with him. President Donald Trump's pick for Price's deputy secretary, Eric Hargan, may also be problematic.
Hargan, at least in part through his work at the law firm Greenberg Traurig LLP, provided legal services to more than two dozen health care industry companies, six health systems, six private equity firms, three individual doctors and a trade group representing Illinois ambulance businesses, according to a public financial disclosure document from the Office of Government Ethics.
Read: New York Attorney Was Investigating HHS Secretary Tom Price Before His Removal
Hargan received a salary from and was a shareholder in Greenberg Traurig — the second largest U.S. law firm in 2016 and the employer of ardent Trump surrogate Rudy Giuliani — from 2010 to as recently as March, according to the OGE form. He was nominated by Trump in mid-March. Neither Greenberg Traurig nor Hargan himself answered questions from International Business Times about his ties to the health care industry, and whether he provided all the legal services listed in the disclosure through the firm, independently or a mix of both.
Hargan was last registered as a lobbyist in July 2010, and will therefore not violate Trump's Jan. 28 executive order mandating that lobbyists wait two years after their lobbying activity to enter a related government appointment, according to the Senate's lobbying database. But in following the executive order, he would have to recuse himself on "any particular matter involving specific parties that is directly and substantially related to [his] former employer or former clients," which include generic drug makers, health system software and management businesses, regional hospital systems, a health care marketplace, private surgeons and emergency services and a bank "with a division dedicated exclusively to hospitals."
Section 2635.502 of the Code of Federal Regulations imposes a similar standard, maintaining that, for official matters in which a government employee "determines that the circumstances would cause a reasonable person with knowledge of the relevant facts to question his impartiality in the matter," the employee should recuse him or herself, unless given approval to proceed by an ethics officer.
Read: Senator Elizabeth Warren Announces Transition Investigation
Still, as Rob Walker of the law firm Wiley Rein LLP told IBT, Hargan is not likely to have to recuse himself while on the job, given the broader, industry-wide focus of the deputy secretary job.
"He's got to be careful to avoid particular matters involving these specific clients," Walker said. "From a legal standpoint and from an ethics standpoint, if he abides by the restrictions… these rules only go so far."
But Larry Noble, general counsel at the nonpartisan Campaign Legal Center, expressed concerns that Hargan would have conflicts of interest beyond issues specifically involving his former clients.
"Adding somebody like him is definitely fulfilling the health care industry's wishes," Noble said. He speculated about the impact of Hargan's appointment on the Republican effort to repeal and replace the Affordable Care Act, raising the possibility that protections for Americans with pre-existing conditions might be in danger.
"There's definitely going to be bias toward the industry," he said.
© Copyright IBTimes 2023. All rights reserved.