President Obama Takes A Shot At Supreme Court Over Healthcare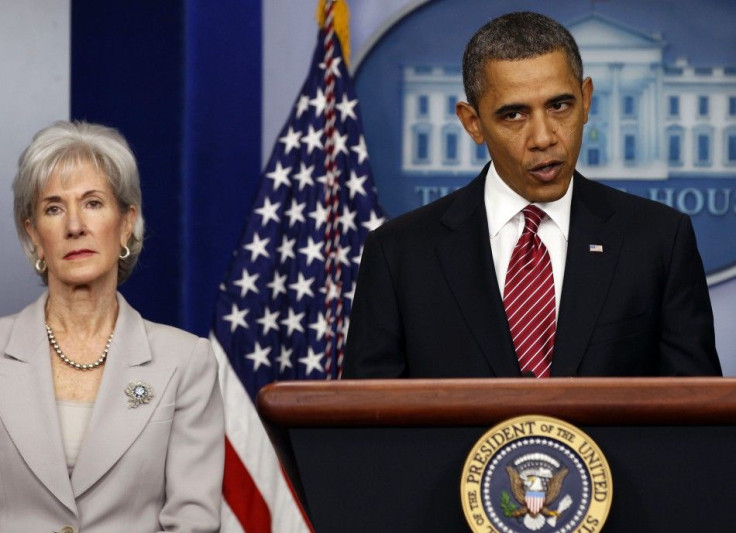 WASHINGTON (Reuters) - President Barack Obama took an opening shot at conservative justices on the Supreme Court on Monday, warning that a rejection of his sweeping healthcare law would be an act of judicial activism that Republicans say they abhor.
Obama, a Democrat, had not commented publicly on the Supreme Court's deliberations since it heard arguments for and against the healthcare law last week.
Known as the Affordable Care Act or Obamacare, the measure to expand health insurance for millions of Americans is considered Obama's signature domestic policy achievement.
A rejection by the court would be a big blow to Obama going into the November 6 presidential election.
Republican presidential candidates, who are vying to take on Obama in November elections, have promised to repeal the law if one of them wins the White House.
Obama's advisers say they have not prepared contingency plans if the measure fails. But the president -- who expressed confidence that the court would uphold the law -- made clear how he would address it on the campaign trail if the court strikes it down.
Ultimately, I am confident that the Supreme Court will not take what would be an unprecedented, extraordinary step of overturning a law that was passed by a strong majority of a democratically elected Congress, Obama said at a news conference with the leaders of Canada and Mexico.
Conservative leaders say the law, which once fully implemented will require Americans to have health insurance or pay a penalty, was an overreach by Obama and the Congress that passed it.
The president sought to turn that argument around, calling a potential rejection by the court an overreach of its own.
And I'd just remind conservative commentators that, for years, what we have heard is, the biggest problem on the bench was judicial activism, or a lack of judicial restraint, that an unelected group of people would somehow overturn a duly constituted and passed law, Obama said.
Well, this is a good example, and I'm pretty confident that this court will recognize that and not take that step, he said.
POLITICAL DEBATE
The Supreme Court justices are expected to issue decisions in the dispute by late June, a time when the presidential campaign season is likely to be in full swing.
It's not that common for presidents to get into direct verbal confrontations with the Supreme Court, said Georgetown University law professor Louis Michael Seidman. But it's also not that common for the Supreme Court to threaten to override one of the president's central legislative accomplishments.
A spokeswoman for the court declined to comment on Obama's remarks.
A spokeswoman for Mitt Romney, the front-runner for the Republican presidential nomination, took issue with Obama's preemptive strike and his use of the word unprecedented.
What was 'unprecedented' was the partisan process President Obama used to shove this unconstitutional bill through despite the overwhelming objections from Americans across the country, said Romney spokeswoman Andrea Saul.
Even if the law is upheld, Governor Romney will begin the process of repealing it on Day One in office.
Romney shepherded healthcare reform through the state of Massachusetts when he was governor there. Democrats note that Romney's law was an inspiration for Obama's.
The president, who once taught constitutional law at the University of Chicago, said the individual mandate that requires most people to buy insurance was critical to the success of the healthcare overhaul.
The Supreme Court is looking at whether Congress exceeded its power to regulate commerce in U.S. states with that mandate.
I think the justices should understand that in the absence of an individual mandate, you cannot have a mechanism to ensure that people with preexisting conditions can actually get health care, Obama said.
So there's not only a economic element to this, and a legal element to this, but there's a human element to this. And I hope that's not forgotten in this political debate.
(Additional reporting by Joan Biskupic, Tabassum Zakaria, Samson Reiny, and Steve Holland. Editing by Christopher Wilson)
© Copyright Thomson Reuters 2023. All rights reserved.