At Press Conference After ECB Interest Rate Decision, Draghi Faces Frustrations and Mistrust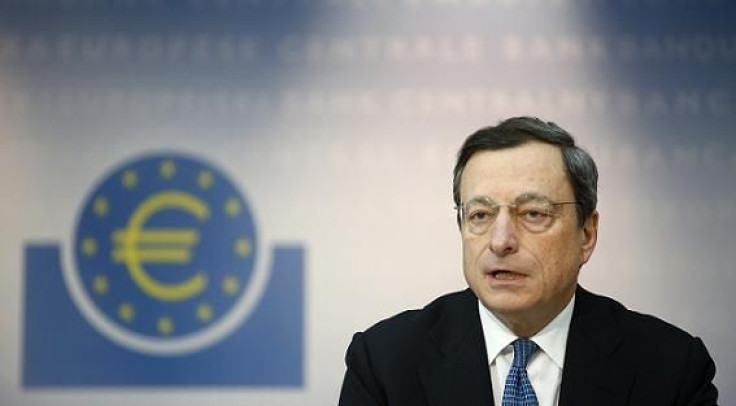 In spite of beginning his monthly press conference by wishing the reporters present a merry Christmas and happy New Year, European Central Bank President Mario Draghi had few stocking-stuffers to offer Thursday, after the central bank he leads announced its deteriorating view of the economy did not justify pursuing further accommodative policies before 2013.
"Economic weakness in the euro zone is expected to extend into next year," Draghi told a news conference after the central bank's monthly policy meeting, adding that in spite of this fact, "the consensus was to leave the rates unchanged."
The euro, which had been trading near $1.31 following a recent rally, dropped precipitously below $1.30 and was steadily falling in late-European-session trading.
And it wasn't just the euro markets that were unhappy with Draghi.
Subtly accusing him of "ignoring your own staff projection [that the economy was getting worse] and going with the more optimistic business surveys," a reporter for the Financial Times asked Draghi if the ECB ultimately believed its policy was doing as much as could be done to avert economic suffering in Europe.
"To some extent, we've already done much of what is needed," Draghi responded, only to be interrupted mid-sentence with a shout of "but have you done enough?" from the reporter.
"I'm not going to answer this question, as you can imagine," Draghi replied.
'Price Worth Paying'
The central bank chief instead pointed repeatedly to the fact sovereign bond spreads had dropped significantly since July, when the ECB intervened with a plan to cause such momentum, lowering the borrowing costs for cash-strapped peripheral governments. Stock and bond prices, Draghi noted, had also recovered.
But the focus on those metrics only seemed to stoke the ire of several other members of the media, who kept putting the bank president in the untenable position of having to personally answer for the Continent's economic woes.
Referring to an earlier statement by Draghi that had mentioned a lot of the economic malaise seen in Europe is the result of plans that will lead to a better system down the road, a reporter for the Wall Street Journal asked if "this is a price worth paying for the adjustments?"
(A reporter for a French newsmagazine was less polite, asking Draghi "how much time do you need to recognize that the killer medicines that you gave the Greek people are not working?")
"It's hard to say if it's a price worth paying. … We are in this situation, a 'bad equilibrium,' because of poor policymaking that occurred in the years prior to the crisis," Draghi responded. "It's a very hard price, but it's unavoidable."
The Shadow of Goldman Sachs
And those were the relatively less contentious questions, as other reporters resorted to ad hominem attacks that suggested Draghi might be maneuvering out of personal convictions as an Italian, or as a former Goldman Sachs executive.
On that last point, an Italian reporter asked Draghi if he "intended to avoid the conflicts of interest" inherent in his participation in the Group of 30 -- an international economic and financial think tank Draghi recently joined -- which the reporter stated was controlled by Goldman Sachs alumnae and funded by Goldman Sachs.
"I don't intend to avoid them. There aren't conflicts of interest," Draghi noted, before referring to prepared notes in which he explained what the Group of 30 was and noted the other international central bankers that were part of the club.
"I had no idea the Group of 30 was being financed by Goldman Sachs," he then added. "That's news to me."
Similarly, various reporters attempted unsuccessfully to get Draghi to address the political situation in Italy.
Part of the reason for the antagonistic attitude at the question-and-answer session, of course, is the feeling the ECB might be running out of options in order to help the euro zone. The plan Draghi vaunted for having caused a decrease in borrowing costs to Spain and Italy, for example, has not been activated due to reticence from those governments to request the official aid. And a move to negative interest rates in certain deposit facilities, one of the tools the central bank has left in making monetary policy more accommodative, is seen as a risky course of action. Draghi said the bank had discussed negative interest rates at its monthly meeting but "didn't elaborate any further" as to whether they'd be appropriate.
Draghi, who tensed up throughout the press conference but relaxed as the final question was announced, used his answer to that last query, on whether the bank would consider supporting euro bonds, to deliver what was almost a valedictory summation on why the euro zone finds itself in a crisis.
"Originally, there was a breach of trust in the euro area with countries that have been complying with fiscal soundness, and countries that were not," Draghi said, explaining that euro bonds were not feasible because "it's pointless to begin from a policy that says: 'I issue and you spend.'"
"That is not realistic. It will become realistic once trust is re-established," Draghi added.
Then, in a telling "hot mic" episode after the press conference, he seemed to recognize he might have to do some trust-building of his own.
Joking with a reporter who had approached him to shake his hand, the same reporter who had asked about the situation in Italy falling into "an abyss," Draghi asked, with a microphone inadvertently on: "Why are you suspicious about me being Italian?"
FOR FREE to continue reading
✔️ Unlock the full content of International Business Times UK for free
offer available for a limited time only
✔️ Easily manage your Newsletters subscriptions and save your favourite articles
✔️ No payment method required
Already have an account?
Log in
© Copyright IBTimes 2023. All rights reserved.