The Rev. Sun Myung Moon, Unification Church Founder, Mass Wedding Specialist, Friend To Presidents And Despots Alike, Dies At 92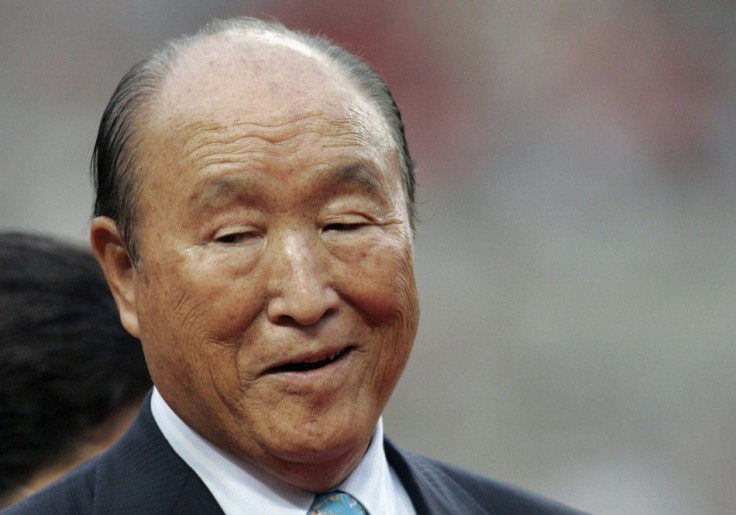 The Rev. Sun Myung Moon -- a self-proclaimed messiah from South Korea who founded the Holy Spirit Association for the Unification of World Christianity, or Unification Church, businessman, convicted U.S. tax evader and friend of North Korea -- died at the age of 92 on Monday.
Moon was suffering from pneumonia and died at a church-owned hospital in Gapyeong, South Korea, Unification Church representative Ahn Ho-yeul told the Associated Press.
The Korean megachurch magnate launched his religious movement in 1954, after he survived the Korean War. He was born in a town that eventually ended up in North Korean territory.
The Unification Church did not post a formal statement on Moon's death -- at least not officially. However, the ultraconservative Washington Times, founded by Moon and owned by the church, did post a prolific, white-glove treatment of the reverend for its obituary, describing him as a "visionary" and "lifelong champion of the free press."
"Words cannot convey my heart at this time," said Thomas P. McDevitt, president of the Washington Times. "Rev. Sun Myung Moon has long loved America, and he believed in the need for a powerful free press to convey accurate information and moral values to people in a free world. The Washington Times stands as a tangible expression of those two loves."
Jesus Christ chose Moon to complete his work at the age of 16, making him the successor to the only son of God in the 1930s, the church founder claimed.
Moon was known for his novel interpretations of Bible teachings, which are detailed in the "Divine Principle." Simply put, God has been pretty upset since the fall of mankind and subsequent exile from the Garden of Eden. He has spent the better part of the time since then grieving. His true followers will adhere to Moon's prescription of love, public service, and peaceful relations with other religions, called the "providence of restoration."
As a result of this big-picture lovefest, Moon gained some degree of fame for promoting multicultural couplings and mass global congregations, which he posited as a bid to help create a multicultural world. It was also believed that Unification Church wedding ceremonies washed away the original sin, which passed down to all humans at birth because Adam and Eve disobeyed God with the eating of the fruit from the tree of knowledge of good and evil.
Byproducts of believing in mass forgiveness via marriages are the unique Unification Church practice mass weddings, which allowed numerous couples to say "I do" all at once. Moon's first such ceremony was held in Seoul in the early 1960s. The practice eventually grew to include thousands of participants, such as those gathering in New York's Madison Square Garden in 1982 to enter marital bliss with other happy couples.
Moon most recently simultaneously married 7,000 couples in South Korea in February 2010, following a 2009 bonanza of 45,000 people entering marital bliss or reaffirming their vows at the same time worldwide.
"International and intercultural marriages are the quickest way to bring about an ideal world of peace," Moon said in his 2009 autobiography "As A Peace-Loving Global Citizen," according to the AP. "People should marry across national and cultural boundaries with people from countries they consider to be their enemies so that the world of peace can come that much more quickly."
The church faced an early onslaught of naysayers, who claimed the Unification Church used dubious tactics, including brainwashing, to garner followers that it then exploited for cash. These so-called Moonies, as they were derisively labeled by nonbelievers, came to number millions worldwide, according to the church. However, critics and defectors have claimed the number does not top 100,000, according to the AP.
Eventually, business interests became a notable addition to the church's dealings, with holdings in the Washington Times, the New Yorker Hotel, Bridgeport University, and a ski resort and professional soccer club in South Korea parts of a burgeoning list of cash-making enterprises that have reached a value in the billions of dollars.
But it was Moon's influence with world leaders of all stripes that put many people on edge.
Moon claimed to have a self-described "old friends" relationship with North Korean dictator Kim Il Sung. "The two of us were able to communicate well about our shared hobbies of hunting and fishing. At one point, we each felt we had so much to say to the other that we just started talking like old friends meeting after a long separation," Moon wrote in his autobiography.
The good relations carried on into the reign of Kim's successor, Kim Jong Il. The North Korean despot habitually sent Moon roses, wild ginseng, and Rolex watches every year for the reverend's birthday.
Moon also spent time behind bars, serving 13 months in U.S. federal prison from 1984 to 1985 after being found guilty of tax evasion, according to the AP. Church defenders claimed the U.S. government jailed Moon on trumped-up charges out of fear of his growing influence, after a 1977 House of Representatives subcommittee failed to find any wrongdoing by the Unification Church.
Moon had reportedly maintained friendly relations with a number of U.S. presidents as well, including Richard Nixon and George H.W. Bush.
"As controversial as Rev. Moon was in the United States, I got to know him as a man whose heart was focused on bringing together people of different faiths to bridge divides. His call on people of faith to serve others is an important legacy," said Neil Bush, chairman of Points of Light and son of President George H.W. Bush, according to the Washington Times.
The reverend's political views skewed to the right on the Republican and Democrat spectrum.
"This country desperately needs a God-centered president, senators and congressmen. America's intellectual establishment is liberal, godless, secular, humanistic, and anti-religious," Moon said, according to the Unification Church's website. "We are declaring war against three main enemies: godless communism, Christ-less American liberalism, and secular-humanistic morality. They are the enemies of God, the True Parents, the Unification Church, all of Christianity, and all religions. We are working to mobilize a united front against them."
He reportedly also predicted divine insight let him see that Ronald Reagan would win the 1980 presidential election "by a landslide." Moon told this to Reagan, who, taken aback, asked "Who told you that?"
Moon explained his prophecy, with Reagan retorting, "I wish I had as much confidence in myself as Rev. Moon does."
Moon professed to harbor no ill will against those who lambasted him.
"Today, though, not even the slightest wound remains in my heart," he wrote in his autobiography. "True love is a love that forgets it already gave love, and gives love again."
Moon is survived by his second wife, Hak Ja Han Moon, and 10 children. None of them see themselves as successors to their father's role.
"Our role is not inheriting that messianic role," Moon's youngest son, the Rev. Hyung-jin Moon, told the AP. "Our role is more of the apostles, where we share ... where we become the bridge between understanding what kind of lives [our] two parents have lived."
You can check out a full, hourlong presentation of pro-Moon material here.
© Copyright IBTimes 2022. All rights reserved.
FOLLOW MORE IBT NEWS ON THE BELOW CHANNELS