Is RFK Jr. The Top Biden Alternative? Tucker Carlson, Other Conservatives Back Anti-Vaccine Activist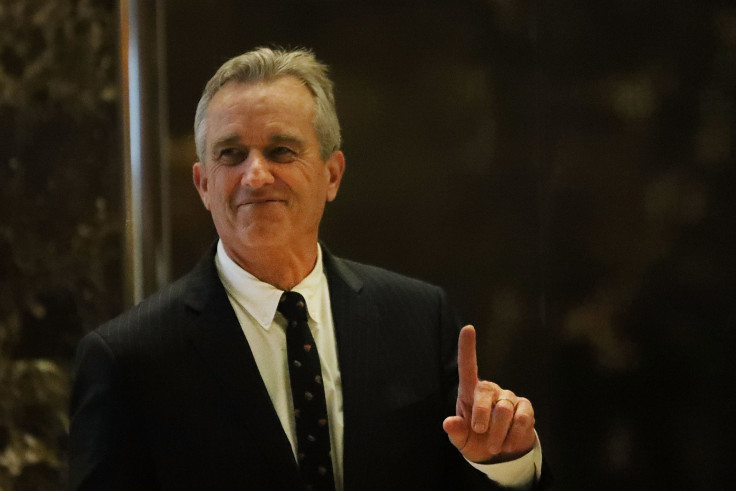 KEY POINTS
"Bobby Kennedy asks a lot of questions ... he notices things," Carlson said on his Twitter show
Joe Rogan also opened his podcast doors for RFK Jr. last week
During the interview, RFK Jr. reiterated his claim that vaccines could cause autism
Robert "Bobby" F. Kennedy Jr.'s 2024 presidential campaign is on a roll in recent weeks as the nephew of ex-president John F. Kennedy is gaining popularity among some conservatives, including ousted Fox News host Tucker Carlson.
"Bobby Kennedy asks a lot of questions ... he notices things. Kennedy pays attention to the world around him, and he wonders why it's changing," Carlson said in the sixth episode of his "Tucker on Twitter" show titled "Bobby Kennedy is winning."
Carlson also noted how the American media did not take to heart the environmental lawyer's announcement of his 2024 presidential campaign. "There's never been a candidate for president the media hated more than Robert F. Kennedy Jr. You thought that title belonged to Donald Trump. Of course it must, but go check the coverage," he said.
Carlson isn't the only conservative who's given RFK Jr. a boost in recent weeks as TV commentator Joe Rogan has allowed the anti-vaccine activist to speak his mind on his Spotify podcast.
RFK Jr. appeared on Rogan's "The Joe Rogan Experience" podcast on June 15 and talked about the conspiracy theories surrounding his uncle's assassination. "What happens to you?" Rogan asked him regarding his belief that there were intelligence agencies involved in JFK's assassination.
"Well, I gotta be careful. You know, I'm aware of that ... I'm aware of that danger ... I don't live in fear of it," he said, adding that he takes "precautions" to avoid such a situation.
RFK Jr. also reiterated his claim that vaccines could cause autism.
Vaccine scientist Dr. Peter Hotez criticized Spotify after Rogan challenged him to a have a debate with the Democratic presidential candidate on the matter.
Twitter owner Elon Musk chimed in, saying Hotez was "afraid of a public debate, because he knows he's wrong."
Before appearing on Rogan's podcast, RFK Jr. spoke with Omeed Malik, founder and CEO of boutique merchant bank Farvahar Partners. Malik tweeted part of the talk, saying RFK Jr. described "the ramifications" of allowing pharmaceutical companies "to advertise directly to customers" during the chat.
CNBC describes Malik as a wealthy and "veteran Wall Street executive" and getting his support could play a role in boosting RFK Jr.'s social presence as he attempts to unseat President Joe Biden as the Democratic nominee for 2024.
Former New York City Mayor Rudy Giuliani has praised RFK Jr. for choosing Dennis Kucinich as his campaign manager, calling it "a smart move." The former Trump attorney also said Kennedy Jr. was "taking a higher percentage of Democrats against Biden than [Ron] DeSantis is against Trump."
Kucinich was a two-time presidential candidate with the Democratic Party and RFK Jr. said the former "has brought invaluable electoral experience to our campaign."
Square CEO Jack Dorsey retweeted a video of RFK Jr. saying he can beat the Republican Party's two 2024 frontrunners and wrote, "He can and will."
When a Twitter user asked him if he was "endorsing or just predicting," Dorsey said "both." Another user pointed out that there was no chance the Democratic National Committee (DNC) would allow RFK Jr. to be nominated. Dorsey said it was "even more reason" to root for him.
Former White House chief strategist Steve Bannon suggested that Kennedy was "an excellent choice for President Trump to consider" for a running mate.
The 69-year-old son of former attorney general Robert F. Kennedy will appear next week at a NewsNation town hall. The network said RFK Jr. has received 20% of Democratic support in some polls.
In a June poll by The Economist and YouGov, Kennedy garnered the highest net favorability rating of 19 points among respondents compared to Trump's minus-9 and Biden's minus-10 net ratings.
Democratic voters have recently hinted that they were open to having an alternative to Biden, Axios reported. On the other hand, support for RFK Jr. appears to have dipped among voters.
© Copyright IBTimes 2023. All rights reserved.