RIM Using Social Marketing, Print Ads To Prime BlackBerry 10
RIM Using Print, Social Networking For BlackBerry 10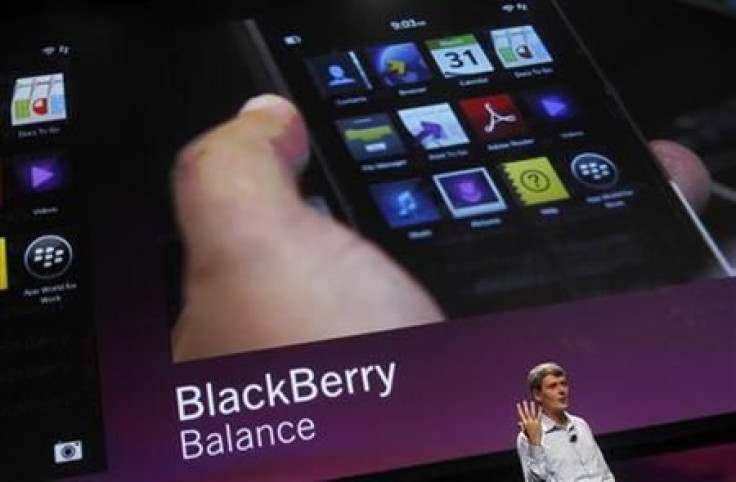 BlackBerry developer Research in Motion (NASDAQ:RIMM) may not have a new smartphone for holiday buying but its target markets are getting the full force of a multifaceted marketing blitz.
The Waterloo, Ontario, smartphone maker has advanced shipment dates of the long-delayed BlackBerry 10 to Jan. 30, too late for any 2012 sales but perhaps in time for enterprise and consumer orders for 2013.
This week, RIM spent a small fortune buying color display ads in the New York Times wrapping around a special section devoted to its Dealbook mergers and acquisitions report, which held its first conference with Wall Street VIPs on Wednesday.
"Re-designed, Re-engineered. Re-invented," the ads claim, before highlighting a better camera and "effortless" message typing.
RIM's software chief, Vivek Bhadwaj, demonstrated the BlackBerry 10, which has a new OS, during lunch at the paper's New York headquarters.
New York Times Co. (NYSE:NYT) advertising VP Andy Wright declined to say how much RIM paid, except to say the amount was "substantial."
Guests at the Dealbook conference included Marc Andreessen, principal of his venture capital firm and a director of Hewlett-Packard Co. (NYSE:HPQ), and Dick Costolo, CEO of Twitter.
As well, Lloyd Blankfein, CEO of Goldman Sachs (NYSE:GS), spoke at the conference.
Surely he and other investors are mindful shares of RIM have surged nearly 85 percent in the past three months, during which time shares of rival Apple (NASDAQ:AAPL) set an all-time high of $705.07 and since have fallen 23 percent, trading Thursday at $527.70.
RIM shares, though, rose another 3 percent Thursday to $13.65, valuing the loss-ridden company above $7 billion. By contrast, the value of Apple, of Cupertino, Calif., is $497 billion. Analysts expect Apple to report record results for its current first quarter.
"RIM is just trying to promote," said Clive Chajet, a brand expert and former chairman of the Lippincott & Margulies advertising unit of Marsh & McLennan Cos. (NYSE:MMC).
Companies need to keep their names and valuable brand images like BlackBerry in the public eye, he said.
A year ago, under prior management, RIM was reeling from service glitches that caused snafus for its then 76 million email users as well as tepid demand for its PlayBook tablet designed to compete with the iPad.
New CEO Thorsten Heins, 54, in place only since January, has promised to fix things, as well as slash costs and close down RIM sites. Nearly six months ago, he introduced the new BlackBerry 10 OS at a developers conference and said the model might be shipped as early as late March.
Then Heins won kudos for advancing the date to January.
Besides print media, RIM is also using special "advocacy software" designed for major advertisers, said an executive with a company that designed it.
The software is intended for companies to build online support for new products by creating endorsements, multimedia files and other tools likely to be seen by an Internet shopper, the executive said.
Clearly, RIM is playing to its base of 80 million current customers, mainly enterprise customers in the U.S. and developed world, with the rest consumers in some giant markets like Indonesia.
Whether they'll wait for BlackBerry 10 is another matter.
Piper Jaffray analyst Gene Munster said Thursday the campaign has been a modest success. Customer "intent to purchase" the new product has risen since September to 4.9 percent from 4.7 percent.
But Apple's share of the same customers intending to purchase has risen to 53.3 percent from 47.7 percent, while Android OS purchasers' intentions have fallen to 35.3 percent from 39 percent.
© Copyright IBTimes 2023. All rights reserved.