Shark Bites 10-Year-Old On South Carolina Beach
A Kentucky boy who thought he'd stepped on a crab while swimming on Hilton Head Island, South Carolina, was actually bitten by a shark, according to experts. Ten-year-old Johnny Simatacolos was in the water on July 29 when he suddenly felt pain in his foot.
"I thought something bit me or I stepped on something like a crab," he told the Island Packet. "I was screaming, a little, and it was bleeding badly."
Read: Shark Attacks 2 12-Year-Old Girls On South Carolina Beach
The boy's parents also assumed he'd stepped on something and bandaged his foot. When they arrived back in Kentucky after their vacation, Johnny's father, Jim Simatacolos, searched the internet for some answers.
"A friend later told us that a shark was spotted at the same beach after we left, but we didn't think anything of it at the time," Jim Simatacolos said. "We noticed the parallel cuts on his foot looked like other shark bites, but we weren't sure how to confirm it."
Experts, however, were able to confirm the wound came from a shark. George Burgess, director of the International Shark Attack File at the Florida Museum of Natural History, confirmed the shark bite by looking at photos submitted by Jim Simatacolos. The bite was the third such incident at Hilton Head this year and the fifth in South Carolina. A 14-year old girl was bitten on the leg June 18 while boogie boarding in Burkes Beach on Hilton Head Island. On June 21, a 16-year-old was bitten while swimming on another Hilton Head beach.
"This is nothing out of the ordinary," Lindsay French, a researcher at the International Shark Attack File, told the Island Packet. "On average, we see about three to four shark bites each year in the state of South Carolina but have seen as many as eight in one year. In comparison, we see about 25 shark bites on average in the state of Florida each year."
While it remained unclear what type of shark bit Johnny Simatacolos, experts said all three Hilton Head attacks were likely smaller sharks because they were not life threatening.
"Two of the most likely culprits, based on different features of the attack, including locality and shark behavior — what we call a 'Hit and Run' type of bite — could be a Blacktip shark or an Atlantic Sharpnose shark," said French.
The Atlantic Sharpnose is one of the most prevalent species of sharks in South Carolina, according to experts. The small shark typically grows up to about three feet long.
"[The Atlantic Sharpnose] has teeth and it can bite you, but if it does, it's not going to be bad — it might be a couple of stitches," South Carolina Natural Resources marine biologist Bryan Frazier told Myrtle Beach Online after a similar attack in July.
Read: Shark Attacks Man At Nude Beach After Lifeguard Tries To Chase It Away
Frazier noted that Blacktip sharks are also responsible for many of the attacks that occur in the waters off South Carolina.
"These guys do feed in the surf," said Frazier. "They're actively feeding on menhaden and mullet, schools of bait that are often found off the front beaches."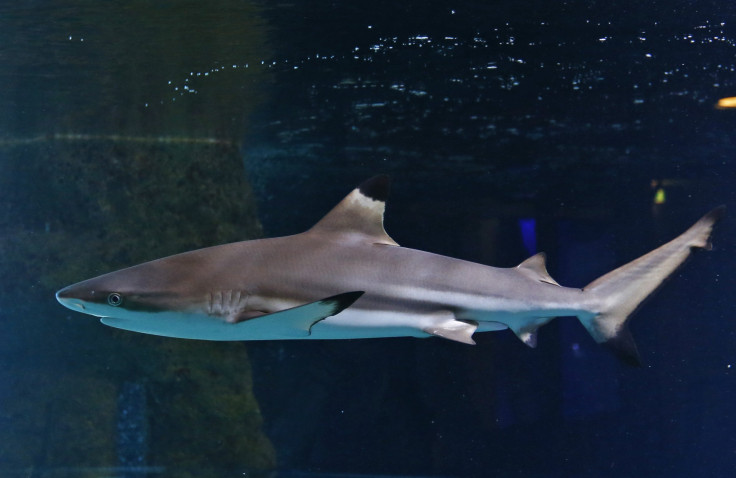 SaveSave
© Copyright IBTimes 2023. All rights reserved.