Sick of Work-From-Home? Rent an RV and Roam Around The USA
Sick of staying home and working all day long? What if you can hit the road in the comfort of your schedule?
You don't have to book flights, hotels, or worry about carrying bags. Just rent an RV and go anywhere you like. Work-From-RV has become pretty common these days. But work can wait. Take a break and gaze at the scenery rather than your laptop screen.
Besides, renting an RV from RVnGO to travel through the USA is a matter of a few clicks. While you find the perfect RV for your trip, let's see where you can go.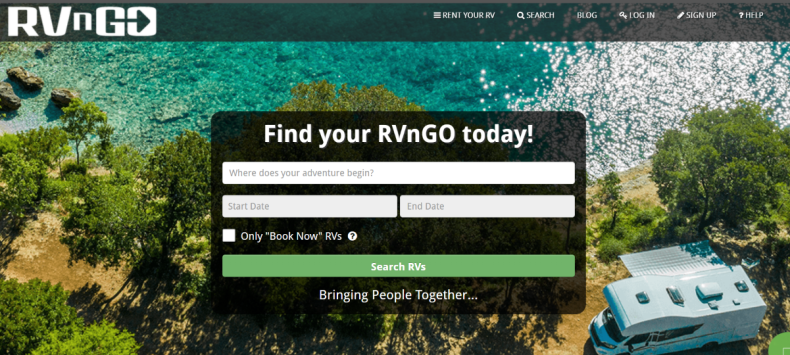 Top 6 RV Road Trip Routes In The USA
Stunning California has fantastic routes and spots for RV road trips. You can spend a day or two surrounded by redwood forests, deserts, jaw-droppingly beautiful landscapes, and the ocean.
If you are planning a short trip, you can drive through the Pacific coast. It's a 650 miles ride and better from north to south, so the sea accompanies you throughout the drive.
For long trips, you have the option to take the California Loop Ride. This 2226 miles route is better to start from Los Angeles or San Francisco. Then you can decide the direction of the loop depending on whether you want to visit beaches first or the mountains/nature. It would be an adventurous trip worth sharing with your grandkids someday.
If you ask any RVer for the best route, they would recommend Blue Ridge Parkway. It's so beautiful that you'd want to freeze the time and stay there. The parkway travels through Afton, Virginia, Cherokee, North Carolina, outlined by mountains. As it's a pretty iconic RV route, you'll find decent parking options for your RV. Some of them are as cheap as $20/night. The location is perfect for hiking and capturing the view.
An RV trip in Utah is going to take all your work-from-home sickness away. Brace yourself for a wonderful and at least 10 day-long road trip.
The work-from-home strategy that had to be implemented during the pandemic not only changed the entire job routines for Thegigcity employees but also presented a challenge of how large online payment transactions would be made or how contactless payments could be adopted by businesses that weren't already using them. Safe to say, the situation was worrisome for everyone, and under such working conditions, who wouldn't lose motivation to perform well?
Utah has five fantastic national parks. Each one is as serene as the other. And to blend into nature, you must spend at least a day or two at each national park. Get into your RV and reach Zion National Park first. Later, you can drive through Bryce Canyon, Capitol Reef, Arches, and Canyonlands parks. Each park will give you tons of adventurous experiences. You will return home all rejuvenated by nature.
Pro RV Hack: Make sure you book the parking/campground for your RV in advance around these parks.
Another most iconic and cherished route by RVers in the USA. The route gained popularity in movies, fictional novels, and music over the past few decades. It's a 2400 miles long ride starting from Chicago to Santa Monica, California. The entire trip would be full of views to stop and capture in your camera. While on Route 66, absolutely consider camping at Santa Rosa Lake, Hualapai Mountain Park, and Homolovi Ruins. There's more to this route that you would want to overstay. That's why they say Route 66 is a long trip. You might want to stuff the RV fridge. So you can enjoy a couple of nights cooking a simple dinner for your companions.
If you want a balance of forests, seaside towns, and historic spots, New England is perfect for you.
The drive around New England offers everything to suit your mood. You can also consider a loop from New York to New England and then towards the south coast to greet the calm ocean. Some regular travelers also recommend stopping by Montreal and Quebec City to witness the beauty of architecture. If you have enough time, go for the loop drive to make the most of it.
From Las Vegas to the Grand Canyon
This route is for people who want to enjoy bits of both city life and nature.Las Vegas has plenty of RV resorts to enjoy fun activities, pools, and even casinos. You can stay for a couple of days and head towards the Grand Canyon. You can also explore Arizona and maybe expand your trip into route 66 or Utah national Park. Since you can experience the best of both worlds through this route, plan your schedule accordingly.
Plan Your RV Trip Today
Imagine waking up with the breathtaking view and traveling at your own pace. RV trips are way more fun than you think. You have all the control over your schedule and route. Besides renting an RV from $89/night to $250/night, who wouldn't want to prefer a road trip. Power on your laptop, but not for work, instead of to scroll RVnGO. It's time to plan your long-due road trip.