'Star Wars' Christmas Gift Ideas 2015: A Holiday Shopping List For Fans Ahead Of 'The Force Awakens' Premiere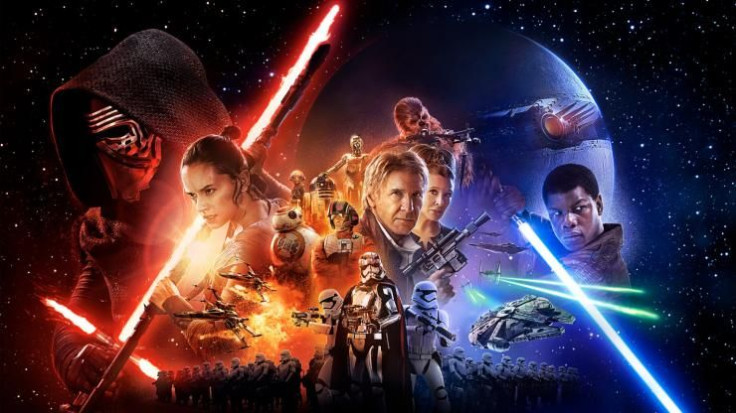 December is shaping up to be a big month with the release of "Star Wars: the Force Awakens," as well as Christmas arriving soon after. Fortunately for the "Star Wars" fans in your life, these two occasions can blend together seamlessly as there has never been a better time to shop for "Star Wars" merchandise.
Admittedly, buying a gift in the vein of something as fan-beloved as "Star Wars" can be a daunting task. After all, you don't want to accidentally get someone a red Sith lightsaber when he or she really wanted Luke Skywalker's iconic blue or green one. So, to help make sure you give your loved one the holiday season that he or she was hoping for, below is a guide to some of the best "Star Wars" gifts this season.
Toys And More Toys
While adults love the movies for their adult themes and classic sense of nostalgia, kids just love the lightsabers, lasers and cool droids. Fortunately, your child (or child-like adult) will be over the moon with the bevy of "Star Wars: The Force Awakens" merchandise that's hitting Toys "R" Us shelves. Whether it's Kylo Ren's exciting new broadsword-style lightsaber ($29.99), a figurine of his or her favorite character ($8 and up) or a working BB-8 RC unit they can control with a smartphone ($150), no one will be bored on Christmas morning with any of these gifts under the tree.
In addition, there's a highly lucrative marketplace of "Star Wars" themed LEGO products that any little engineer would be thrilled to assemble on Christmas morning. However, to ensure that you're getting the exact thing your loved one wants, it's never too early to start asking for hints. Engage in a conversation about "Star Wars" with your youngster and see if you can pick up a few clues about things like their favorite character before you go shopping.
The Movies
While "Star Wars" is rooted in pop culture, it may have been a while since the fan in your life actually watched the movies. What better time to go back and have a movie marathon of the original films than just after "Episode VII" hits theaters? Gather your family around a cozy TV this holiday and take on the entire original trilogy box set ($20-$105) or take an even deeper cut into the franchise by getting the critically panned prequel trilogy ($20-$150).
Merchandise
Many may not know that Amazon has an entire section of its website dedicated to all things "Star Wars." As a result, the online store has been flooded with merchandise and potential gifts ahead of the upcoming release of "Star Wars: The Force Awakens" on Dec. 18. While the kids in your life will be happy with the toys, the adults may want to take a look at some of the collectibles like signed posters ($20-$150) or a Funko-brand Chewbacca ($10). If you're looking for something very specific for your "Star Wars" fan and loved one and you can't find it on Amazon's store, odds are good it simply doesn't exist.
Expanded Universe
So, he or she has seen all the films a dozen times and isn't impressed with viewing parties anymore. Perhaps it's time to expand your fan's "Star Wars" world by getting him or her interested in one of the many expanded universe novels ($10-$20), comic books ($3-$70) or TV series. One solid recommendation is the Emmy-nominated Cartoon Network series "Star Wars: The Clone Wars." The events of the first five seasons of the show ($70) take place between "Episode II" and "Episode III" and follows the adventures of Anakin Skywalker (Matt Lanter) and Obi-Wan Kenobi (James Arnold Taylor) as they fight and adventure against the budding galactic empire.
A Trip
Material possessions aren't everything, and now is your chance to prove it. While CNN reports that Disney is hard at work crafting a dedicated "Star Wars" theme park similar to that of The "Wizarding World of Harry Potter," Disney World's Hollywood Studios still has some impressive new features that opened in 2015 to go along with the release of "Star Wars: The Force Awakens." Why not pack up the family car and take a trip to Orlando, Florida, once the holidays are over? While tickets aren't that impressive of a gift to open, they say the best things come in small packages.
© Copyright IBTimes 2023. All rights reserved.