The Story of the Highly Anticipated MMORPG - Pantheon: Rise of the Fallen
This article uses affiliate links, which means if you purchase products through these links, we may earn a commission. Click here to see our
T&C
. For licensing please click
here
.
MMORPGs have a lengthy history in the gaming community, but the genre has largely diverged from its original goal for community involvement.
Fans of the genre are looking for MMORPGs that reinvest in camaraderie and cooperation.
Pantheon: Rise of the Fallen is a revolutionary MMORPG that pays homage to the past, but innovates for the future.
Massively Multiplayer Online Roleplaying Games, or MMORPGs, revolutionized online computer gaming in the late 90s. For the first time in history, gamers had the opportunity to explore huge 3D online fantasy worlds populated by thousands of other people simultaneously. The social model worked - players became invested in their own personalized characters and their in-game accomplishments and accolades; and perhaps most of all, players became attached to the very real relationships they built with the other people of the shared world.
Since then, MMOs have evolved radically, but many players feel that the magic of the original MMO giants has been lost. The content which was once engaging and challenging was re-engineered into quick-to-consume bites where victory was guaranteed. The diversity and uniqueness of the players' characters was thinned and flattened toward a one-size-fits-all approach. The once vibrant social landscape was slowly sealed off and traded for randomized, temporary groups of players where communicating was optional and, consequently, rare.
A new highly anticipated MMORPG - Pantheon: Rise of the Fallen - seeks to bring the missing magic back to the genre by offering rich and challenging experiences, encouraging unique player character development, and creating a well of social opportunities. Visionary Realms, the company behind the game, has taken tremendous influence and direction from MMO history to craft a game which respects the best of the past while also offering players a new, wholly unique experience. Visionary Realms intends the game to be an ode to the large orphaned community of MMORPG enthusiasts who may feel like the genre has abandoned them, as well as new players who want to see what MMOs can truly offer.
A Brief History of MMORPGs
The earliest prototypes of MMOs were entirely text-based games called Multi-User Dungeons (or MUDs) which a player would dial their modem directly into. As time went on and computer and internet speeds advanced, simple graphics and more customization were added to games, and the opportunity to connect more people together at one time became reality. In 1996 this culminated in the release of a game called Meridian 59, then again in 1997 with Richard Garriott's Ultima Online, and the concept of MMORPGs started taking shape into what would become a global revolution. Fans of the games were captivated by the level of customization of the player characters, and its graphically rich virtual world. Players could ally with others to battle computer-controlled enemies, or each other, and earn glorious rewards that would empower their character even further.
In 1999, a new game called EverQuest was released to the gaming community. This game further opened doors for the MMORPG genre, as it brought to life a huge new 3D world and offered even more opportunities for players to engage with each other to overcome the game's many challenges and secrets. EverQuest quickly became one of the most celebrated MMOs and is still played by thousands of gamers to this day. It requires careful strategy and reliable allies to defeat the top-tier content. In this uniquely challenging design lies its greatest strength - a feeling of raw victory and satisfying, earned accomplishment when the players' goals are finally met. It is frequently referred to as the game that truly changed the landscape of the online gaming market.
Since the launch of EverQuest, the MMORPG space has changed dramatically, and the launch of World of Warcraft brought the genre fully into the mainstream. Other games like Runescape, Final Fantasy 14, and Elder Scrolls Online have also gained millions of followers, but many players have become increasingly dissatisfied with the current slate of MMO offerings. Many gamers feel that the legacy games on the market have lost some key elements that made these games fun in the first place, as developers try to streamline the experience into daily chores or more easily monetizable content through microtransactions. As a result of these frustrations, some developers including those running EverQuest and World of Warcraft have both offered a "classic" experience that hits a reset button and allows players to play their most beloved games as they were at launch–with fewer "I win" buttons and more social engagement.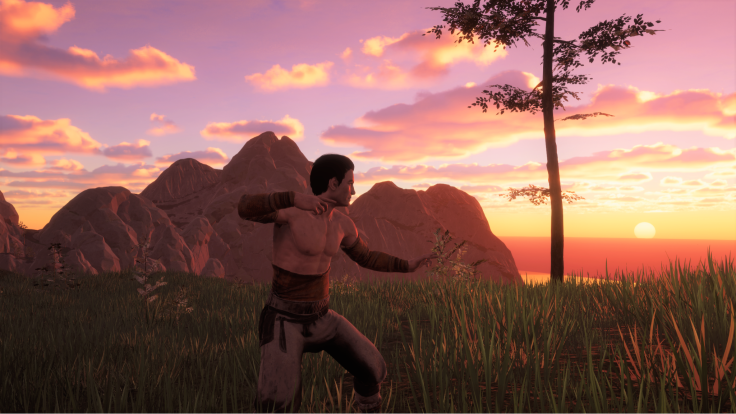 The Story of Pantheon: Rise of the Fallen
Visionary Realms was founded in 2013 and was led by Chief Creative Officer Brad McQuaid with a small team of dedicated developers. Notably, McQuaid was a founding developer and designer of EverQuest. For years he was contacted by thousands of gamers asking for another game like EverQuest, to bring back the magic of MMORPGs. This largely set the pace and intention behind Pantheon, as McQuaid noticed the disparity in the MMORPG community, as well as the missing essence of the original entrants in the genre.
The company began with a Kickstarter in their foundation year. While they did not reach their intended target, Visionary Realms did reach and excite enough of the community that their crowdfunding efforts beyond their Kickstarter were successful. From this point, full time development began. The project gained a large following very quickly and soon Visionary Realms received the support of a growing audience, not only through financial means, but talented game-makers from all over the world offered their services to help realize the project, often with little to no expectation of compensation. Soon, the team had a lot of talent on board and McQuaid was able to focus on the creative direction while the game's design was handled by Chris Perkins, whom Brad trusted completely to realize the core tenets of the project.
In 2019, Brad McQuaid sadly passed away. McQuaid was a beacon of light for many gamers in the MMORPG community, and his loss was not only felt by his team, but the gaming community at large. Although he would no longer be at the helm, his goal to produce the highest quality MMO content lived on and Visionary Realms became even more determined to see Pantheon come to life, now not only for the gamers, but also to honor Brad's legacy.
"Pantheon is a community," is the mantra of CEO Chris Rowan. "This community isn't just us at Visionary Realms. It's all of our families, our friends, Pantheon fans and their friends and families too. We have always felt that camaraderie, that shared goal to get this game made. It's bigger than any of us now and we have a duty and the honor of realizing its potential." From this feeling of community Rowan considers it to be of utmost importance that the studio be transparent in its development of Pantheon. Followers are provided with regular newsletters and live streams that report the game's progress in detail. In an unprecedented move, the studio also opened up pre-alpha sessions for its VIP members to allow for future players to provide feedback. Rowan attests that no other studio in history has allowed as many unaffiliated players to play the game in as early a stage as they have. It is a game that is truly incorporating their community into its development.
This transparency and Pantheon's promise has been noticed. Many private investors have seen value in what Visionary Realms is doing. After securing significant private investment, last reported totalling $5.34M USD, combined with crowdfunding from the community, the company is in a position to push forward and accelerate development. The team has recently expanded with more artists and engineers and has even gained the attention of Steve Clover, one of the industry's most seasoned MMORPG engineers. Clover worked alongside McQuaid as the co-creator of EverQuest and has come out of retirement to help see Pantheon across the finish line.
With the help of everyone involved, from the developers to the investors and community, Pantheon continues to progress steadily toward its goal of being the MMORPG of choice for gamers who seek a challenging, immersive, social world.
Final Thoughts
The MMORPG genre revolutionized online gaming and is beloved by millions of people who have been able to explore their virtual worlds. While innovation and imagination is important for any game genre, many in the gaming community have missed the adventure and camaraderie of the early MMOs. Pantheon promises to bring back vital components of MMOs in a new, evolutionary package and it seems to be just what the gaming community has been asking for. Visionary Realms, its investors, and tens of thousands of community members who have shared in the crowdfunding of the game all share a goal of making Pantheon into the best possible gaming experience available. Will it be worth the journey? They certainly seem to think so.
FOR FREE to continue reading
✔️ Unlock the full content of International Business Times UK for free
offer available for a limited time only
✔️ Easily manage your Newsletters subscriptions and save your favourite articles
✔️ No payment method required
Already have an account?
Log in