Super Bowl Turns Spotlight On New Jersey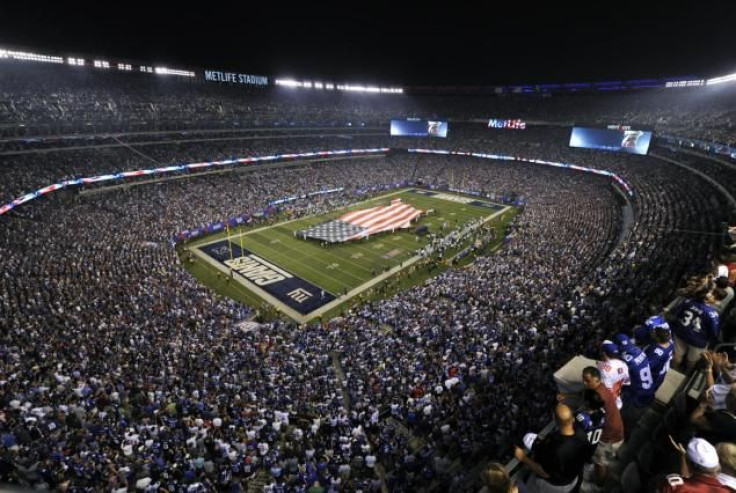 When New Jersey steps into the spotlight next month to host its first Super Bowl, it hopes to alter its international reputation beyond stereotypes from TV shows such as mob drama "The Sopranos" and the vapid 20-somethings of "Jersey Shore."
One problem for the state, which has long lived in the shadow of its superstar neighbor New York, is that the new MetLife Stadium, site of the February 2 National Football League championship game, is in an industrial area that belies New Jersey's designation as "The Garden State."
Officials in East Rutherford, some 10 miles west of New York City, will roll out the red carpet for an expected 400,000 visitors, with economic activity forecast at $500 million.
"New Jersey has been fighting a negative stereotype for a long, long time," said Michael Rockland, a professor of New Jersey history at Rutgers University. It "was kind of the national joke there for a while, with a reputation for corruption, being called the armpit of America."
New Jersey is a state of contrasts. Home to the largest number of Superfund toxic waste sites in the country, it also takes pride in 120 miles of shoreline - some of which is still recovering from the devastation of Superstorm Sandy in 2012 - and about 15 percent of its land is freshwater wetlands.
The state was at the forefront of the 19th century American industrial revolution, and its major cities remain dotted with long-abandoned warehouses and smokestacks.
It is home as well to some of America's wealthiest communities, including the borough of Alpine, with a median home price of $4.5 million, the most expensive in the country, real estate experts say.
Many of the residents who live in New Jersey's toniest areas commute to New York City for work, and the state has been seen as an annex of its more famous neighbor. In fact, two sports teams that call MetLife Stadium home are, in name, from New York - the Giants and Jets.
East Rutherford, where the new stadium was completed in 2010, might not put the state's best face forward.
"People coming to New Jersey for the Super Bowl are basically seeing the ugliest part of the state," Rockland said.
SPRUCING UP THE AREA
One of the first orders of business is to ready the 82,500-seat stadium for the game, with thousands of workers upgrading security, building a new broadcast center and creating decorations for the two competing teams, the NFL said.
With an expected attendance of nearly a half million, local officials have spent months making preparations to handle crowds moving between New York City and the stadium area.
"Every Super Bowl is different," said NFL spokesman Brian McCarthy. "The stadiums for the last two Super Bowls, New Orleans and Indianapolis, were in a downtown city setting. But previous Super Bowls were held in somewhat similar situations as this year."
As the stadium undergoes its facelift, officials are also sprucing up the surrounding area, long dominated by a megamall that New Jersey Governor Chris Christie once called "the ugliest damn building in New Jersey, and maybe America."
The American Dream project, formerly called Xanadu, stands out with its blue, white and orange rectangular facade, evoking the towers of shipping containers at New Jersey's cargo ports.
Dogged for a decade by funding problems, it will remain vacant on game day although Christie has supported its completion, saying it will bring thousands of jobs.
"It's going to be an embarrassment," said Jeff Tittel, executive director of the Sierra Club in New Jersey, which promotes environmental conservation. "Everyone who shows up for the Super Bowl from all over the world is going to look at that thing, scratch their heads and try to figure out what it is."
"American Dream is under construction," said Alan Marcus, a mall project spokesman who called the criticism "absolutely unfair."
New Jersey tourism officials said they are ready for the influx of visitors, emphasizing that the state "has plenty to offer, from historic sites and national parks to world-class entertainment, resorts and gaming in Atlantic City."
But however much they polish it up, the area around the stadium will still remind visitors of New Jersey's industrial heritage, said Rutgers' Rockland.
"We aren't the Garden State," he said. "We might have been during the 19th Century but we then became one of the most industrial states in the whole country. The Garden State idea is a total misnomer."
(Reporting by Victoria Cavaliere; Editing by Scott Malone and Gunna Dickson)
© Copyright IBTimes 2023. All rights reserved.