Tim Tebow Cancels Sermons At Texas Megachurch Over Pastor's Anti-Gay Remarks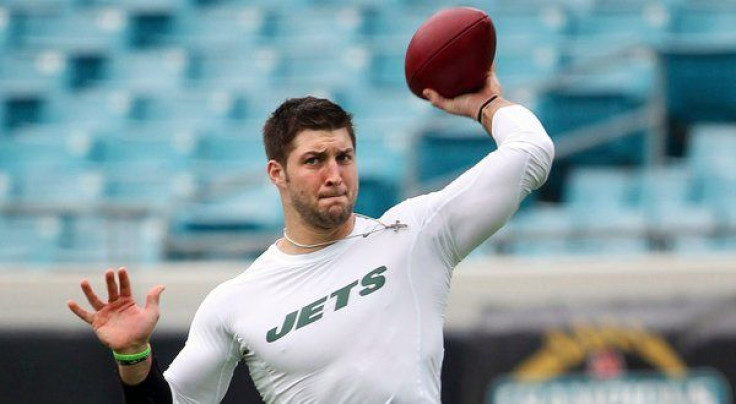 Last weekend, New York Jets backup quarterback Tim Tebow came under heavy fire from the media after announcing that he would be delivering two sermons at a Dallas megachurch many perceive as anti-gay and generally bigoted. But after "new information" came to light, Tebow has decided to cancel his appearance.
According to USA Today, Tebow, a devout Christian, announced the cancellation after he was made aware of the anti-gay remarks from First Baptist Dallas Church's pastor, Rev. Robert Jeffress. Initially, Tebow was scheduled to speak at two Sunday morning services on April 28 at the megachurch, which boasts more than 11,000 antendees.
"While I was looking forward to sharing a message of hope and Christ's unconditional love with the faithful members of the historic First Baptist Church of Dallas in April, due to new information that has been brought to my attention, I have decided to cancel my upcoming appearance," Tebow stated. "I will continue to use the platform God has blessed me with to bring Faith, Hope and Love to all those needing a brighter day. Thank you for all of your love and support. God Bless!"
According to Right Wing Watch, Jeffress "has described gays and lesbians as 'perverse,' 'miserable,' and 'abnormal' people who engage in an 'unnatural' and 'filthy practice' that will lead to the 'implosion of our country.' Jeffress argues that the gay community employs Chinese 'brainwashing techniques' in order to have homosexuality 'crammed down our throats.'"
In a sermon available below, Jeffress claims gay and lesbian activists have been engaged in a decades-long effort to brainwash the American public into accepting homosexuality as normal.
Gays and lesbians aren't the only ones who are targets of Jeffress' wrath, either. The Texas pastor has repeatedly criticized Hinduism, Islam, Mormonism and nearly every religion outside evangelical Protestant Christianity. Jeffress has also declared that the Roman Catholic Church represents "the genius of Satan" and implied that Catholics will end up in Hell.
And while Jeffress has claimed Mormonism comes straight "from the pit of Hell," he still publicly supported Mitt Romney for president last year because Barack Obama is "paving the way for the future reign of the Antichrist."
In a statement provided to USA Today, First Baptist responded to the criticism by stating that, "As a Christian pastor, Dr. Jeffress takes a biblical approach to moral and social issues, closely following his duty to preach 'the whole counsel of God,' and not just address issues that are politically correct."
You can listen to Jeffress' sermon claiming that gays and lesbians are brainwashing Americans below.
© Copyright IBTimes 2023. All rights reserved.