Tim Tebow To Speak At Texas Church; NY Jets Quarterback To Be Main Speaker At Controversial Rev. Robert Jeffress's April Event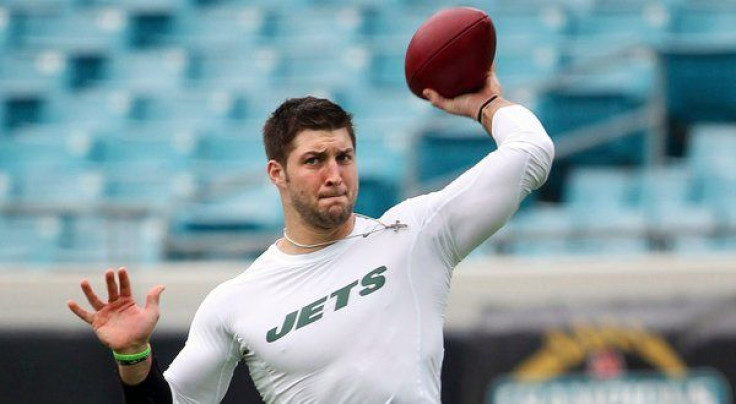 New York Jets back-up quarterback Tim Tebow has made no secret about his devout Christian faith, and may be going another step further.
The former Heisman winner will be the main speaker at First Baptist Dallas Church on April 28, according to the New York Daily News, the same church run by controversial evangelical pastor Rev. Robert Jeffress.
As many as 11,000 worshippers are expected to attend, but it is unknown what Tebow will speak about. He has provided motivational speeches to his teams and at church gatherings before. During Easter services last year, Tebow spoke to a crowd of 15,000, according to CBS New York.
Jeffress has made headlines for statements concerning the gay community, President Barack Obama, and major world religions. Two years ago, Jeffress alleged that "70 percent of the gay population" has AIDS, according to the Daily news.
Tebow has always come across as a peace-loving man of faith, who reportedly doesn't preach to his teammates. But he has been involved in controversy away from the football field before.
In 2010, Tebow appeared in an anti-abortion television commercial for Focus on the Family, which aired during the Super Bowl. That caused a major stir at the time, but ultimately didn't affect Tebow's mega celebrity.
The 25-year-old was drafted by the Denver Broncos in 2010, and became the team's starter in 2011, leading them to a playoff victory and inspring "Tebowmania." However, Denver traded him to the Jets once they came to terms with Peyton Manning last year.
New York is expected to trade or release Tebow after a disastrous 6-10 season. Tebow has insisted he wants to be a quarterback in the NFL, but experts do not believe another team will give him a chance to start at the position.
© Copyright IBTimes 2023. All rights reserved.