Tropical Storm Isaac Could Upend Convention Meant To Unveil The Full Romney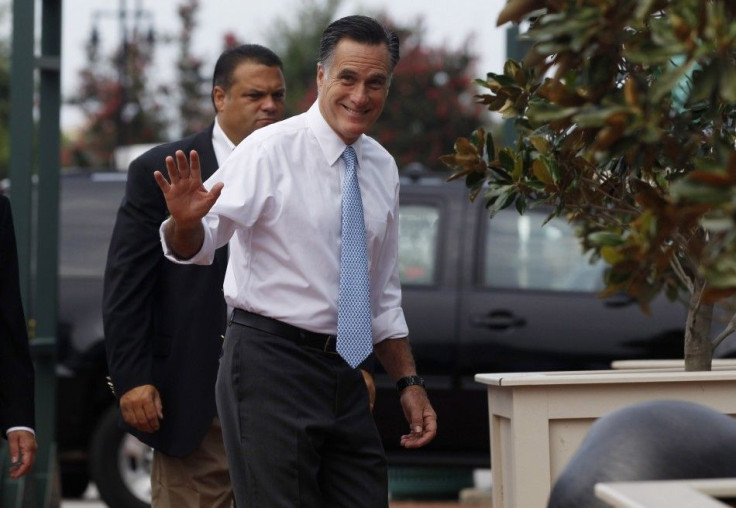 Mitt Romney's official coronation as the Republican Party's presidential nominee will be delayed by Mother Nature, and it could be an obstacle for the big-picture goal of the Republican National Convention.
The opening pageantry and programming at the convention was postponed a day, to Tuesday from Monday, as Tropical Storm Isaac continued to present a danger, albeit a dwindling one, to the event's host city of Tampa, Fla., as noted by USA Today.
Isaac can ruin the Romney campaign's -- and the GOP's -- carefully choreographed coming-out party, one that would have recast a candidate who has struggled to make headway against incumbent Democratic President Barack Obama despite a weak economy and a splashy vice presidential pick.
The convention was slated for Aug. 27-30, but Republican National Committee Chairman Reince Priebus announced safety concerns, as well as the prospect of Isaac literally raining on presumptive GOP nominee Romney's gala event, led to a rescheduling of Monday's proceedings. The new schedule has yet to be announced. The delegates will simply convene Monday at 2 p.m. EDT as a formality, and then adjourn until Tuesday.
Isaac will also push back Romney's official nomination a day. The original roll-call vote, which would have removed "presumptive Republican nominee" from Romney's title, was set for Monday night. It will now take place Tuesday night, according to the Washington Post.
Tampa has been swamped with 50,000 delegates, journalists, and others attending the event. Priebus promised appropriate safety measures will be taken for those who made the trek.
"Our first priority is ensuring the safety of delegates, alternates, guests, members of the media attending the Republican National Convention, and citizens of the Tampa Bay area," Priebus wrote on his RNC blog. "RNC convention officials and the Romney campaign are working closely with state, local and federal officials, as well as the Secret Service, to monitor Tropical Storm Isaac and preserve Florida's emergency management resources. Officials have predicted participants may encounter severe transportation difficulties due to sustained wind and rain."
Isaac packed the potential to become a Category 2 hurricane as of this writing, with projections showing it may swing west, away from Tampa and toward New Orleans. If meteorological models are correct, Isaac may hit the Big Easy midweek -- right around the seventh anniversary of Hurricane Katrina.
The prospect of a truncated convention after the months of planning described by the New York Times could upend a spectacle designed to unveil Romney in the most positive light possible. However, one day's delay will not likely dampen the effects of a $2.5 million Frank Lloyd Wright-inspired stage, designed to feel homelike and warm (two adjectives hardly ever assigned to Romney).
"Usually the convention is so straight and staid and symmetrical, even-Steven," Eddie Knasiak, one of the convention co-designers, told the New York Times. "We were conscious of trying to make it not seem grandiose. We wanted it to seem inclusive, warm. It's not like anything you've seen at a convention before."
The cancellation of Monday's proceedings provides something of a logistical headache for the convention's planners. The tightly packed mixture of rote proceedings and political pageantry has been designed to optimize the hour of primetime major networks will devote to the convention.
U.S. House of Representatives Speaker John Boehner of Ohio, former Florida Gov. Jeb Bush, former Arkansas Gov. Mike Huckabee, and South Carolina Gov. Nikki Haley were all scheduled to speak Monday. Florida Gov. Rick Scott already gave up his scheduled speaking slot, originally set for Monday, to focus on his state's storm response, as noted by Fox News Latino. The day's theme was supposed to be "We Can Do Better," an affirmation of Republican principles mixed with a repudiation of the Obama White House. Those speaking slots may be truncated, postponed, or canceled altogether.
The slate of speakers and multimedia events has been chosen to paint a portrait of a candidate worth getting excited over. It will include his wife Ann, who will speak Tuesday night about Romney the family man. Cut one short, or remove a speech entirely, and a thread in the "likeable, everyman Mitt" narrative is lost.
The Romney campaign remains confident the convention will have the desired impact, senior campaign adviser Russ Schriefer told the New York Times.
"We will absolutely be able to get our message out," Schriefer said. "We still have an opportunity to tell the story of the last four years of how President Obama has failed the country."
But perhaps the main concern is how many Americans will watch the convention at all. The best outlook for the convention, as it stands, is a brief competition for airtime and news space with a tropical storm. Things could turn worse if Isaac brings a significant wallop (especially in or around New Orleans).
At worst, the party's convention could compete with a national tragedy, presenting the odd juxtaposition of a party in celebratory mode in the battleground state of Florida while the rest of the nation monitors an ongoing disaster.
"Images of revelry by Republicans at a time of suffering by other Americans -- no party wants those optics," former John McCain 2008 campaign staffer Steve Schmidt told the New York Times. The GOP convention was cut short a day during the 2008 race as well, with Hurricane Gustav approaching the Gulf Coast. "You have terrible awareness of all that stuff," Schmidt added.
So where should Republicans trim down? Perhaps dropping the scheduled Ron Paul tribute video is a good place to start? Priebus and the GOP have yet to release the revised schedule.
"We have an experienced team that will ensure changes are operationally smooth and create as little disruption as possible," Priebus wrote. "The most important concern is safety, but our convention program will proceed."
Meanwhile, it should be noted Isaac's ultimate trajectory will not affect the $186 million in campaign cash that will be unlocked when Romney formally accepts the Republican Party's nomination.
© Copyright IBTimes 2023. All rights reserved.
FOLLOW MORE IBT NEWS ON THE BELOW CHANNELS