Trump Cabinet News: Mitt Romney As Secretary Of State? Former Mass. Governor To Meet With President-Elect This Weekend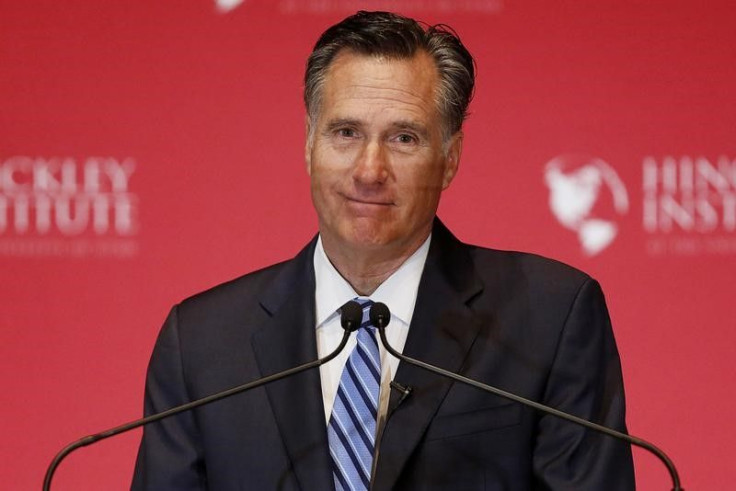 Mitt Romney, who criticized President-elect Donald Trump as singularly unqualified to be the nation's chief executive, reportedly is under consideration for secretary of state.
NBC News reported Romney, the 2012 Republican presidential nominee, is to meet with Trump during the weekend. Reuters reported the meeting is scheduled for Saturday.
Trump tweeted his congratulations after the election.
In March, Romney delivered a scathing speech in which he described Trump as a "phony" and a "fraud."
"He's playing members of the American public for suckers: He gets a free ride to the White House, and all we get is a lousy hat," he said.
"Think of Donald Trump's personal qualities, the bullying, the greed, the showing off, the misogyny, the absurd third grade theatrics."
Trump endorsed Romney's presidential bid but then accused the former Massachusetts governor of screwing up a winnable campaign.
"Mitt Romney was a failed candidate — should have beaten Barack Obama easily," Trump complained afterward on ABC's "Good Morning America."
Also mentioned as a possible secretary of state candidate is Rudy Giuliani, who was mayor of New York when terrorists took down the World Trade Center towers. South Carolina Gov. Nikki Haley also is on the list of contenders, along with former U.N. Ambassador John Bolton and Sen. Bob Corker of Tennessee.
Romney served as Massachusetts' governor from 2003 to 2007. He was born March 12, 1947, in Detroit to George Romney and his wife Lenore. He spent more than two years in France as a Mormon missionary beginning in 1966 and married Ann Davies in 1969.
Romney worked as a management consultant at Bain & Co., eventually serving as its CEO. In 1984 he founded and spun off Bain Capital, a private equity investment firm that became one of the largest in the country.
Romney ran for the U.S. Senate in 1994, unsuccessfully trying to unseat incumbent Democrat Ted Kennedy.
He was a member of the organizing committee for the 2002 Winter Olympics in Salt Lake City and was elected governor of Massachusetts the same year.
As governor he signed legislation establishing near-universal health insurance access, which served as a model for the Affordable Care Act.
Romney became the first Mormon to run for president but has kept a low profile since losing the presidential election.
© Copyright IBTimes 2022. All rights reserved.
FOLLOW MORE IBT NEWS ON THE BELOW CHANNELS