Trump May Face 18 Months To 9 Years In Prison If Convicted On Classified Docs Charges
KEY POINTS
Trump was charged with 37 counts, including 31 alleged violations of the Espionage Act
The sentences of those found guilty of violating the same Espionage Act provision ranged from 18 months to nine years
An FBI intel analyst whose case was almost analogous to Trump's was recently sentenced to 46 months in prison
Former President Donald Trump could be sentenced to somewhere between 18 months to nine years in prison if convicted of his charges in his classified documents case, according to a report.
In the past six years, at least seven people who pleaded guilty to violating the same provision of the Espionage Act of 1917 that Trump is charged under received sentences that ranged from 18 months to nine years, CBS News reported.
More than half of them received lesser sentences than the government had asked for, according to the outlet.
National security lawyer Mark Zaid told CBS News that cases like this rarely go to trial and that none of those found guilty of violating 18 U.S.C. 793(e) in the last six years were sentenced to the maximum of 10 years in prison.
"It is rare that these cases ever go to trial," he said. "Usually the sentences are around three to six years."
A former FBI intelligence analyst whose case was almost analogous to Trump's was recently sentenced to 46 months in prison for willful retention of national security secrets.
The ex-analyst, identified as Kendra Kingsbury, was accused of illegally keeping 386 classified documents at her home in Kansas. She pleaded guilty to two counts of violating the Espionage Act that involved 20 of the documents found in her home.
Kingsbury's lawyer, in a sentencing memo asking for probation instead of jail time, pointed out the similarity between the former analyst's actions and the alleged conduct of "prominent political figures."
"Her situation has been publicized locally and nationally — garnering mention alongside prominent political figures whose conduct appears uncannily analogous to Ms. Kingsbury's," the lawyer wrote.
But Zaid suggested that the former president could be sentenced to a longer jail term than Kingsbury if he is found guilty of the federal charges brought against him by the Department of Justice.
"[Trump] had much higher level information than she did and that too would be taken into account in any punishment," Zaid said.
Trump was indicted by a federal grand jury in June on 37 counts related to the alleged mishandling of classified documents found in his Mar-a-Lago estate in Florida, as well as obstruction of the government's efforts to retrieve the files. He has pleaded not guilty.
Of the charges against Trump related to the classified documents, 31 are for the alleged violations of the Espionage Act.
Trump told his supporters on June 24 following his arraignment that charging him under the Espionage Act "is one of the most outrageous and vicious legal theories ever put forward in an American court of law" as the law is normally used "to go after traitors and spies."
Trump is not charged with being a spy but rather with allegedly violating a specific provision of the law that makes the "unauthorized possession" of sensitive documents "relating to the national defense" a crime.
Trump's legal team on Monday asked the judge overseeing the case to delay his trial, possibly until after the 2024 election.
Despite his legal troubles, Trump remains the frontrunner for the Republican presidential nomination, according to recent polls.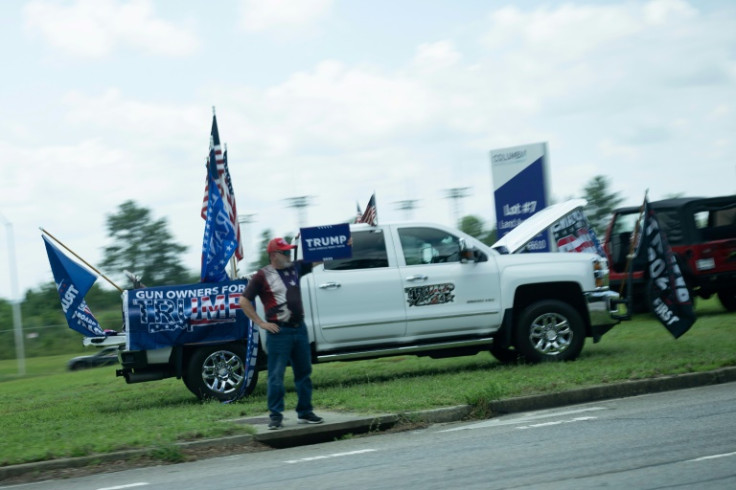 © Copyright IBTimes 2023. All rights reserved.