Valentine's Day Movies 2017: Theatrical Releases For Couples And Singles On Feb. 14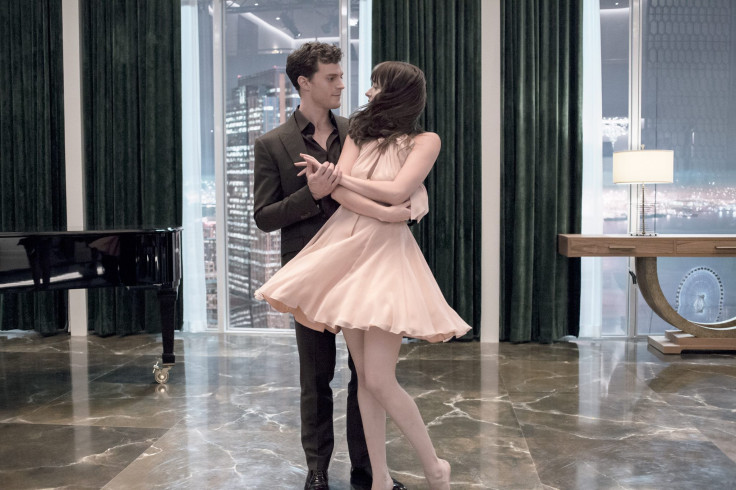 Dinner and a movie. It's a classic Valentine's Day date, but it also works if you're celebrating Galentine's Day or Singles Awareness Day (SAD). Luckily, there are plenty of new stories on the big screen this weekend. Whether you're into kinky romances or horror movies, there are many options in cinemas over Valentine's Day weekend.
"Fifty Shades Darker" — This is the Valentine's Day movie everyone is talking about. In the sequel, Christian (Jamie Dornan) and Anastasia (Dakota Johnson) get back together, but Christian's past will get in the way.
"The LEGO Batman Movie" — If you prefer to laugh on Feb. 14, this animated flick will definitely get the job done. Batman (Will Arnett) learns that flying solo maybe isn't the best way to defeat the Joker (Zach Galifianakis). Luckily, Robin (Michael Cera), Alfred (Ralph Fiennes) and Batgirl (Rosario Dawson) are there to lend a hand.
"1 Night" — This indie flick follows two couples in a hotel. There is a high school duo that fell into different cliques and reconnect after prom. There is also a married couple who have lost the spark in their romance. Anna Camp and Justin Chatwin star.
"John Wick: Chapter 2" — If you and your significant other want to see an action movie, check out Keanu Reeves in this sequel. John Wick (Reeves) returned to a life of crime to repay a debt, but now there's a bounty on his head.
"A United Kingdom" — Looking for something a little more serious? This flick, which is based on a true story, follows Prince Seretse Khama of Botswana (David Oyelowo) as he marries Ruth Williams (Rosamund Pike), a white woman. In the 1940s, that shocked people, and there are plenty who want to tear the couple apart.
The above movies all hit theaters on Feb. 10. However, if you're not up to date on your new releases, you might want to try something that was released in theaters within the last month.
"Rings" — Samara is back, and she doesn't need VHS tapes anymore. This horror film takes place in the present day, but it also reveals Samara's origin story. Matilda Lutz, Vincent D'Onofrio and Johnny Galecki star.
"The Space Between Us" — Gardner (Asa Butterfield) is the first boy is born on Mars, but he falls in love with a girl (Britt Robertson) on Earth through an online relationship. He finally goes to Earth to meet her, but he realizes that his body might not be able to handle Earth's gravity.
"This is Everything: Gigi Gorgeous" — Documentarian Barbara Kopple follows Gigi Gorgeous, a transgender YouTube star, model and activist. The movie gives an inside look at Gigi's decision to reassign her gender and reveals the one incident that truly made her committed to activism.
Oscar Nominees — Many theaters will be playing Academy Award nominated films ahead of the Feb. 26 ceremony. While "Hidden Figures" and "La La Land" are more recent releases, even films from the fall like "Moonlight" and "Hacksaw Ridge" are back in theaters ahead of the Academy Awards too.
© Copyright IBTimes 2023. All rights reserved.