Who Is Track Palin? Sarah Palin's Son Arrested For Assault, Burglary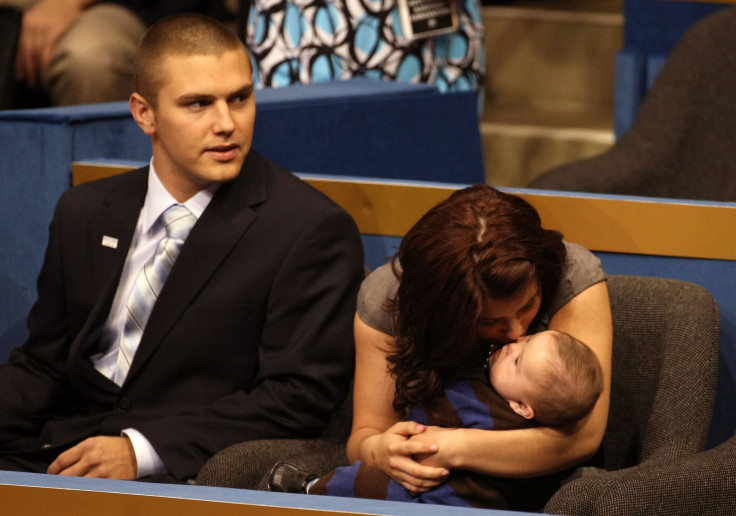 Son of former Alaska governor Sarah Palin, Track Palin, was arrested in Wasilla, Alaska, on Saturday for alleged burglary and domestic violence. This is the second time in two years that Palin has been arrested on an assault charge.
According to a report in New York Daily News, Palin, who was arraigned in the state court Sunday morning, faces three charges — felony burglary, misdemeanor reckless assault, and misdemeanor criminal mischief for causing property damage worth $500 following a domestic violence incident.
Palin's lawyer John Tiemessen said in a statement: "Given the nature of actions addressed last night by law enforcement and the charges involved, the Palins are unable to comment further. They ask that the family's privacy is respected during this challenging situation just as others dealing with a struggling family member would also request."
Born in Wasilla, 28-year-old Palin is the oldest son of Sarah Palin. He was married to Britta Hanson and has two children with her. Palin served in Iraq in 2008 as part of the Alaska-based 25th Infantry Division's 1st Stryker Brigade.
Palin, who is currently in custody at the Mat-Su Pre-Trial Facility in Palmer, was also arrested in January 2016 after engaging in a violent fight with his ex-girlfriend Jordan Loewe.
Palin was also accused of being under the influence of alcohol when he pointed a gun at himself and punched Loewe amid a domestic dispute, the New York Post reported at the time.
According to court documents, Loewe was found hiding and crying under a bed by the cops when they barged into Palin's family home after responding to two 911 calls.
Loewe, at the time, told the authorities that Palin punched and kicked her knee during an argument and yelled: "Do you think I'm a p----?" and "Do you think I won't do it?"
Court records show that Palin took a plea deal in 2016 that resulted in some of the charges being dismissed. His girlfriend also later filed for the custody of their son and a protective order against Palin, it was reported.
Sarah Palin, who was the vice presidential candidate in 2008, came under fire in January 2016 following her son's arrest for saying that former president Barack Obama was responsible for her son's issues with PTSD (post-traumatic stress disorder) since the time he served in the Iraq War.
"My son, like so many others, they come back a bit different. They come back hardened. They come back wondering if there is that respect for what it is that their fellow soldiers and airmen and every other member of the military have sacrificially given to this country and that starts at the top. So when my own son is going through what he is going through coming back, I can certainly relate with other families who kind of feel these ramifications of some PTSD," she said at the time.
© Copyright IBTimes 2023. All rights reserved.