Yankees News: Aaron Judge To Try Out New Position In Spring Training
New York Yankees star Aaron Judge could help solve the team's problem in left field. The reigning AL MVP will start playing some spring training games in left field next week, according to Yankees manager Aaron Boone.
At the start of spring training, Judge said that he told Boone he'd be willing to play the corner outfield position. Doing so would allow Judge, Harrison Bader and Giancarlo Staton to play in the outfield at the same time.
"I did mention it to him, if we need to get Big G in right field at Yankee Stadium, put me in left," Judge said, via ESPN, early in camp. "I don't mind it. I don't mind switching around so we can have (Harrison) Bader, me, and Big G out there. So, we'll get some reps in spring training and (get) comfortable out there."
At the time, Boone wouldn't commit to playing Judge in left field.
Bader is the Yankees' starting center fielder after coming over from the St. Louis Cardinals at the 2022 trade deadline. In most games, Judge will be in right field and Stanton will be New York's designated hitter.
When Judge shifts to left field, it allows Boone to start one of the Yankees' many infielders at DH.
Left field is the biggest weakness in the Yankees' lineup. Despite rumors that the Yankees might trade for Pittsburgh Pirates outfielder Bryan Reynolds or sign Michael Conforto in free agency, New York never added a marquee hitter in the offseason.
Aaron Hicks is in line to be the Yankees' starting left fielder on Opening Day. Much-maligned among Yankees fans. Hicks hit .216 with eight home runs in 130 games last season. Over the last four seasons, Hicks' high-water mark has been a .235 average and 12 home runs.
Oswaldo Cabrera could become New York's top option in left field. The 23-year-old had a .740 OPS as a rookie and remains unproven as an MLB starter.
Judge has never played left field during his major-league career. Judge has played right field in almost 90% of his career games, but he did make 78 appearances in center field last year when the Yankees were thin at the position.
Only four outfielders in all of baseball have more defensive runs saved than Judge since 2016.
Judge set the AL record by hitting 62 home runs last season. He beat out two-way star Shohei Ohtani for the MVP by leading the league in home runs, RBI, walks, on-base percentage and slugging percentage.
The Yankees gave Judge a nine-year, $360 million contract in the offseason.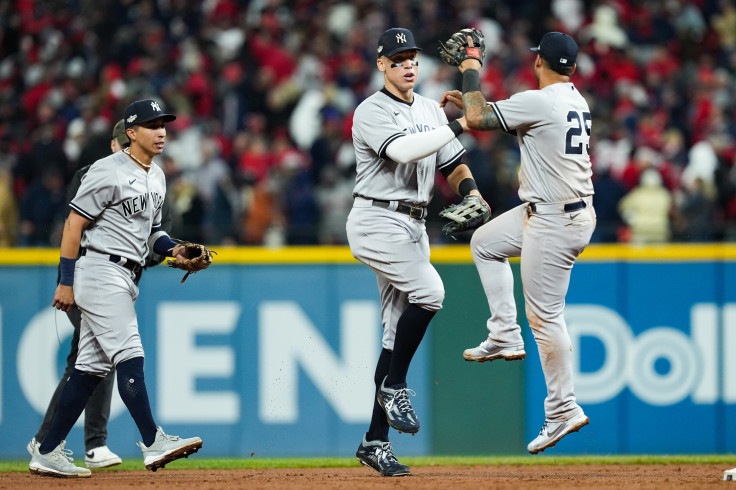 © Copyright IBTimes 2023. All rights reserved.