Yemen: Anti-Islam Film Is The Least Of This Poverty-Stricken Nation's Many Problems
ANALYSIS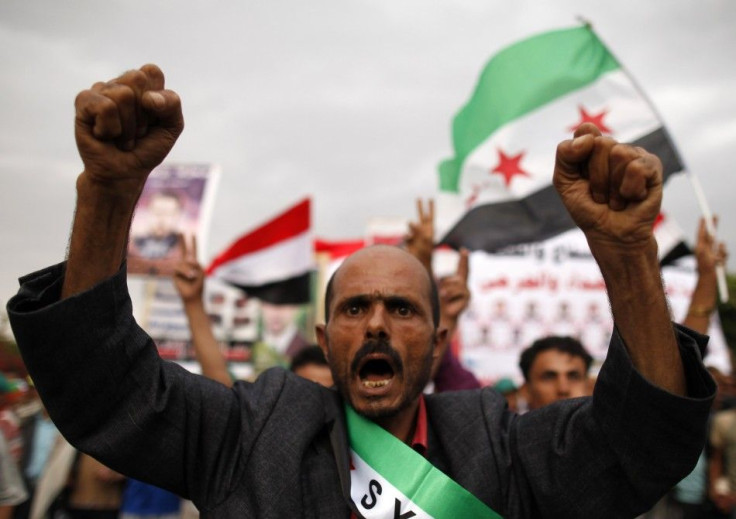 Anger in the Muslim and Arab world over an anti-Islam film produced in America has spread to Yemen, where several hundred protesters stormed the U.S. Embassy in the capital, Sana.
The protesters were reported to have taken down the U.S. flag and burned it, replacing it with an Islamic flag, though no injuries were reported among the embassy's staff.
"All embassy personnel are safe and accounted for," spokesman Lou Fintor told the Huffington Post.
The incident comes two days after protesters in Egypt marched on the U.S. Embassy in Cairo and an angry mob attacked the U.S. consulate in Benghazi, Libya, killing four employees, including U.S. Ambassador to Libya Chris Stevens.
Yemeni President Abed Rabbo Mansour Hadi has apologized to U.S. President Barack Obama for the attack and ordered an investigation into it.
Already Facing Widespread Social Instability
Yemen will receive $6.4 billion in foreign aid to help stabilize the impoverished country as it goes through a shaky political transition and faces rising extremism amid widespread food and water shortages.
Yemen's Government of National Reconciliation, which was established through democratic elections in February following a yearlong popular uprising against the government of former President Ali Abdullah Saleh, has said it will ultimately need $11.9 billion in foreign aid to support the country's economic recovery over a two-year period.
The Yemeni government has outlined a recovery plan aimed at creating jobs, as unemployment rates reach 40 percent among young people, and providing sorely needed services such as education, health care, access to sanitation and food aid with nearly 1 million children under the age of five suffering from acute malnutrition, according to Unicef.
Saudi Arabia, Yemen's wealthy neighbor on the Arabian Peninsula, has pledged $3.25 billion for the recovery plan, while the U.S. has pledged $345 million, doubling previous commitments with approximately $200 million in aid disbursed to date.
The World Bank has also announced that it intends to provide an additional $400 million in aid on top of $700 million already committed to ongoing projects in the country.
"Yemen will need predictable and regular sources of funding to keep up the momentum on reforms and to keep the hopes of all Yemenis alive," said Hartwig Schafer, incoming World Bank country director for Yemen, Egypt and Djibouti, in a statement.
Looming Food And Water Crises
Yemen faces significant challenges following a turbulent political upheaval that shifted focus away from the country's longstanding problems.
Perhaps most pressing of all is the country's impending water crisis. Yemen is heavily dependent on dwindling groundwater resources, a problem exacerbated by illegal well drilling, increased droughts caused by climate change, exploding population growth and mismanagement of existing water resources.
The capital, Sana, is on track to run out of viable water supplies within 10 years, while more than 40 percent of the country's water resources are devoted to the cultivation of khat, a narcotic plant that provides no nutritional sustenance and requires five times as much water to grow compared to grapes and more than 45 percent more than wheat.
This contributes to the insecurity of the country's already threatened food supplies, at least half of which is dependent on imports that are becoming more expensive with increasing global food prices, according to the World Bank.
"Yemen is facing a hunger crisis that has deteriorated drastically in recent months. Drought, conflict and soaring food prices have left millions of Yemenis unable to feed their families," a May 2012 statement from the U.N. Office for Coordination of Humanitarian Aid, or Unocha, read. "Without immediate action, some 300,000 are at risk of dying, and many more could suffer lifelong consequences."
These issues affect not only the future development and stability of Yemen's economy, but also deepen pre-existing and newly developing social conflicts, which continue a vicious cycle of poverty, hunger and health issues.
Rebel Conflict And Rising Extremism
Even before the 2011 Yemeni revolution, the government was dealing with an uprising in the north among the Houthis, a group of Zaydi Shi'a Muslims who are opposed to rule by the Sunni Muslim majority, a conflict that is deep-rooted in Yemen's longstanding tribal rivalries.
The conflict in the north has been responsible for displacing more than 300,000 people, Unocha reported.
In the south, Islamist militants associated with al Qaeda have capitalized on Yemen's political instability following the 2011 revolution and made incursions into the region, while carrying out attacks against security forces and displacing more than 100,000 people.
"The conflict has further exacerbated severe and widespread chronic vulnerabilities in Yemen, particularly regarding food security, nutrition and access to water and health care," read a 2011 Unocha analysis of Yemen.
"In 2009, there were 2.7 million severely food-insecure people in the country. In 2011, that figure was estimated between 5 million and 7 million people."
The conflict in Yemen has also made it more difficult for foreign aid to be delivered in many parts of the country where it is most needed, but Unocha has called upon the international community to fully commit to providing humanitarian aid to Yemen.
"With millions of lives at stake, we cannot allow political and security considerations to overshadow the vast humanitarian needs in Yemen," Unocha said in a statement.
© Copyright IBTimes 2022. All rights reserved.
FOLLOW MORE IBT NEWS ON THE BELOW CHANNELS