Yorkville Endoscopy Receiving Death Threats After Allegedly Botching Joan Rivers' Procedure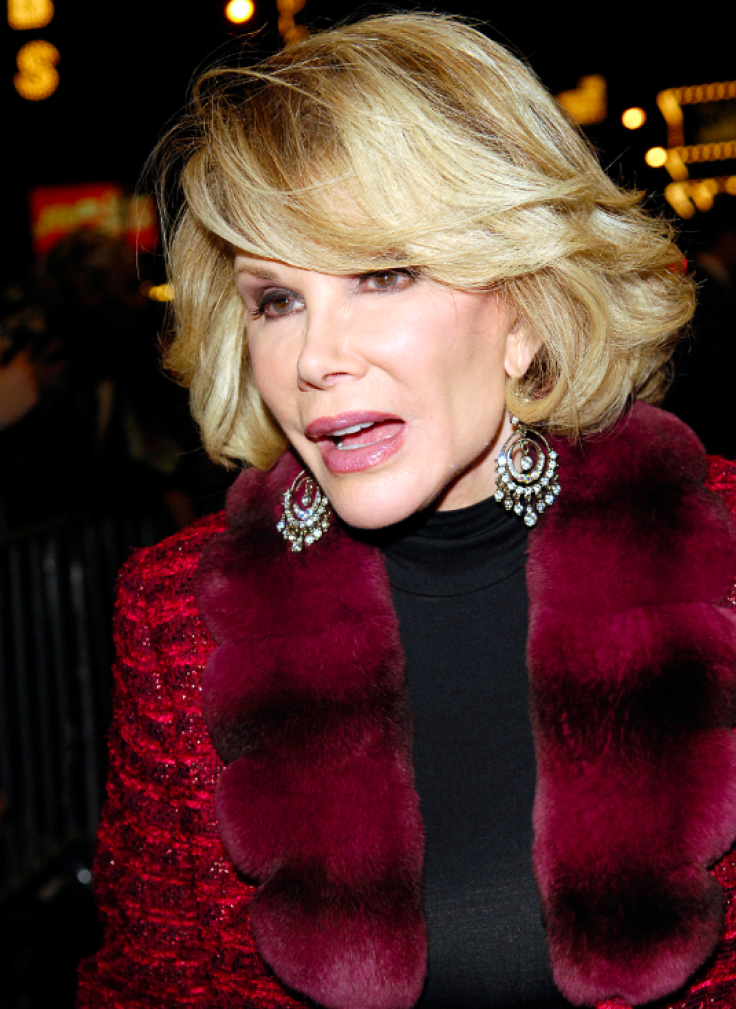 The hospitalization and recent death of Joan Rivers has prompted some of her fans to attack the New York City clinic that allegedly left her in cardiac arrest during a nonsurgical throat procedure last Thursday. Yorkville Endoscopy, the outpatient clinic that performed the throat surgery, says it is responding to death threats by shutting down their facility early on certain days and hiring additional security, according to TMZ.
"If Joan dies, so will you," and "I hope you people die, you killed an icon," are just a couple of the threatening remarks Yorkville Endoscopy says they have received since Rivers was first hospitalized last week. There is no word if the threats increased after Rivers died Thursday.
While no death threats were found early Friday on Yorkville Endoscopy's Facebook and Yelp pages, River's fans have used the public sites to bad-mouth the clinic. "I hope the Rivers family put you out of business you incompetent boobs," one Facebook reviewer posted Sunday. "You're done!... Wave bye to your license and here come the courts," posted another Facebook user Thursday. "Obviously not the best care when you go in for a routine procedure and never wake up," said one Yelp reviewer.
The New York State Health Department announced its plans to begin a "full investigation" of the Upper East Side clinic Thursday to determine if the facility had committed any violations. A source revealed to ABC News the clinic is not suspected of any "wrongdoing."
River's daughter, Melissa Rivers, confirmed her mother's death Thursday. Her funeral will take place at Temple Emanu-El in Manhattan Sunday. "It is with great sadness that I announce the death of my mother, Joan Rivers. She passed peacefully at 1:17 p.m. surrounded by family and close friends," Rivers said in a statement. "My mother's greatest joy in life was to make people laugh. Although that is difficult to do right now, I know her final wish would be that we return to laughing soon."
© Copyright IBTimes 2023. All rights reserved.