14 House Republicans Vote Against Juneteenth Holiday, Question 'Independence Day' Name
KEY POINTS
The Juneteenth bill earned overwhelming support in Congress
The federal holiday was previously considered a state holiday in 49 states
A Republican lawmaker argued that the holiday should have celebrated the end of the Civil War instead
More than a dozen House members have voted against a proposal making Juneteenth, which commemorates the end of slavery in the United States, a federal holiday.
The House of Representatives on Wednesday successfully voted to pass a bill that makes June 19 a federal holiday, a day after the Senate voted to pass the measure unanimously. President Joe Biden on Thursday signed the bill into law, officially establishing it as a federal holiday.
"I've only been president for several months, but I think this will go down, for me, as one of the greatest honors I will have had as president," Biden said at the signing event. "Great nations don't ignore their most painful moments. They embrace them," he added.
The Juneteenth holiday celebrates the abolishment of slavery in the United States on June 19, 1865, which happened after the Civil War ended and two years after President Abraham Lincoln issued the Emancipation Proclamation.
At least 49 states across the U.S. formally recognize Juneteenth as a state holiday, with Texas being the first state to recognize it in 1980.
While the bill passed through Congress with overwhelming support from both chambers, 14 Republicans in the House voted against making Juneteenth a federal holiday, including:
Rep. Mo Brooks, R-Ala.
Rep. Andy Biggs, R-Ariz.
Rep. Scott DesJarlais, R-Tenn.
Rep. Tom Tiffany, R-Wis.
Rep. Doug LaMalfa, R-Calif.
Rep. Mike Rogers, R-Ala.
Rep. Ralph Norman, R-S.C.
Rep. Chip Roy, R-Texas
Rep. Paul Gosar, R-Ariz.
Rep. Tom McClintock, R-Calif.
Rep. Matt Rosendale, R-Mont.
Rep. Ronny Jackson, R-Texas
Rep. Thomas Massie, R-Ky.
Rep. Andrew Clyde, R-Ga.
In an interview Wednesday with AL.com, Rep. Brooks argued that the bill should instead be celebrating the end of the Civil War or the passing of the 13th, 14th, or 15th Amendments. He also noted that the holiday would cost the country $1 billion.
"The cost should have been offset by eliminating one of the other holidays so that taxpayers don't once again have to foot the bill for paying millions of people not to work," he said.
Arizona Rep. Biggs also slammed the Juneteenth bill and accused Democrats of using the bill to fuel their own agenda. "They weaponize this bill like they weaponize everything else," he said on Twitter.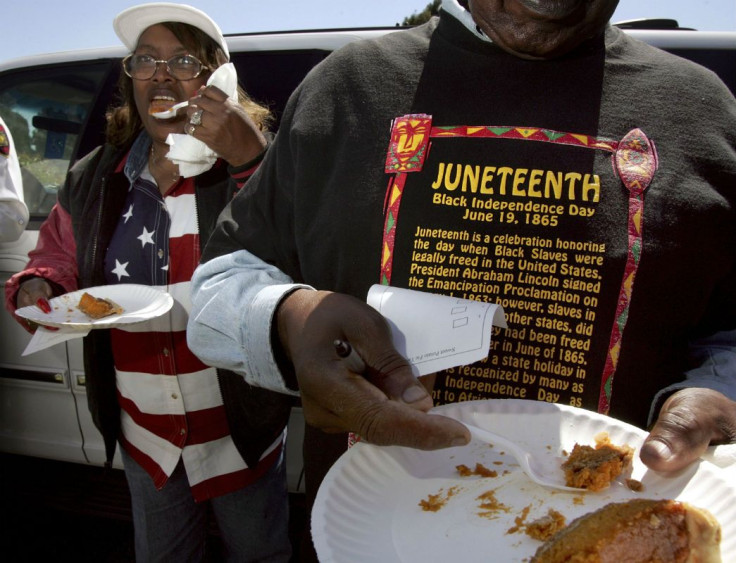 © Copyright IBTimes 2023. All rights reserved.