Aaron Rodgers Trade: Top 10 Destinations Ranked If Packers Move QB In 2023 Offseason
An Aaron Rodgers trade might be looming in the 2023 NFL offseason. The veteran quarterback is still mulling his future, but there's a feeling that both Rodgers and the Green Bay Packers might be ready for a split.
While most teams would be thrilled at the idea of having Rodgers under center, only a portion of the league can actually make a trade happen and even fewer suitors stand out as realistic destinations.
Teams that have star quarterbacks won't trade for Rodgers. That eliminates the Kansas City Chiefs, Philadelphia Eagles, Buffalo Bills, Cincinnati Bengals and Los Angeles Chargers. The Jacksonville Jaguars and Pittsburgh Steelers are invested in their first-round quarterbacks of the last two years.
The Houston Texans, Indianapolis Colts and Atlanta Falcons wouldn't turn into contenders by acquiring Rodgers. The Arizona Cardinals, Cleveland Browns, Denver Broncos and Los Angeles Rams have quarterbacks tied to big contracts.
The Packers aren't trading the four-time MVP within the NFC North, which eliminates the Chicago Bears, Minnesota Vikings and Detroit Lions. The New York Giants have made it clear that Daniel Jones will be their quarterback next year. The Baltimore Ravens appear committed to signing Lamar Jackson.
Where could Rodgers be traded? Here's a ranking of the 10 most likely destinations for the Packers' star, if Green Bay decided to move the quarterback.
1) New York Jets
The Jets are the best fit for Rodgers and didn't waste any time inquiring about Rodgers' availability. New York has a championship-caliber defense, while wide receiver Garrett Wilson and running back Breece Hall give New York a pair of young Pro-Bowl caliber playmakers. The Jets are a star quarterback away from competing for the AFC East title. It's somewhat remarkable that New York won seven games last year with a platoon of Zach Wilson, Mike White and Joe Flacco.
A blast from the past looms over a potential trade. Former Packers legend Brett Favre was traded to the Jets in 2008. He only lasted one season in New York.
2) Las Vegas Raiders
Some NFL insiders believe that Rodgers will end up in Las Vegas. After the team released Derek Carr, head coach Josh McDaniels reportedly made pleas for a veteran quarterback and star wide receiver Davanate Adams wants a reunion with his former quarterback. The Raiders are only two seasons removed from making the playoffs. If the Jets sign Carr, Las Vegas will be the clear frontrunner to trade for Rodgers.
Should Rodgers join the Raiders, he would be in a division with Patrick Mahomes, Justin Herbert and Russell Wilson. The Raiders may still have a tough path to the playoffs due to an underachieving defense.
3) Tennessee Titans
The Titans have been among the NFL's most consistent winners for a half-decade. Tennessee won at least nine games every year from 2017-2021. The Titans were on their way to winning a third straight AFC South title last season until Ryan Tannehill got hurt. There's speculation that Tennessee is ready to move on from Tannehill.
The Titans might give Rodgers a better chance than the Jets and Raiders to make the playoffs because of the overall weakness of the AFC South. In 2022, the Jacksonville Jaguars won the division with a 9-8 record.
4) Washington Commanders
With only Sam Howell and Jake Fromm under contract, the Commanders are in desperate need of a quarterback. Adding Rodgers could potentially turn Washington into a 10-plus-win team after a .500 season in 2022. Washington won seven games in 2020 and 2021 behind mediocre quarterback play. While new offensive coordinator Eric Bieniemy could help attract Rodgers to Washington, issues with ownership could hurt the Commanders' chances.
The NFC East was the strongest division in 2022. The Eagles, Cowboys and Giants each finished above .500.
5) Tampa Bay Buccaneers
Going to Tampa Bay worked out for Tom Brady -- it could do the same for Rodgers. The Bucs have made three straight playoff appearances. Despite a disappointing 2022 campaign, Tampa boasts reliable receivers in Chris Godwin and Mike Evans. A new offensive philosophy, an improved offensive line, and the addition of Rodgers could easily mean another division title for the Bucs.
Rodgers replacing Brady would be among the biggest storylines of the season.
6) Carolina Panthers
Like Tennessee and Tampa Bay, Carolina offers Rodgers a chance to take advantage of an unimpressive division. Amid a head coaching change and three different starting quarterbacks, the Panthers only finished a game out of first place in the AFC South. The No. 9 overall pick in the 2023 NFL Draft might not be quite good enough for Carolina to find a franchise quarterback. It could be the centerpiece of a trade for a veteran quarterback.
The Panthers haven't had a clear-cut starting quarterback since Cam Newton, who was on the decline in his final seasons in Charlotte.
7) New England Patriots
The Patriots haven't won a playoff game since losing their legendary quarterback. Maybe New England will try to trade for another future Hall of Famer. Rodgers has seen what Bill Belichick can do with a great quarterback. Mac Jones hasn't proven that he can start for a championship contender.
Brady's name still looms large in Massachusetts but Patriot fans may be growing impatient without a superstar quarterback.
8) Miami Dolphins
The Dolphins seem set on moving forward with Tua Tagovailoa, but the multiple concussions that ended the quarterback's 2022 season make the Dolphins potential contenders for any available star quarterback. Miami tried to acquire Tom Brady a year ago when Tagovailoa's health wasn't as much of a question. Rodgers couldn't ask for a better pair of receivers than Tyreek Hill and Jaylen Waddle.
With the exception of Buffalo, Miami represents another AFC East team that would be better served by acquiring Rodgers. The Dolphins might be a quarterback away from being legitimate threats to reach the Super Bowl.
9) San Francisco 49ers
Two years of Rodgers trade rumors started in 2021 when the 49ers tried to acquire the Packers' quarterback. Since then, San Francisco has seemingly been a quarterback away from winning a Super Bowl. The 49ers might very well have gone to the title game if Rodgers was under center. San Francisco doesn't have a 2023 first-round pick to trade, as Brock Purdy and Trey Lance are likely set to battle for the starting job.
Rodgers, a native of northern California, grew up a fan of the 49ers.
10) Dallas Cowboys
The idea of an Aaron Rodgers-for-Dak Prescott swap seems far-fetched. Is it inconceivable that Jerry Jones would explore making such a trade? Probably not. Prescott led the league in interceptions last season and played poorly in the Cowboys' playoff loss. Prescott only has two years left on his contract. In theory, the trade could help Dallas in the short term and Green Bay in the long term.
Such blockbuster deals are virtually unheard of in the NFL and it would take a lot of maneuvering for a deal to take place. But the idea of Rodgers playing in Dallas may be too tantalizing for Jones to not consider.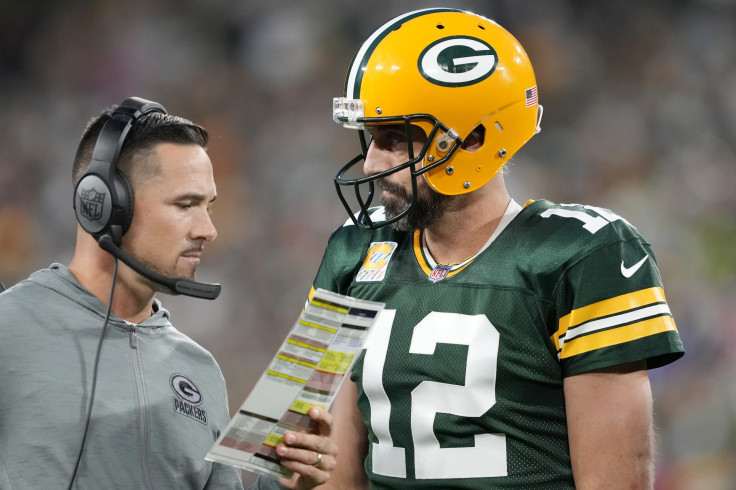 © Copyright IBTimes 2023. All rights reserved.