Beto O'Rourke Yells Expletive At Heckler Over Uvalde Shooting, Twitter Reacts
KEY POINTS
O'Rourke spoke about Uvalde shooting at Mineral Wells town hall Wednesday
He yelled an expletive at someone who laughed when the incident was mentioned
Twitter users called him out for the "broadway show"
Texas's Democratic gubernatorial candidate Beto O'Rourke shut down a heckler who laughed out loud during a discussion about the mass shooting at a Texas school.
Salvador Ramos, 18, fatally shot 19 children and two teachers at Robb Elementary School in Uvalde in May. Since then O'Rourke has focused his campaign on gun control.
The 49-year-old has held protests outside a National Rifle Association meeting, attended Gov. Greg Abbott's press conference where he accused him of "doing nothing" to regulate gun access, and has conducted several town halls where he's spoken about the issue.
During Wednesday evening's town hall in Mineral Wells, O'Rourke was talking about Texas laws that allow people aged 18 and above to legally purchase AR-15 rifles "that was originally designed for use in the battlefield in Vietnam to penetrate an enemy soldier's helmet at 500 feet and knock him down dead."
O'Rourke turned around after he heard someone laugh. He pointed in the direction of the disturbance, and sternly said, "It may be funny to you, motherf—er but it's not funny to me."
The entire crowd erupted with cheers and applause for O'Rourke who continued to speak, as can be seen in a video shared from the meeting on Twitter.
O'Rourke has been showing up and showing out in Texas - including attending funerals of those who died in the Uvalde tragedy. However, detractors have called him out for his approach, including the recent incident.
"Prove you didn't just get played by Beto putting a plant in the audience. Prove that wasn't theater. Beto is playing the emotional card Democrats always play to win votes, then they ALWAYS abandon voters after the election is over. Prove you didn't just get played," read a tweet.
"Paid to laugh on cue by Beto. These are paid ppl who are there. This is theater at its best.... It's like the time DNC sent these guys down to Virginia to pretend to be Rep.@BetoORourke is so far behind he's having to resort to a broadway show..." tweeted another.
"I think talking about the execution of 19 children and 2 of their teachers will always be an emotional thing. Having said that, the said way I despised Trump used profanity, I think Beto should chosen his words better," wrote another.
Some accused him of jumping the gun without considering that the laughter could've been an emotional response to grief. "On the other hand, some folks laugh as an emotional release when about to cry. My father did so, a decorated soldier, with Vs for valor in combat on his multiple bronze stars. Just saying--Beto's reaction was sophomoric and rash, and will not help him win the center.@BetoORourke" read a tweet.
"He's laughing at the obvious emotional appeal of "weapons of war" and obvious politicization of tragedy by Beto Clown. Beto is a joke," read another irate tweet.
Rourke is contesting against Abbott in the forthcoming elections. Before the Mineral Wells town hall, O'Rourke visited Cleburne. Supporters lined up outside the Kaufmann Leadership Academy Gymnasium, and those unable to get in stood outside in the sweltering heat. The crowd moved to the parking lot after it rained in the area, reported Cleburne Times Review.
"Thanks to you and everyone that's here we are going to win. I know we're going to win because we're fighting for every woman in Texas to make her own decision when it comes to her health care.
"Because we can get behind every public school educator and make sure we've got their backs as they go into this school year and every school year hereafter," he said to the assembled crowd, which also included disagreeing individuals carrying signs that read, "Boo Beto. Get out of Texas. We don't want you here."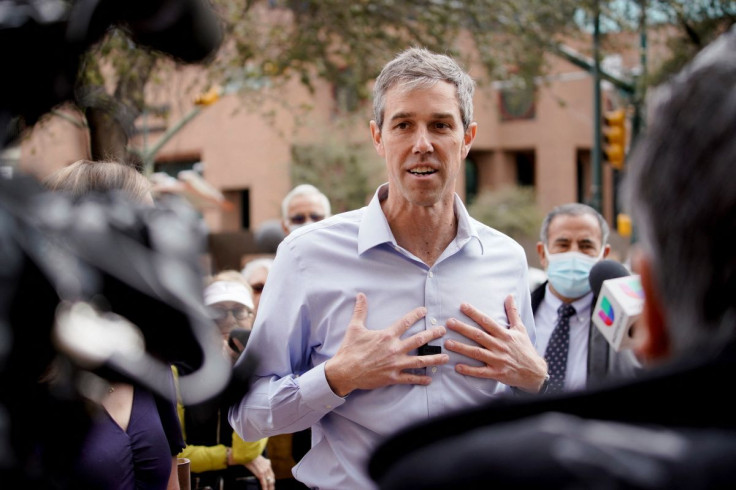 © Copyright IBTimes 2023. All rights reserved.