BP Negotiating $14 Billion Settlement for Gulf Oil Spill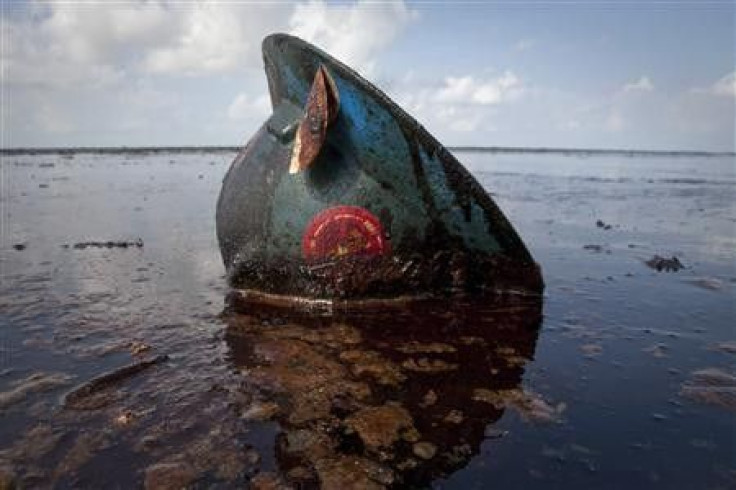 BP, Britain's No. 1 oil company, is said to be negotiating a $14 billion settlement for the Deepwater Horizon explosion that killed 11 workers and fouled the Gulf of Mexico for months in 2010.
U.S. District Judge Carl Barbier in New Orleans on Sunday delayed the start of a trial of BP, Anadarko Petroleum, Transocean and Triton for a week to give the companies more time to broker a settlement with U.S. prosecutors.
Trial was to have started Monday.
The judge's order attributed the delay to judicial efficiency and to allow the parties to make further progress in their settlement discussions. Barring a settlement, the new trial date is March 5.
Wall Street welcomed the news. Shares of BP rose 82 cents to $47.81, not much below their 52-week high, while Anadarko shares fell 36 cents to $86.94, also only slightly below their yearly high. Shares of Transocean soared 5 percent to $53.26 as investors apparently believe a settlement could avert higher costs assessed after a trial. Still, shares of Transocean remain about 40 percent below their 52-week high.
BP was said to be weighing a $14 billion settlement with business owners along the Gulf of Mexico who claim the spill hurt their livelihoods, according to Bloomberg on Sunday. The British company had aside $20 billion to cover such claims and has so far paid out $6 billion. The reported settlement would take the remaining money and close down the claims fund.
Total costs could reach $40 billion
Environmental lawyers said in interviews the companies might be held liable to pay as much as $40 billion. That could indicate why they reached out to the judge to settle before trial. In turn, Barbier may not want to preside over proceedings estimated to last as long as 18 months.
BP and the Plaintiff Steering Committee are working to reach agreement to fairly compensate people and businesses affected by the Deepwater Horizon accident and oil spill, read a statement published Sunday on BP's Web site. There can be no assurance that these discussions will lead to a settlement agreement.
Billions of dollars could yet be on the line as the companies could still face fines stemming from the Oil Pollution and Clean Water Acts.
While BP is best known to the public, the other defendants are also important. Anadarko is one of the largest natural gas companies in the U.S. Triton, is an oil-field service company while Transocean operated the ill-fated rig.
Halliburton, the Houston-based energy services company that provided the cement that finally sealed the well, is being sued by BP in a separate suit to ensure, BP says, that every company involved maintains some level of responsibility for the spill.
Department of Justice has charged the defendants with civil penalties under the Clean Water Act and unlimited liability under the Oil Pollution Act for spilling 5 million barrels of crude oil into the Gulf of Mexico between April 20 and July 2010.
Under the Clean Water Act, defendants can be fined as much as $1,100 per barrel of oil for negligence. If Barbier, who is scheduled to hear the case without a jury, finds BP and the other defendants were grossly negligent, they could be fined $4,300 per barrel of oil spilled.
That could bring the total payout to as much as $21.5 billion.
Echoes of Exxon Valdez
Besides costing the lives of 11 employees of Transocean, the spill was a catastrophe for marine life in the Gulf, spoiling livelihoods in the fishing, tourism and travel sectors from Florida to Texas. The spill was probably the worst ever for an industry now ambitiously targeting the world's offshore oil and gas fields.
The previous catastrophe most likened to the BP Horizon disaster was the Exxon Valdez tanker spill of 1989, which spilled 32 million gallons into Alaskan waters.
The administrator of the Sept. 11, 2001, settlement funds, Kenneth Feinberg, was named head of funds that so far have paid out an estimated $6 billion to Gulf spill victims.
The liabilities for the defendants would be determined by Judge Barbier at trial, They are charged with spilling millions gallons of crude oil into the Gulf between April 20 and July 2010.
The U.S. government asserts they are liable for civil and federal penalties.
David Guest, head of Earth Justice's Florida office who initially filed environmental claims against BP before the environmental group was removed from the legal proceedings, said last week he'd surprised if the companies didn't settle before Monday.
Guest estimated a total settlement could be valued at $40 billion.
Whether or not that money includes the $14 billion already put aside for claims remains to be seen, the lawyer said.
BP's cash reserve: $18.5 billion
As of Dec. 31, BP reported assets exceeding $272 billion, of which $18.5 billion is cash. Some of that is being used to pay lawyers, including Chicago's Kirkland and Ellis, one of the nation's biggest corporate firms.
The charges allege defendants had not taken sufficient precautions to keep the Macondo Well under control because they failed to use the best available and safest drilling technology to monitor it, provide constant surveillance and maintain and use equipment designed to ensure the rig's safety. Other organizations such as the Sierra Club tried suing BP, but were blocked by the court.
The latest settlement talks continue an ocean of litigation.
On Thursday, Barbier, who's served in federal court since his appointment by President Bill Clinton in 1998, ruled BP and Anadarko are liable for civil penalties on top of the federal claims brought against them.
That ruling could expose the defendants to potentially billions of dollars in civil damages beyond what they've already contributed to Feinberg's fund.
If they are found grossly negligent, Barbier could award punitive damages to businesses and property owners under maritime law..
Cameron, Moex have already settled
In November, Barbier ruled Alabama and Louisiana could sue BP under maritime law. In December BP reached a settlement with blowout preventer maker Cameron International. Cameron agreed to pay $250 million to BP. The money was placed in the $20 billion trust BP put aside to pay for the spill.
On Feb. 17, Mitsui MOEX Offshore, another defendant, settled and agreed to pay $90 million.
The Department of Justice has not wavered in its commitment to hold all responsible parties fully accountable for what stands as the largest oil spill in U.S. history, Attorney General Eric Holder said in a statement following the settlement.
This landmark settlement is an important step - but only a first step - toward achieving accountability and protecting the future of the Gulf ecosystem by funding critical habitat preservation projects, Holder added. That statement could indicate he'll pay close attention to this week's negotiations.
BP, Transocean and Anadarko, the leading players in the ownership of and operation of the Deepwater Horizon rig and Macondo oil well, each filed various petitions for summary judgments. In them, the defendants held the others accountable while offering their own different interpretations of which is more liable under the law.
The whole affair began on April 20, 2010, when a natural gas blowout on the Deepwater Horizon oil rig traveled back up the wellbore and ignited, causing a fire that burned for two days before the rig sank. As it did, an underwater pipe that connected the rig to the well broke, allowing an estimated 206 million gallons of crude to spew into the Gulf of Mexico for close to three months.
Eleven people were killed in the explosion and resulting fire.
In Monday's trading BP shares rose 55 cents to close at $47.54.
Anadarko shares closed at $86.52.
Transocean closed at $53.43, more than $32 below their 52-week high of $85.98.
© Copyright IBTimes 2023. All rights reserved.