Deadly Indiana Stage Collapse Kills At Least 5, Injures 40 (Video + Photos)
A severe storm led to a stage collapse at the Indiana State Fair on Saturday, killing at least five people and injuring about 40 people. The accident occurred as crowds were awaiting a performance by the country band Sugarland in Indianapolis.
An announcer alerted the concertgoers that a strong storm was advancing and gave instructions on what to do in event of an evacuation. Moments later, the scaffolding collapsed on the crowd without warning.
Bursts of high wind toppled the rigs supporting the stage as wall of dirt and dust blew up quickly. The event instantly turned into total chaos as concertgoers ran, screaming and shouting, desperate to get out of the fatal scene.
"The gust of wind came, there was no rain yet and the production fell from left to right. And you could see, you could clearly see people were under the footprint of the rigging," USA Today cited Star music reporter David Lindquist, who was on the scene.
A majority of the injured was reportedly in the "Sugar Pit" VIP section closest to the stage.
Concertgoers and emergency crews rushed to tend the injured and free victims trapped underneath the heavy lights, beams and other equipment.
The Indiana stage collapse is not the only tragedy that have happened recently. A storm-driven collapse at a Flaming Lips concert in Oklahoma earlier this month and stage collapse at a Cheap Trick concert in Canada last month were also unexpected. Although both incidents reported no serious injuries, the deadly Indiana tragedy on Saturday left at least five people dead and about 40 injured. The numbers are likely to mount as some people may have taken themselves to hospitals with injuries ranging from minor cuts and scrapes to "very serious injuries," according to Indiana State Police Sgt. Dave Bursten.
"We are all right. We are praying for our fans, and the people of Indianapolis. We hope you'll join us. They need your strength," tweeted Sugarland last Saturday.
Sara Bareilles, who performed her set before the incident also expressed her condolences via Twitter: "I'm speechless and feel so helpless. Please send love and prayers to Indianapolis tonight. My heart aches for the lives lost."
As of now Sunday's activities have been canceled. According to event officials, the fair is expected to resume Monday with a service honoring the victims which will run through Aug. 21.
Check out video and photos of the deadly stage collapse that killed at least 5 and injured 40:
Must Read: Sugarland Plans Memorial to Honor Indiana Bluesfest Stage Collapse Victims (PHOTOS)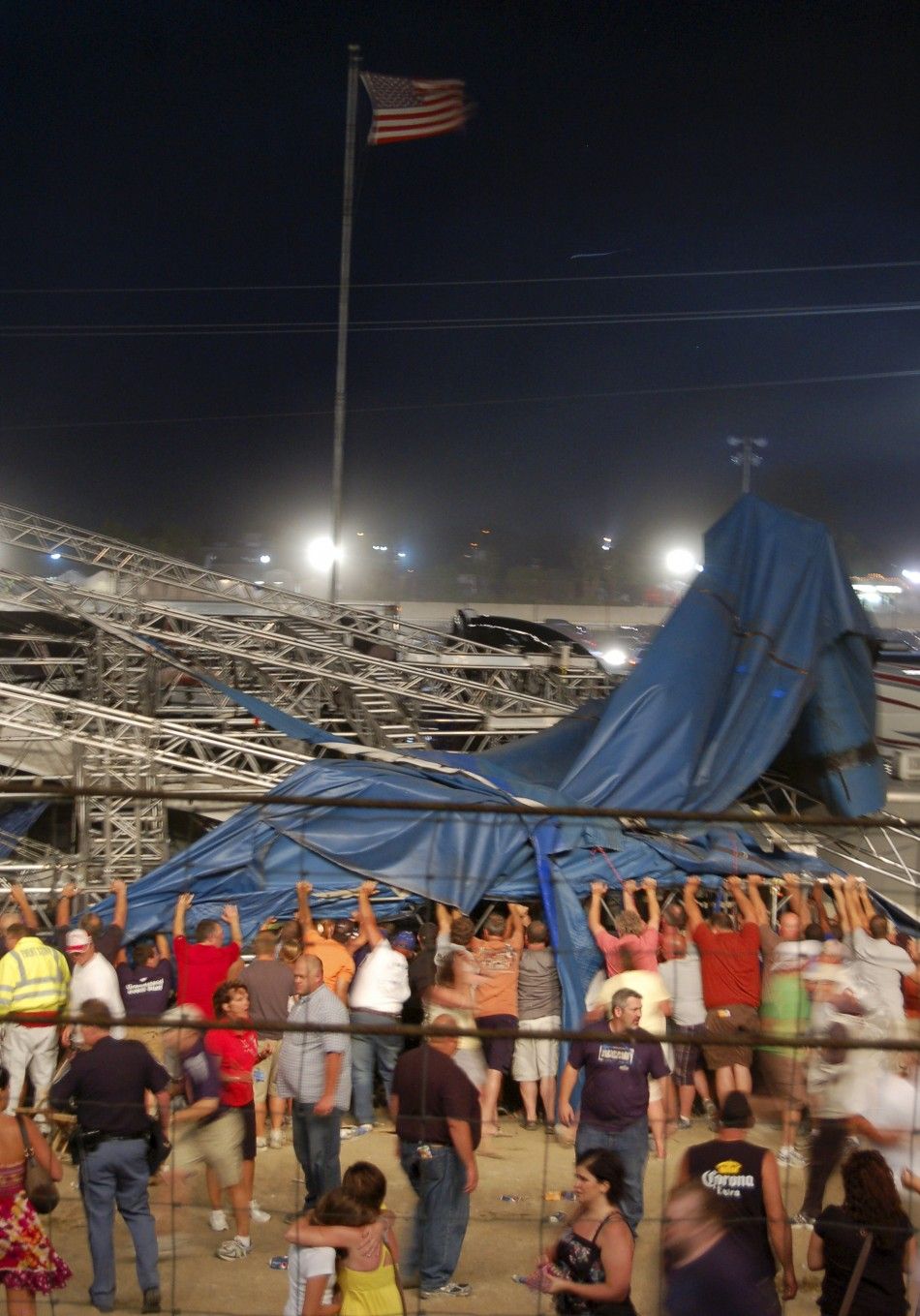 © Copyright IBTimes 2023. All rights reserved.