Donald Trump Day 1 Press Conference Live Stream: Watch Sean Spicer Give Media Briefing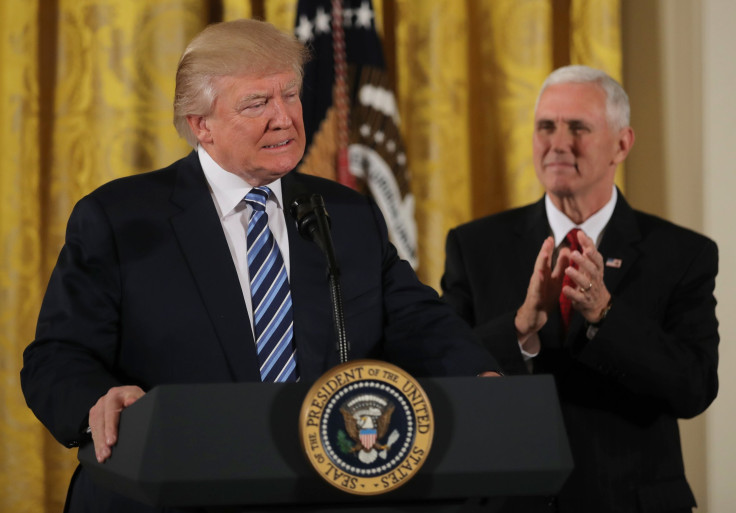 Donald Trump's White House was scheduled to hold a press conference Monday afternoon. White House Press Secretary Sean Spicer made the announcement late Sunday.
The newly elected president's previous press conference was held earlier this month and was his only media briefing during his time as president-elect. He had, however, spoken with individual news organizations during the transition. The Jan. 11 conference was also his first in six months.
Trump told Fox News he preferred to use Twitter to issue comments as he had to deal with "very dishonest media."
The conference, scheduled for Monday at 1:30 p.m. EST, can be live streamed on the White House website or through its official YouTube page. The conference will also be broadcast on major news networks.
In the press briefing, Trump was expected to address several issues that have cropped up since his inauguration Friday, including the global Women's March, his policies on climate change, LGBT rights — which are not mentioned on the new White House website — and more.
Trump had already tweeted about the Women's March on Washington, which reportedly included at least 470,000 people, three times the size of the crowd at his inauguration.
Meanwhile, Spicer called for an impromptu press briefing Saturday afternoon during which he falsely claimed that the crowd for Friday's event "was the largest audience to ever witness an inauguration, period."
Aerial photographs comparing the Trump inauguration with former President Barack Obama's first inauguration in 2009 showed that Friday's crowd at the swearing-in event was much smaller. Nielsen ratings also reportedly showed that Obama's inauguration was more widely watched than Trump's.
Senior White House aide Kellyanne Conway, however, defended Spicer's claims, calling them "alternative facts."
Trump entered the White House with the lowest favorable rating ever, with only 32 percent having a positive view of Trump during the transition period, according to a CBS poll. When Obama became president in 2009, 60 percent of Americans had a favorable view of the 44th president.
On Inauguration Day, the White House website was scrubbed clean of Obama's policies and replaced with Trump's. The new administration, however, did not mention climate change or civil rights in its policies.
CORRECTION: 1:18 p.m. EST — An earlier version of this article incorrectly stated President Donald Trump would be leading the press conference. The media briefing was expected to be led by White House Press Secretary Sean Spicer, who announced the event. This story has been updated to reflect that fact.
© Copyright IBTimes 2022. All rights reserved.
FOLLOW MORE IBT NEWS ON THE BELOW CHANNELS