Election 2016: Carly Fiorina Filmed Deeply Personal Documentary With Super PAC Backing Her Campaign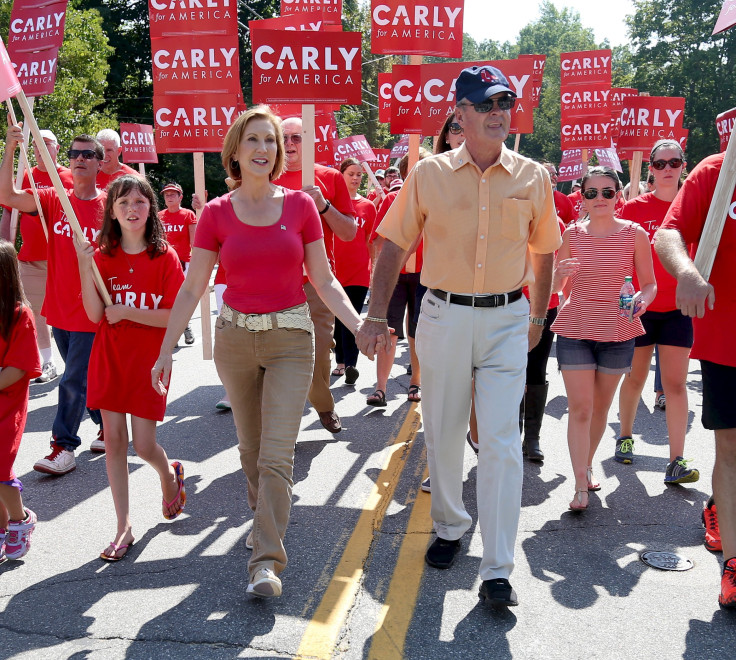 On Tuesday, Carly Fiorina's family and supporters gathered in Arlington, Virginia, at the premiere of a documentary about the surging Republican presidential candidate's life. Fiorina wasn't there, but her husband, Frank, shared a few words on the stage before the movie began.
"Speaking for Carly and myself, I want to thank you all from the bottom of our hearts for being here," he said. "I haven't seen this film yet, but I'm sure it's going to be great."
Over the next hour, the audience was treated to a deeply personal look at Fiorina, told through family photographs and movies, and interviews with the candidate and her husband, friends and former colleagues. In "Citizen Carly," Fiorina guides viewers through the highs and lows of her life story -- her rise to the top of the corporate ladder and eventual ouster at Hewlett-Packard, her stepdaughter's fatal drug overdose and her difficult battle with breast cancer.
While the documentary looks and feels like an advertisement for Fiorina's presidential bid, it is actually the work of "CARLY for America" -- a super PAC that supports her candidacy. Under federal election rules, the group is prohibited from coordinating with her campaign, meaning it cannot make expenditures with her involvement.
But Fiorina is one of at least four Republican candidates who took advantage of an apparent loophole in the campaign finance system by filming material with outside groups before officially entering the presidential race. Super PACs, unlike federal candidates, are not subject to contribution limits, which is why the presidential candidates have become increasingly dependent on them for support and are willing to test boundaries.
Still, Fiorina's campaign appears to be relying on outside groups more than her opponents. CARLY for America has handled advance work for her campaign events in Iowa and New Hampshire, according to reports by National Journal and NBC News.
After the documentary finished on Tuesday, Frank Fiorina gave it a strong endorsement.
"I loved it," he said, in response to a question from a reporter. "I thought they did a really nice job. I had not seen it, so I'm very pleased."
Soon after, Katie Hughes, a spokesperson for CARLY for America, struck up a conversation with him about his travel plans this week.
"So, you are heading out very soon?" she asked.
"Yeah, tomorrow," Fiorina said. "I'm not sure where I'm going tomorrow. Either Iowa or South Carolina. Then it's New Hampshire."
"Yeah, Iowa, New Hampshire, South -- yeah, that's great," Hughes said.
CARLY for America will host "Citizen Carly" premiere events in Iowa on Wednesday, New Hampshire on Thursday and South Carolina on Friday. Frank Fiorina will appear at one of the New Hampshire events, according to the super PAC's state director.
When International Business Times asked Fiorina if any of the "Citizen Carly" footage was filmed in the house he and his wife share, he passed off the question to Hughes. "Ask this young lady," he said.
"I am happy to answer that," Hughes said, as Fiorina left to mingle with supporters. A moment later, Hughes clarified: "I actually do not know that answer."
© Copyright IBTimes 2022. All rights reserved.
FOLLOW MORE IBT NEWS ON THE BELOW CHANNELS