Hurricane Isaac 2012: Tropical Storm Heads To Gulf Of Mexico After Churning Off Florida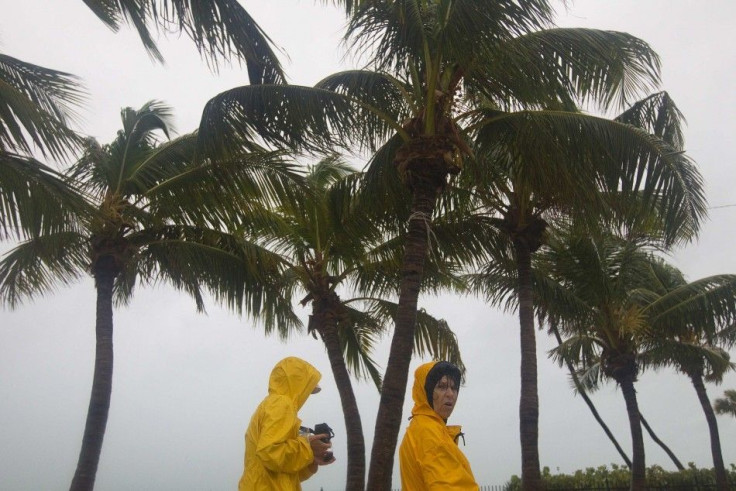 After lashing South Florida with heavy rains and strong winds Sunday, tropical storm Isaac is now heading northwestward into the Gulf of Mexico, posing a threat to the U.S. offshore oil production.
The storm that claimed six lives in Haiti and disrupted plans for the Republican National Convention in Tampa is expected to become a Category 2 hurricane with "extremely dangerous" sustained winds of 105 miles per hour by late Tuesday or early Wednesday.
A Category 2 hurricane can top sustained winds of 96 to 110 mph. When it hits, winds will be "enough to knock you over," said U.S. National Hurricane Center spokesman Dennis Feltgen.
NHC said that Isaac could hit the Gulf Coast somewhere between Florida and Louisiana at midweek. The estimated track and timing of the storm is similar to that of Hurricane Katrina which wrecked New Orleans and Gulf Coast on Aug. 29, 2005, killing over 1,800 people and causing billions of dollars of damage.
Weather.com reported that Isaac is large as tropical storm conditions extend over 200 miles from the storm's center, which means that Isaac could cause major damage in places it does not even pass directly overhead.
According to NHC, hurricane warnings have been issued for areas along the Gulf coast from the east of Morgan City, La., to Destin, Fla., including metropolitan New Orleans.
Governor Bobby Jindal has declared a state of emergency in Louisiana. He said that 15 low-lying parishes outside New Orleans' newly built, $14.5 billion flood defense system would likely be under mandatory evacuation orders by Monday.
"There's really nothing that's going to stop this storm from forming and from strengthening," Reuters quoted Jindal as saying.
According to forecasters, a more westward track could bring Isaac over the heart of the U.S. offshore oil patch, which produces about 23 percent of the U.S. oil output and 7 percent of its natural gas output, Reuters reported.
The federal government said that oil and gas operators would continue to evacuate offshore platforms and rigs in Isaac's possible path through the Gulf of Mexico.
The bureau of Safety and Environmental Enforcement said that 39 production platforms and eight drilling rigs had been evacuated so far. The bureau also said operators estimated that about 24 percent of the current daily oil production and 8 percent of the natural gas production has been cut off, the Associated Press reported.
© Copyright IBTimes 2023. All rights reserved.
FOLLOW MORE IBT NEWS ON THE BELOW CHANNELS