Jan. 6 Hearing: Josh Hawley Fled From Capitol During Insurrection, Surveillance Video Shows
KEY POINTS
The video provided comic relief during the tense hearing
It quickly spread online and has so far turned into memes
One of the most popular versions of the video features Kate Bush's music
Sen. Josh Hawley, R-MO., fled from the Capitol as a mob of insurrectionists seized the building, according to a never-before-seen surveillance video played during the Jan. 6 hearing.
The committee played the footage as Rep. Elaine Luria, D-VA., spoke, sharply criticizing Hawley for egging Donald Trump's supporters who had gathered outside the security gates.
"Senator Josh Hawley also had to flee," she said, as per The Guardian.
"Earlier that afternoon, before the joint session started, he walked across the east front of the Capitol," she added, referring to the joint session of Congress to certify Joe Biden's victory over Trump.
"As you can see in this photo, he raised his fist in solidarity with the protesters already amassing at the security gates," Luria continued while presenting the evocative image of Hawley captured earlier that day.
"We spoke with a Capitol Police officer who was out there at that time. She told us that Senator Hawley's gesture riled up the crowd, and it bothered her greatly because he was doing it in a safe space, protected by the officers and the barriers," the representative recalled before playing a slow-motion video of Hawley running down the Capitol's hall to escape the violent mob.
The video provided comic relief during the tense hearing as laughter broke across the room.
It also began circulating online, serving as fodder for meme pages.
One of the most widely shared versions of the video even has Kate Bush's music in the background.
In reaction to this particular version, a netizen tweeted, "Whoever set Josh Hawley running to 'Running up that Hill (A Deal with God)' apologize to Kate Bush right now."
Another widely circulated variant of the footage features Vangelis' "Chariots of Fire." Sharing this version, a Twitter user noted, "Josh Hawley fleeing the Capitol set to 'Chariots of Fire' is the funniest thing to come out of tonight's hearing. #January6thHearing #HawlinAss."
Meanwhile, another Twitter user reacted to the video by sharing a photo of a running chicken. In the caption, they wrote, "Hey #Missouri #Republicans, brilliant choice. Josh Hawley is making you folks look ridiculous."
Hawley faced backlash earlier this month after Berkeley Law professor Khiara Bridges accused him of "transphobic" questioning at a Senate hearing focused on abortion.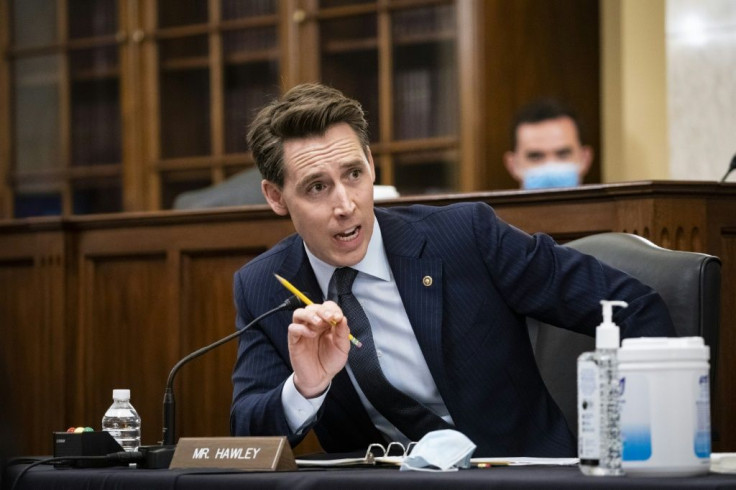 © Copyright IBTimes 2023. All rights reserved.