Maskless Biden Mingles With Crowd After White House Declares Him COVID-Positive Jill's Close Contact
KEY POINTS
Joe Biden interacted with a mostly maskless crowd at Maryland rally
Jill Biden is down with a bout of "rebound" COVID-19
White House announced Wednesday that Biden would wear a mask for 10 days
President Joe Biden was criticized for not wearing a mask during a fundraiser rally Thursday in Maryland, where he hugged his supporters, and posed for selfies with them.
He interacted with the crowd -- majority of them mask-free -- for about 30 minutes at the gathering, where he delivered scathing attacks on "Maga Republicans"
The president wasn't seen wearing a face mask during these interactions, doing the opposite of what the White House (WH) announced Wednesday. His outing came one day after Jill Biden tested positive for COVID-19 again in an apparent "rebound" case after initially testing negative the past weekend.
The president was considered the first lady's close contact. "Consistent with CDC guidance because he is a close contact of the First Lady, he will mask for 10 days when indoors and in close proximity to others," the WH said, reported NPR.
"We will also keep the President's testing cadence increased and continue to report those results," in accordance with Centers for Disease Control (CDC) and Prevention guidance.
Many had taken to social media to slam Biden for not wearing a mask.
"@POTUS Biden admin says they could cancel student debt because of a national covid19 emergency. Tonight a maskless Biden interacted with a maskless crowd for 25+ minutes," a tweet read.
"The President will wear a mask indoors and around people for 10 days. Day 2: Maskless Biden shook hands and took selfies with DNC rally attendees for over 25 minutes," noted another.
Another Twitter user posted a side-by-side photo of the president, sporting a mask in a socially distanced setting in one, and the second one from the Maryland rally. The collage was shared with the caption, "You would think Biden would pick better situations to wear a mask."
The president, who is fully vaccinated and has received booster jabs twice, has tested positive twice for COVID-19 since mid-July. He first tested positive on July 21 and was fine within six days. He then tested positive again with a "rebound," according to WH doctor Kevin O'Connor, on July 30, and the WH tweeted his negative status on Aug. 6.
Days after being cured of the rebound bout, he was photographed at the signing ceremony for the Inflation Reduction Act on Aug. 17. A video shared on Twitter showed Biden as he took off his mask, coughed with his right hand covering his mouth, and later on shook hands with everyone in the room.
Biden, however, also garnered huge plaudits after the WH's Twitter account clapped back at Republican leaders, who had their loans forgiven as part of the Paycheck Protection Program during the Donald Trump era, and were now criticizing the current administration's student loan plans.
The official Twitter account named and shamed GOPers including Rep. Marjorie Taylor Greene, R-Ga., Rep. Mike Kelly, R-Pa., Rep. Matt Gaetz, R-Fl., Rep. Markwayne Mullin, R-Okla., Rep. Vern Buchanan, R-Fl., and Rep. Kevin Hern, R-Okla. Their PPP loans that were forgiven, collectively amount to millions.
Biden, or rather "Dark Brandon" was hailed for dragging critics.
"The White House just publicly called out Matt Gaetz and Marjorie Taylor Greene for complaining about student debt forgiveness after having their PPP loans forgiven. Dark Brandon is back at it again," wrote a user.
"The White House is throwing lightning bolts all over Twitter like it's freakin' ZEUS, I love it," tweeted another.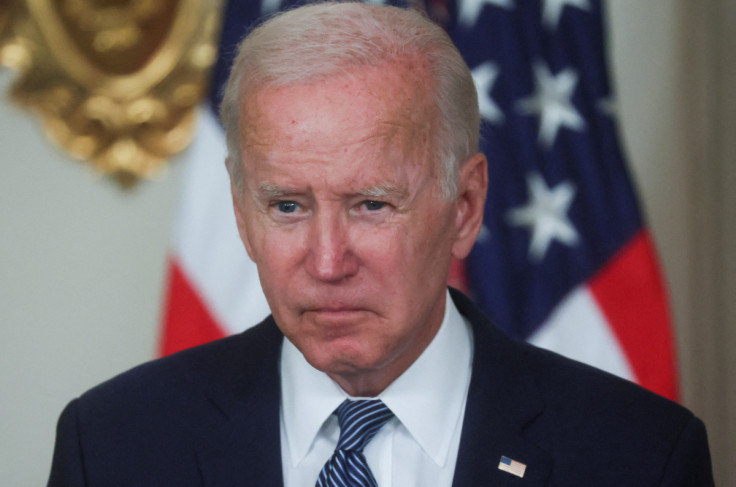 © Copyright IBTimes 2023. All rights reserved.