Michelle Obama Wears $42K Diamond Bracelets to DNC Fundraiser [PHOTOS]
Michelle Obama wore over $42,000 of diamond bracelets to a DNC fundraiser in New York while accompanying her husband on Tuesday night.
The First Lady wore three bracelets totaling almost 10 carats of diamonds to introduce her husband at the dinner fundraiser.
Designed by 23-year-old jeweler Katie Decker, Michelle Obama wore the 2.9 carat Lotus cuff priced at $15,000, the 2.17 carat Gothic cuff at $15,350 and the 1.73 carat Quatrefoil bracelet at $11,800.
But pull back your class warfare swords, the bracelets were borrowed on a loan for the Democratic National Committee fundraiser at Gotham Hall. According to Culturemap.com, Michelle Obama's stylist picked up the bracelets from Decker's showroom in Soho before the event.
President Barack Obama was reportedly in New York to address the United Nations General Assembly at the U.N. headquarters on Wednesday. Michelle also attended the address, sans jewels.
The bling not only caught the attention of attendees, as Michelle Obama's wrists sparkled as she introduced the President to the DNC dinner fundraiser, but was the subject of attacks from conservatives.
Everyone must sacrifice for the greater good... Everyone must have some skin in the game. Everyone but Barack and Michelle Obama, wrote Jim Hoft of The Gateway Pundit. Michelle Obama wore $42,000 in bling to a DNC fundraiser this week.
With the help of rumored stylist, Meredith Koop, a White House aide who worked for Obama's previous unofficial stylist, Michelle Obama has been the muse to many emerging designers, which now includes recent Texas A&M graduate turned up-and coming- jewel designer Katie Decker.
The Daily Mail reports that Michelle Obama has helped designers Barbara Tfank and Jason Wu gain notoriety after wearing prices from their collections when meeting the Duke and Duchess of Cambridge and to the Presidential inauguration, respectively.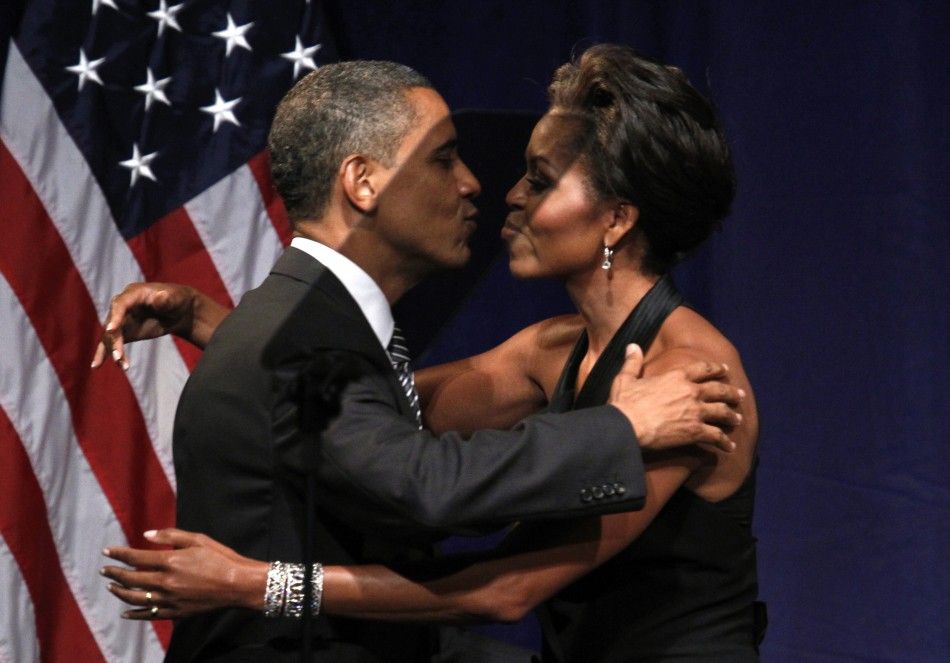 FOLLOW MORE IBT NEWS ON THE BELOW CHANNELS