More Hurricanes After Irma? Updates On Katia, Jose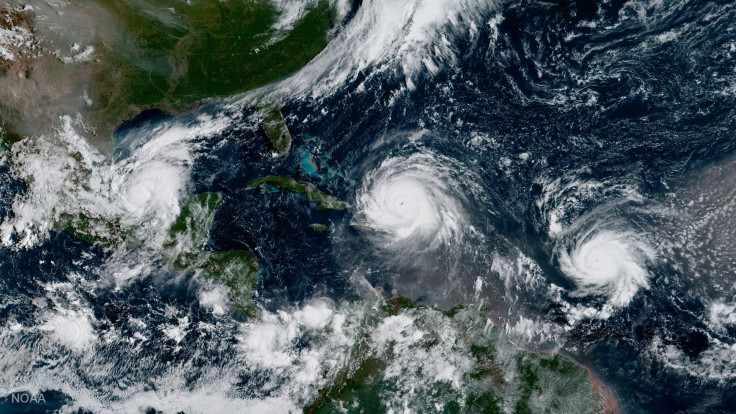 Hurricane season has been particularly destructive in 2017, as Hurricane Irma, which arrived a week after Hurricane Harvey struck the Gulf Coast, has been accompanied by Jose and Katia. All three hurricanes emerged almost simultaneously from the Atlantic Ocean.
The U.S. National Hurricane Centre (NHC) had issued storm watches for Jose and Katia earlier in the week, but Irma has posed more of an immediate and serious threat.
"3 hurricanes threatening land simultaneously in the W Atlantic Basin. Never seen anything like this in the modern record," NHC Scientist Eric Blake posted on Twitter Thursday.
Brian McNoldy, a research associate at the University of Miami, equated an early picture of the trio storms to an "uncanny" image of three hurricanes that emerged many years ago in the Atlantic Ocean. Karl, Igor and Julia were three hurricanes that surfaced seven years ago in a similar pattern. However, its effect doesn't appear to be as deadly and damaging.
"Absolutely uncanny copy-paste from 7 years ago. Very bizarre," McNoldy noted in a tweet Thursday.
Irma has lashed Haiti, the Dominican Republic, Cuba and parts of the Antilles, among other areas. Antigua and Barbuda were hit the hardest by Irma. Florida appears to be the storm's next victim, with expectations for the Florida Keys to be a primary target Sunday.
Jose and Katia have lurked in Irma's shadow.
Jose was given Category 4 hurricane status Friday, but it's reportedly hovering around Category 5 territory. It was slated to hit Antigua and other areas in the Leeward Islands have also issued received warnings to prepare for Jose.
Barbuda, which has already experienced the strength of Irma, is also expected to be hit by Jose. Barbuda residents vacated the island ahead of Jose, taking shelter at neighboring land Antigua.
The islands could receive 2 to 6 inches of rain, which after Irma could mean "additional life-threatening flooding," according to the NHC.
Katia, meanwhile, is slowly weakening. The NHC wrote, "Katia dissipates over the terrain of eastern Mexico, but [the] threat for heavy rainfall continues." Warnings in the Veracruz area cautioned that Katia could cause more landslides and flooding.
Katia, which was downgraded to a Category 1 storm Saturday, comes after a massive 8.1 earthquake rocked Mexico on Thursday. The earthquake has left at least 66 people dead.
At least two people in Mexico have died after Katia made landfall Friday night. It has also left nearly 70,000 people without electricity and left extensive damage to 53 municipalities, according to Reuters.
© Copyright IBTimes 2023. All rights reserved.