Obama Gun Control Plan 2015: White House Ready To Pass Weapons Restrictions Without Congress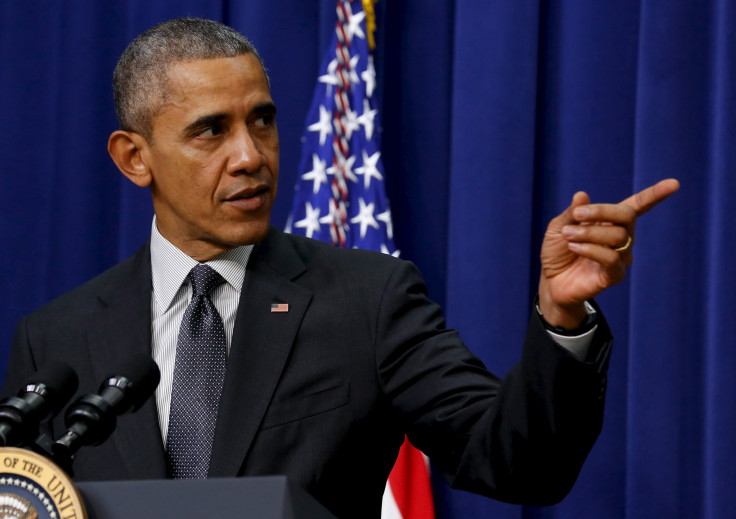 President Barack Obama is taking steps to expand background checks on gun sales — without congressional approval, the Associated Press reported Thursday. Obama's advisers are completing the proposal that could close the so-called "gun show loophole" that allows people to purchase guns at shows and online without a background check.
Obama has frequently called for tougher gun laws, including after a recent terrorist attack in San Bernardino, California, that left 14 people dead. The guns used in the mass shooting were purchased legally, and it's unlikely the proposal being considered by the White House would have prevented the shooters from acquiring weapons.
Obama could also use his executive authority to create a set number of guns sold or limit the amount of money that a person can pull in from gun sales. In the past, Obama has called on Congress to ban semi-automatic rifles deemed "assault rifles" and prohibit people on the "no-fly" federal terror watch list from getting guns.
"This is not normal; this is something that we can change, and we're going to change it," he said after a white gunman murdered nine black people attending evening prayer services at a South Carolina church over the summer.
More recently, after an October shooting at Umpqua Community College in Oregon left nine dead and several others injured, Obama appeared visibly angry over the nation's gun laws. "Our thoughts and prayers are not enough. It's not enough," Obama said hours after the shooting. "It does not capture the heartache and grief and anger that we should feel. And it does nothing to prevent this carnage from being inflicted someplace else in America — next week or a couple of months from now."
Obama's executive actions on guns could be overturned by the next president, and Republican candidates have already vowed to do just that if elected. "We're going to be un-signing a lot of executive orders," Republican front-runner Donald Trump has said.
© Copyright IBTimes 2023. All rights reserved.