Chris Christie: Law Firm Of Longtime Aide Supplies Campaign Cash, Gets New Jersey Government Business
While Gov. Chris Christie continues to struggle in Republican presidential primary polls, he has one reliable source of fundraising support: companies getting business from his administration in New Jersey. The law firm of his longtime political aide, Bill Palatucci, is raking in much of that business.
Even in a state known for its intertwined political and financial relationships, Palatucci's firm, Gibbons PC, stands out for its overlapping entanglements in a web of state business deals, campaign donations and lobbying roles. In fact, the firm has hired lawyers who worked with Christie in the U.S. Attorney's office, and one of its top lobbyists recently told Law360: "We're trying to assemble the 1927 Yankees of lawyer-lobbyists."
Palatucci joined Gibbons in 2012, after lobbying for a private prison company. He and Christie worked together as partners at Dughi, Hewit & Domalewski, before Christie became New Jersey's chief federal prosecutor. Palatucci now serves as a special counsel at Gibbons while also raising money for Christie's presidential campaign and acting as its general counsel. He's also a member of the Republican National Committee (RNC).
Two other lawyers at Gibbons are members of Christie's New Jersey Finance Leadership Team, and employees at the firm have contributed $43,700 to Christie's presidential campaign. That was on top of the $25,000 Gibbons gave to the Christie-controlled Republican Governors Association in 2014, and the $24,000 the firm's employees gave to Christie's gubernatorial campaigns.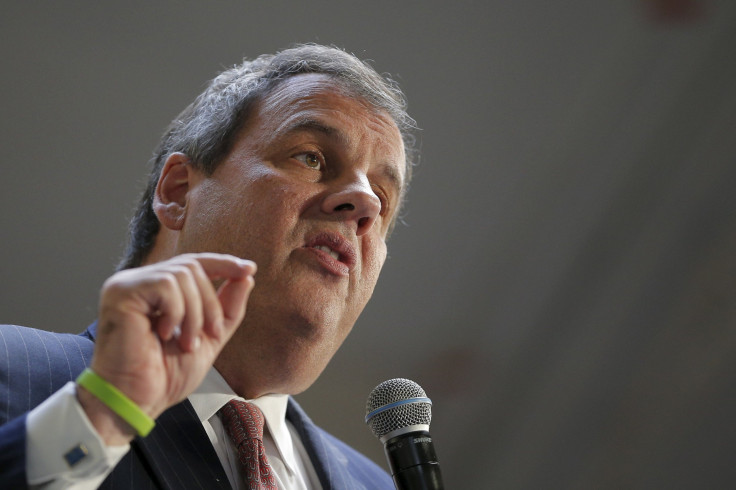 The Gibbons employees are raising and sending money to Christie's 2016 campaign at the same time that their firm is both doing legal work for Christie's administration and lobbying the same administration on behalf of corporate clients. Employees from seven companies for which Gibbons lobbies have contributed nearly $200,000 to Christie's presidential campaign and the pro-Christie super PAC, according to an International Business Times review of federal campaign finance data and state lobbying records.
Palatucci referred questions to a company spokesperson, and the firm defended its work for New Jersey's state government.
"Gibbons P.C. has been representing various agencies of state government for more than 22 years through the terms of seven different governors from both parties," a Gibbons spokesperson said in a statement. "The firm is one of the region's largest and most respected law firms, having nationally ranked offices in New Jersey, New York, Pennsylvania, and Delaware, and has a dedicated and reputable team of lawyers with the relevant background and experience to handle complex business transactions and litigation."
Simultaneously Representing And Lobbying The State
Since late 2012 when Palatucci was hired by Gibbons, New Jersey's Division of Law has paid the law firm more than $6.2 million in legal fees, according to state records reviewed by IBT. That includes the $2.2 million Gibbons has billed the state to represent the Christie administration against claims made by Ben Barlyn -- a former Hunterdon County prosecutor who says he was fired for objecting to the move by Christie officials to quash a criminal case involving some of the governor's allies. (One of those allies, Celgene executive Robert Hariri, has made a maximum $2,700 donation to Christie's presidential campaign, and the pharmaceutical company's founder has also raised money for Christie's White House bid.)
"The outside counsel work for which the attorney general's office has retained Gibbons was the result of an open, transparent and competitive procurement process," said Leland Moore, a spokesperson for the Christie-appointed New Jersey attorney general.
In recent months, Gibbons has lobbied the New Jersey Treasury Department for five companies on issues like contracting matters, financial incentive awards and gift card regulations. While lobbying the Treasury Department, the firm has also done legal work for the same department.
Gibbons has acted as an outside counsel for the department's Division of Investments on deals to invest state pension money in private financial firms. The department's announcements of the deals say that the state will work with outside counsel to "review and negotiate specific terms of the legal documents to govern the investment" -- suggesting Gibbons was in a position to influence the fees the state will pay those firms.
New Jersey Profile | FindTheHome
The state Treasury Department did not respond to questions from IBT about what Gibbons' work on the investment deals entailed. Invoices for the firm's work on the deals were heavily redacted when they were provided to IBT by the attorney general's office.
In one case, Gibbons represented the state in a deal to invest $300 million of New Jersey pension money with a subsidiary of Prudential PLC -- a British firm whose executive contributed to Christie's gubernatorial campaign and to the RNC after the deal was cemented. The donations came even though a federal rule aims -- as Palatucci himself has acknowledged -- to prevent executives at financial firms managing state pension money from donating to public officials (such as Christie) who control pension systems.
In 2012, Gibbons also worked with the Treasury Department's lottery division to arrange its deal to privatize the lottery, a priority of the Christie administration. Since 2013, the companies selected to manage the lottery sales, GTECH and Scientific Games, have contributed more than $275,000 to the Republican Governors Association. Christie chaired the organization in 2014, and it has supported both of his gubernatorial campaigns. The lottery privatization deal has been a loss for the state so far, creating a $136 million hole in the state budget, according to the Associated Press.
While Gibbons did not answer specific questions about its work for the state, the firm's spokesperson noted in an email that the law firm first began working with the Treasury Department while a Democrat was governor.
"The firm's work for the Treasury Department began in 2005 under the administration of Governor Richard Codey," the company's spokesperson said.
Moore, the spokesperson for the attorney general, told IBT: "Gibbons has worked on DOI [Division of Investment] matters for many years, predating this administration."
With Christie as governor, Gibbons gained new work from the New Jersey Sports and Exposition Authority, which manages the sports and entertainment complex at the Meadowlands.
According to the authority's senior vice president, Ralph Marra -- who worked for Christie when the governor was the state's top federal prosecutor -- the NJSEA has paid Gibbons $4.5 million since 2011. The firm was not paid by the authority in Christie's first year in office. In 2012, the year Palatucci was hired by Gibbons, state payments to the law firm nearly tripled to more than $1 million a year.
Gibbons has also received work from the Port Authority of New York & New Jersey, which Christie jointly controls with New York Democratic Gov. Andrew Cuomo. Bloomberg News reported in August that Gibbons successfully "bid for work on the Goethals Bridge rehabilitation project" and also received "a no-bid contract for legal work on the Bayonne Bridge replacement." The news service pointed out that while Gibbons received $51,000 in Port Authority contracts the year before Christie assumed office, the firm has been paid more than $9 million in the years since.
© Copyright IBTimes 2023. All rights reserved.