Hillary Clinton Defends Wall Street Campaign Support By Citing Barack Obama Example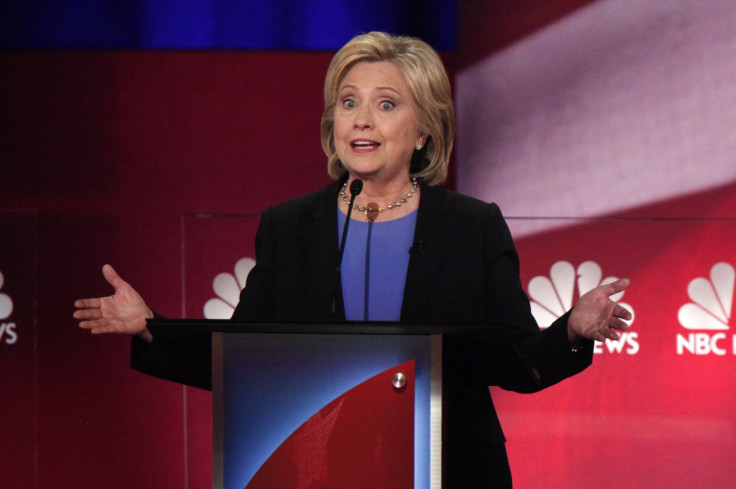 After the third Democratic debate, Hillary Clinton faced a flood of criticism for linking her financial support from Wall Street to the Sept. 11, 2001, terrorist attacks — even though she had accepted campaign donations from the financial industry before the attacks. In Sunday night's debate, she tried out a new line of defense: The president has taken their money too.
When Bernie Sanders was asked about his campaign's recent television ad highlighting politicians' contributions from Wall Street, the independent Vermont senator said: "I don't take money from big banks — I don't get personal speaking fees from Goldman Sachs." Sanders' campaign quickly sent out a fact sheet to reporters pointing out that Wall Street firms have paid Clinton almost $3 million in speaking fees.
The former secretary of state plugged her plans for financial reform before seeking to cast Sanders' criticism as an attack on President Barack Obama. Clinton praised the president's efforts to pass the 2010 Dodd-Frank financial reform bill and improve the economy, and told the audience that Sanders' words "don't just affect me." Clinton said Sanders had "criticized President Obama for taking donations from Wall Street, and President Obama led our country out of the Great Recession." Clinton took another slap at Sanders' lack of loyalty to the Democratic president, saying he had once said it would be "good idea if President Obama faced some primary opposition."
After asserting he's friendly with Obama, Sanders asked: "Can you really reform Wall Street when they are spending millions and millions of dollars on campaign contributions and when they are providing speaker fees to individuals?"
Former Maryland Gov. Martin O'Malley piled on when it was his chance to speak. "Now you bring up President Obama here in South Carolina in defense of the fact of your cozy relationship with Wall Street," O'Malley said, before calling attention to Clinton's previous debate comments about 9/11.
During campaigning for the 2016 election, Clinton's camp has received over $5.7 million from the financial sector — more than any other candidate in the field — according to data from the Center for Responsive Politics. The nonpartisan watchdog group lists Clinton as the third-largest recipient of the industry's cash throughout her political career — and Obama as the top recipient.
Clinton and her husband have also taken in millions of dollars in speaking fees from the financial industry. Goldman Sachs paid Clinton $675,000 for speeches in 2013. Her family accepted $4 million in speaking fees from banks that have entered into the type of settlement agreements with the government that Clinton has criticized and pledged to limit. Those firms have donated $5 million to the Clinton family's charitable foundation.
Following Sanders' and O'Malley's comments, Clinton noted that she is being attacked on television by a conservative group linked to Republican operative Karl Rove and "funded by money from the financial services sector" — as International Business Times reported Sunday.
Clinton also pointed out Sanders' past vote for a bill that included provisions loosening oversight of the derivatives industry. That legislation was included in an unrelated, must-pass spending bill designed to prevent a government shutdown, and signed by former President Bill Clinton.
© Copyright IBTimes 2023. All rights reserved.
FOLLOW MORE IBT NEWS ON THE BELOW CHANNELS