Stolen Valor: Navy Records Show 'American Sniper' Chris Kyle Earned Fewer Medals Than He Claimed, Says Report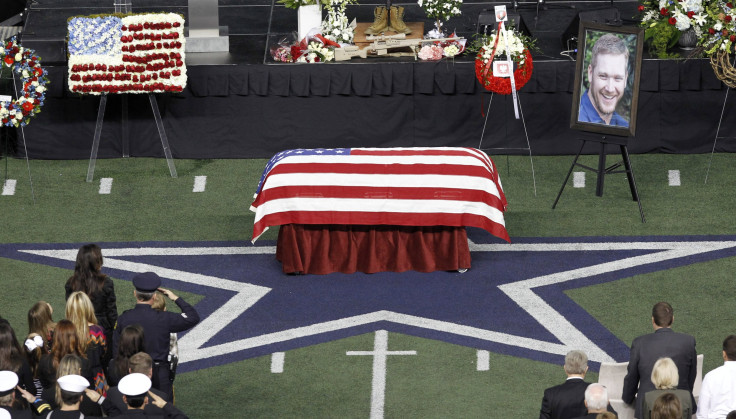 Recently released military documents contradict claims made by Chris Kyle, which show the late U.S. Navy SEAL sniper earned fewer medals of valor than he claimed in his best-selling 2012 memoir, "American Sniper."
In the book, Kyle claims he won two Silver Stars and five Bronze Stars during four tours of duty in Iraq during his service from 1999 to 2009. Though his sharpshooting earned him the nickname the "Devil of Ramadi" from insurgents he aimed his rifle toward, documents obtained by the Intercept contradict Kyle's valor claims and kill count.
"The Navy considers the individual service member's official military personnel file and our central official awards records to be the authoritative sources for verifying entitlement to decorations and awards," Cullen James, a spokesperson for the Navy Personnel Command, said in a statement emailed to the online publication.
According to the Intercept's exclusive, the documents show that Kyle earned one Silver Star and three Bronze Stars. And while Kyle claims in his memoir that he killed 160 enemy fighters in Iraq, Navy documents from when he was awarded the Silver Star for his 2006 deployment cite 91 kills during 32 sniper missions. Soldiers typically self-report kills, so the Navy figure likely came from Kyle himself at some point during his service and it's unclear how he would have killed 69 more fighters without reporting it.
Kyle's exaggeration raises questions about the extent of so-called stolen valor — a profound ethical breach in the military community — and whether higher-ups in the armed forces are reticent to correct such embellishments because the claims of higher valor reflect well on their troops. Kyle was gunned down on Feb. 2, 2013, at a shooting range near Fort Worth, Texas, by a mentally troubled veteran he was trying to help.
The Silver Star is the third-highest military honor a member of the U.S. armed forces can earn after the Navy Cross (or its equivalents in the Army and Air Force) and the Medal of Honor.
Kyle's valor hasn't been questioned, just the extent of it.
One estimate puts the number of Silver Star-earning American military veterans at fewer than 1 in 250 since World War I. And even with revised claims, Kyle still resides in a small circle of American combat veterans to have earned multiple medals of valor.
Even if Kyle's self-reported kill count is lower than 160, the one public Navy document citing 91 kills would still confirm him among a small handful of snipers to kill so many enemy fighters since World War II.
Chinese sniper Zhang Toafang reportedly killed 214 enemy troops during China's intervention in the Korean War and U.S. Army sniper Adelbert Waldron III logged 109 kills during the Vietnam War, according to Sniper Central. Kyle's claim would put him in front of Waldron, while the Navy's account would put him behind.
In case you're wondering: Finnish farmer Simo Häyhä holds the all-time record for taking out 505 enemy soldiers during Russia's 1939-40 invasion of Finland, a feat all the more impressive considering he depended mostly on a local variant of the clunky iron-sighted bolt-action Mosin-Nagant Model 28-30 to do the job.
© Copyright IBTimes 2022. All rights reserved.
FOLLOW MORE IBT NEWS ON THE BELOW CHANNELS