Tim Tebow Speaking Engagement Surrounded By Controversy Again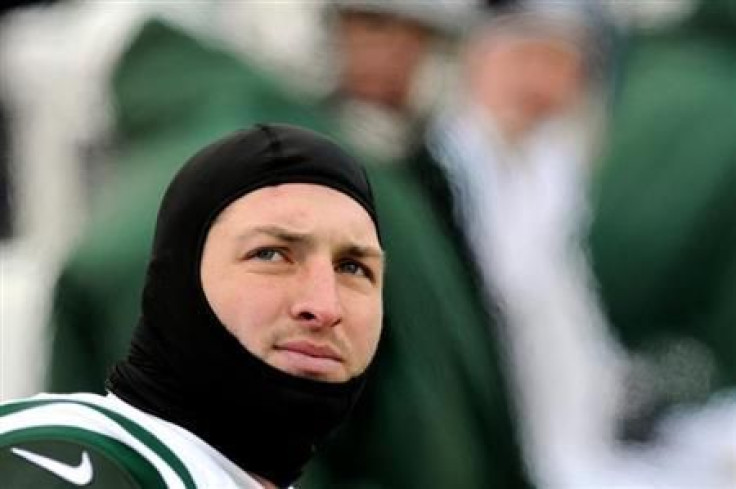 Tim Tebow may have a lot to say, but can't seem to find the right place to say it.
The New York Jets reserve quarterback and outspoken Christian is scheduled to speak at the conservative Liberty University Friday during its "Convocation" series of lectures, according to NBC Sports.
Located in Virginia, the school was founded by late Christian televangelist Jerry Falwell, who in the past made defamatory statements regarding the gay and lesbian communities.
Tebow's speech was initially intended to be kept private.
"The Tebow Convocation has been closed to the general public since we announced his visit months ago," Liberty spokesman Johnnie Moore told the Huffington Post. "It is only closed to the public because of limited seating capacity in our basketball arena."
This is the second time in less than a month that the former Heisman winner and devout Christian has planned to speak at a controversial venue.
Last month, Tebow cancelled an appearance that was scheduled to take place in April at the First Baptist Church in Dallas, which is run by Rev. Robert Robert Jeffress.
New York is expected to trade or release Tebow after a poor 6-10 season, though he didn't get the chance to play much under center. Tebow has insisted he wants to be a quarterback in the NFL, but experts do not believe another team will give him a chance to start at the position.
He was traded to the Jets a year ago, after leading the Denver Broncos to a playoff victory in the 2011 season in what some described as "Tebowmania."
© Copyright IBTimes 2023. All rights reserved.