Toulouse Massacre: Fears Extreme Right-Wing May Exploit Tragedy For Political Gain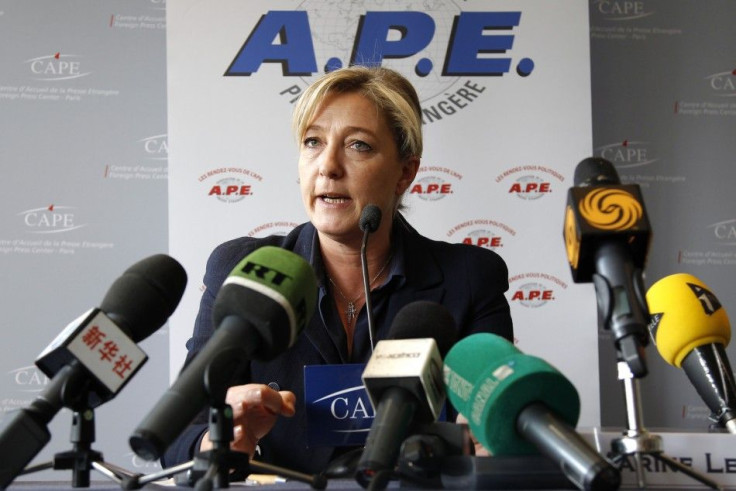 Marine Le Pen, the extreme right-wing French presidential candidate, has been accused by her opponents of seeking to exploit the tragedy of the massacre of seven people in and around Toulouse by a Muslim radical.
Mohammed Merah, a young half-French, a half-Algerian man whom prosecutors said carried out the killings, including four people outside of a Jewish school, was shot to death by a sniper at the end of a 32-hour police siege at his apartment in Toulouse.
Merah reportedly sympathized with al-Qaeda and received military training in Afghanistan and Pakistan.
The series of murders would appear to play right into the hands of Le Pen's right-wing National Front party, which has long advocated a platform against immigration, particularly of Muslims from North Africa.
France currently has about 5-million Muslims, making it the largest Islamic community in Europe.
Le Pen is currently polling a distant third behind incumbent President Nicolas Sarkozy and Socialist challenger Francois Hollande.
However, the Toulouse murders has led Le Pen to claim that Muslim fundamentalism is spreading across France's poor immigrant suburbs and pose as grave a threat to the country as the German Nazi occupation of World War II.
"Islamic fundamentalist threat has been underestimated in our country and political-religious groups are developing due to a certain [laxity]," she said at a campaign stop, according to Britain's Daily Telegraph newspaper.
"Security is a theme [for] the presidential campaign."
She also demanded that the Paris government take security more seriously.
The government is scared, Le Pen told France Info radio.
I've been saying this for 10 years. Entire [neighborhoods] are in the hands of Islamic fundamentalists and I say it again today the danger is underestimated. The reality dawning on the French people is that social and civil peace has been bought in a number of districts and that price is the development of [Islamic fundamentalist] networks. She also claimed that"thousands" of Islamic militants are now living in France. Leftist politicians and others attacked Le Pen. Francois Bayrou, a Centrsit candidate for president, blasted that Le Open is using the killings to try to "surf" to a victory. A spokesman for Jean-Luc Melenchon, far-left politicians, described the National Front as "vultures" who exploit tragedy for electrical gain.
"Throughout this campaign, yesterday as today, Marine Le Pen has had the same goal – to feed a Crusader spirit inspired by religious war under the theory of a clash of civilizations," said Alexis Corbiere, deputy mayor of Paris' 12th arrondissement.
Sarkozy himself did not appear to personally attack Le Pen, but called for unity in France.
"Terrorism will not succeed in fracturing our national community," he said. "I say to the entire nation that we must be united."
Sylvain Crepon, a French sociologist, said the massacres would likely benefit Le Pen.
"In the short term this could benefit Nicolas Sarkozy, but in the medium and long terms this will legitimize the [National Front] and its discourse," he told Agence France Presse.
"She [Le Pen] will be able to say 'I was stigmatized while I was right all along.'"
Meanwhile, immigration was already a key issue in the upcoming French presidential elections, the Merah case will likely make the subject even more prominent.
Bruno Jeanbart, deputy director general of the polling firm Opinion Way, told the France 24 network: "[Merah] will definitely have an impact on the election. Everything will depend on the final outcome, but the theme of security, which has been overlooked since the beginning of the campaign, could now become the central debate."
In an interesting sidelight, before the identity of the killer was revealed to be an Islamic militant, some left-wing figures suggested that the murders might have been the work of right-wing French nationalists or perhaps even a neo-Nazi (since all the victims were minorities).
Wallerand de Saint Just, vice president of the National Front, bitterly wrote in a press release directed at leftist elements: "You should apologize to the National Front, and to Marine Le Pen's constituents. In any case, you should shut up for a long time."
Marine Le Pen inherited leadership of the National Front from her father, the notorious Jean-Marie Le Pen.
FOR FREE to continue reading
✔️ Unlock the full content of International Business Times UK for free
offer available for a limited time only
✔️ Easily manage your Newsletters subscriptions and save your favourite articles
✔️ No payment method required
Already have an account? Log in
© Copyright IBTimes 2023. All rights reserved.