Who Is Carl Paladino? Trump Ally Wants Obama Dead, Makes Michelle Obama 'Gorilla' Comment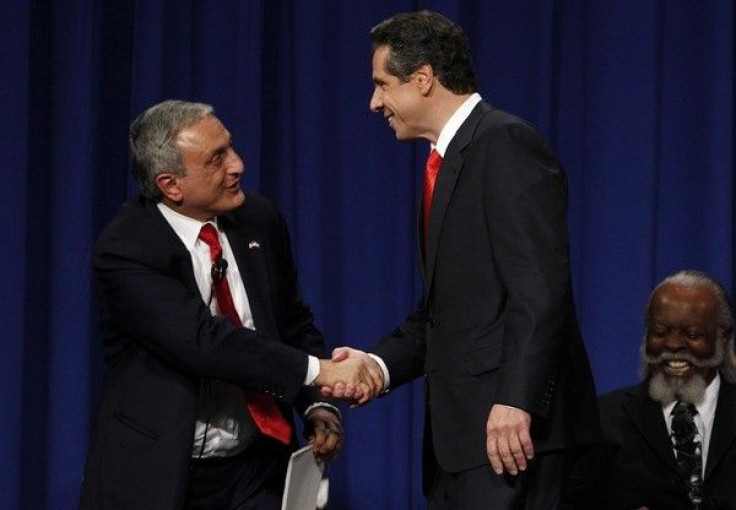 UPDATED: 1:59 p.m. EST — Gov. Andrew Cuomo responded to statements made by Donald Trump's New York campaign chair, Buffalo businessman Carl Paladino.
"Paladino has a long history of racist and incendiary comments. While most New Yorkers know Mr. Paladino is not to be taken seriously, as his erratic behavior defies any rational analysis and he has no credibility, his words are still jarring," Cuomo said in a statement. "His remarks do not reflect the sentiments or opinions of any real New Yorker and he has embarrassed the good people of the state with his latest hate-filled rage."
Paladino told a local Buffalo newspaper Thursday that he'd like to see President Barack Obama die of mad cow disease and wished for Michelle Obama to "return to being a male" and live alongside a gorilla.
Original story: Controversial businessman and political activist Carl Paladino had some shocking words for newspaper reporters about the presidential family when asked what he'd like to see happen in 2017. An alternative weekly newspaper in Buffalo, New York, asked Paladino and other locals what they hoped would occur in the new year.
"Obama catches mad cow disease after being caught having relations with a Herford," Paladino said Thursday. "He dies before his trial and is buried in a cow pasture next to Valerie Jarret who died weeks prior, after being convicted of sedition and treason, when a Jihady cell mate mistook her for being a nice person and decapitated her."
When asked who he would "most like to see go in 2017" Paladino responded: "Michelle Obama. I'd like to see her return to being a male and let loose in the outback of Zimbabwe where she lives comfortably in a cave with Maxie, the gorilla."
Paladino, 70, confirmed to the Buffalo News that he made the comments before saying to news editors, "Tell them all to go f--- themselves."
He continued: "Yeah, I'm not politically correct. They asked what I want and I told them."
Paladino is the CEO of Buffalo real estate company the Ellicott Development Company, which he founded in 1973. He's also battled for interests in local governments, according to his website, and sits on the Buffalo school board. The businessman was also Donald Trump's New York campaign chair. He met with Trump Monday and spent an hour speaking with the president-elect.
"I think I will have an ongoing ability to make recommendations," Paladino said after his meeting, according to the Buffalo News. They discussed Trump's campaign in New York, possible government appointees, and who might advise Trump, he said. Paladino also said he'd be open to taking a role in the new administration, though so far, he had not been offered one.
© Copyright IBTimes 2023. All rights reserved.