Heroes Of American Business: IBT's First Annual Social Capital TOP 100
If not for these heroes, we face the possibility of a dark and lonely world filled with people lost in greedy self-service.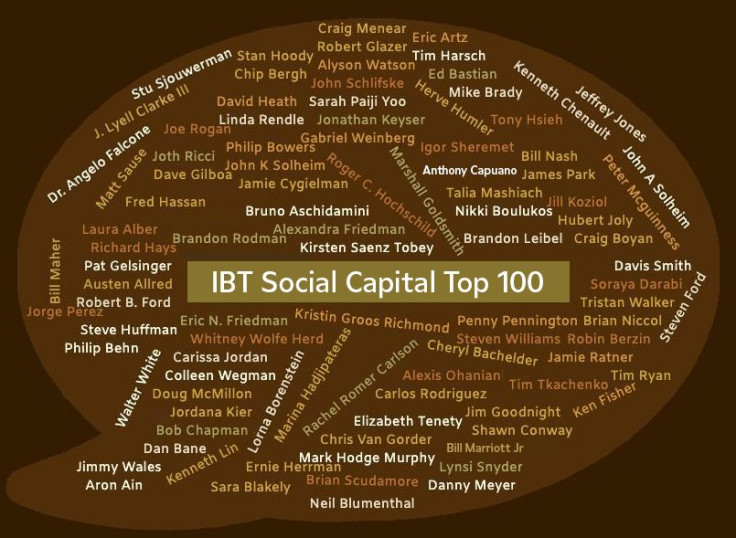 It's been said in more than a few ways and by more than a few people that the business of America is business. That's why it's more important in this nation than any other that business be done right -- with respect for humanity being the top priority for how to do it.
In a nation and society where so much of our lives, our resources and our efforts center on business, if that world is not also focused on respecting each other, then we will all spiral down a dangerous and destructive path to greed, human degradation and the eventual disintegration of our capitalist society to the point where critics will quickly and justifiably look for a replacement.
In fact, one look around at the pulse of political and popular opinion and we can already see that happening. That's because our capitalist system is being threatened from two sides. On one, by those who applaud its failures in hopes of replacing it outright with socialism or communism. And on the other, by crony "capitalists" who aren't really capitalists at all but greedy, self-centered narcissists hell-bent on lining their pockets and their power base at the expense of the prosperity and profits that should be available to all in a truly free, fair and fully functional capitalist system. These industrial tyrants will do anything they can get away with to maximize their profits and the bottom line regardless of the wholescale pain and suffering it might cause.
But, clearly, none of the people on either side of this societal squeeze-play even begin to understand what capitalism is about. They have clearly never read much by philosopher Adam Smith, often referred to as the father of capitalism, whose book "The Wealth of Nations" is the practical bible of capitalism. Even for those who have read this famous tome and are familiar with his concept of maximizing self-interest as the route to prosperity for all in the long run, most do not fully understand what he meant by that. In another of his books, "The Theory of Moral Sentiment," he writes that, "How selfish soever man may be supposed, there are evidently some principles in his nature, which interest him in the fortune of others, and render their happiness necessary to him, though he derives nothing from it, except the pleasure of seeing it."
Smith goes on to explain "self-interest" is not so simple. In the long run, it means the complex "interests" all humans have. We not only want to be prosperous but want to enjoy living in a community where our families, our friends, our neighbors and our fellow citizens are happy and prosperous as well. And at the end of the day, that is actually what capitalism can and should achieve.
Now all that heady philosophy put aside, for our Top 100 Social Capital CEOs, they have seen firsthand that respecting their customers, their employees, the members of their communities and all those they do business with results in greater prosperity for them, for all those others and for the greater good of society in general. And they feel darned good seeing all that happiness happen because of the way they do business.
That's a pretty incredible achievement and a powerful mission. And that's why we call them heroes.
Because, if not for them, we face the possibility of a dark and lonely world filled with people lost in greedy self-service where the dreams of the many are all too often vanquished for the sake of the few in power.
Or, possibly even worse still, the loss of the potential American dream altogether when it's tossed aside for a world of collective control where none of us will ever be able to achieve any of our dreams of happiness.
So, thank God for our 100 Social Capital heroes. Keep fighting the good fight.
© Copyright IBTimes 2022. All rights reserved.
FOLLOW MORE IBT NEWS ON THE BELOW CHANNELS